CAN NAFTA FILL THE GAP?
For gaps in Nafta to be plugged, it may take smaller bilateral agreements rather than wide-ranging change to the original FTA.
By Denise Bedell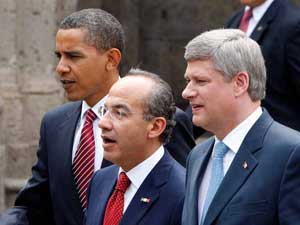 Renegotiating Nafta: (from left to right) US president Barack Obama, Mexican president Felipe Calderón and Canadian prime minister Stephen Harper are all actively involved in discussions for new trade agreements
For any country, neighbors on the border can be either the best of friends or the bitterest of enemies, but regardless they will always be significant economically, socially and politically. This is true for the partners involved in the North American Free Trade Agreement (Nafta).
The economic, social and political circumstances of Canada, Mexico and the United States remain highly intertwined, and Nafta remains an important contributor to the close ties between the three countries. However, all three are also actively involved in discussions for new trade agreements, and some question whether making changes to the agreement would create benefit, or whether smaller bilateral agreements are needed to improve trade between the three partners.
Trade globalization has long been a trend, but the recent financial crisis has amplified this. As the global importance of economies outside the US increased, the strength of economies in Asia and Latin America has become clearer. At the same time, trade between Nafta partners dropped off significantly during the crisis, as the US stumbled and the repercussions were felt most acutely by its nearest trading partners, Canada and Mexico.
"Demand is down, so as a result of that, trade is down," says one trade lawyer. But whether demand, and thus trade, between the three countries will pick back up to pre-crisis levels remains to be seen. As the three countries work to boost their economies, they may re-orient themselves, and growth may, as a result, take a new form.
Industries such as the auto sector and manufacturing were hardest hit. With plants closed and jobs lost, it is unlikely that all or even most of those manufacturing jobs will return. If demand from the US consumer machine does not return to pre-crisis levels, which seems likely for the next five years at least, as consumers retrench and build savings, Canada and Mexico must either look internally or look elsewhere to build demand, create jobs and grow GDP.
Of course, the US will continue to be the most important trading partner for both countries, and this process of trade globalization will continue to be a gradual one. The only risk to that is if, in their desire to gain political advantage, policymakers should move to more protectionist policies.
This is a strong possibility, as financial crises and economic slowdowns tend to encourage governments toward protectionist trade policies. This cycle has been no exception. As countries hunker down and retrench during a downturn and stimulus packages are crafted, there often arises a political will to look inward and protect domestic interests first.
Gary Graham, a partner at law firm Gowling Lafleur Henderson, says that there has been some slippage in adherence to free trade policy on both sides of the US-Canadian border. "In the US there is the Buy American Act. And in Canada there are, for example, certain provisions in the Green Energy Act in Ontario that require that any wind or solar powered equipment used in a power project meets certain Ontario content requirements," he says.
Michael Hart, professor of trade policy and distinguished fellow of the Center for Trade Policy and Law at Carleton University in Ottawa, adds, "It is politically seductive to put Buy American clauses in, but in the end it robs the taxpayer because they pay more than they would in an open market for services or products."
In addition, protectionist leanings by a government make it very difficult for those involved in cross-border trade to make business decisions. Sidney Weintraub, William E. Simon chair in political economy at the Center for Strategic and International Studies in the US, explains: "We haven't had full-blown protectionism as of yet, but we have had little steps that make us a bit more protectionist now than we were a couple of years ago. The impact of that is uncertainty on the part of traders in terms of how much to invest to build up trade."
Since their inception last year, the Buy American clauses in the US stimulus packages and new domestic-business-slanted policies in Canada have been adjusted to work within the rules of the WTO and Nafta. The barriers to trade are still there, though, just skirting along inside the boundaries of the agreement—affecting almost anything not covered by the agreement.
In addition, there are rules-of-origin issues that arise as a result of the clauses. The rules of origin under many older FTAs leave room for argument in terms of what counts as domestically sourced materials and products. If, for example, the materials of one product all came from the US except for one element, it is debatable whether that counts as a domestic product or not. With globalization and the desire to create greater efficiencies in manufacturing and materials sourcing, this line has become blurred in some instances.
As a result, under the requirement to Buy American, some US procurers may hesitate in sourcing any components outside the US, regardless of whether they actually fall under the domestic purchase clause. Carlos Pinéra of the Nafta Office of Mexico in Canada, says protectionist measures delay recovery: "Maintaining open markets and respecting the existing international commitments is the best way to tackle the recession."
Nafta Faces Growing Competition
Since the inception of Nafta, all three partners have continued to build on the Nafta model in crafting new trade relationships, and those new relationships have changed the trade picture for Canada, Mexico and the US.
Mexico has signed a number of full free trade agreements (FTAs) and partial preferential agreements over the past decade—including one with Japan in 2004 and a number with other Latin American countries—and signed an agreement with the European Union in 2000 as well. Other Latin American trade partners, such as Chile and Brazil, will become increasingly important to the Mexican trade picture as the region continues to grow in significance on the world stage.
There will always be a strong trading relationship between Mexico and the US, but as with most of Latin America, the biggest shift in trade for Mexico is the increasing importance of Asia as a trade partner. "For any country in Latin America that has abundant natural resources, China has become a huge trading partner," says Michael Fitzgerald, chairman of the Latin American practice group of Milbank, Tweed, Hadley & McCloy.
Notes one trade specialist, "Relatively speaking, the US will account for a smaller share of the total trade of Canada and Mexico going forward, but that won't be because trade with the US has declined—rather, because trade with developing countries, such as China, Brazil and Russia, has increased at a higher rate."
In terms of free trade negotiations, the most recent development for the US is the Trans-Pacific Partnership (TPP) agreement. TPP members include Australia, Brunei Darussalam, Chile, New Zealand, Peru, Singapore and Vietnam, and there are plans to add additional countries as talks continue.
As part of the negotiations, partners will look at issues that were not addressed, or did not exist, when Nafta was first drafted—such as new and emerging technologies and small businesses. However, there are innumerable hurdles to be overcome, including rules of origin with current free trade partners and agricultural and labor issues.
Although the TPP is unlikely to have a significant impact on global trade flows, the goal is to make it as ideal an agreement as possible and eventually to expand it further in Asia. So it may have more significance as a model for trade agreements than it initially does in opening up new trade flows.
For Canada the big trade discussion in the works right now is the Canada–European Union Comprehensive Economic and Trade Agreement (CETA), for which negotiations began in October 2009. Canadian and EC trade negotiators have completed two rounds of discussions and have plans to sign an agreement within two and a half years. The goal is a more comprehensive agreement than that seen to date by either the EU or Canada—hence, the CETA designation, rather than simply an FTA.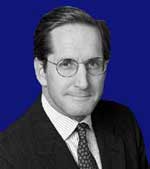 Fitzgerald: Resource-rich countries
are increasingly trading with China
Not everyone thinks that it is a wise decision to pursue the Canada-EU CETA, however. "You don't negotiate a deeper agreement with a smaller partner when you are not willing to do it with a bigger trading partner," says Carleton University's Hart. "These discussions should be happening with the US."
"If the Canadian government is prepared to deal with regulatory barriers, why would we be prepared to align regulatory programs with a distant trading partner rather than with our most important partner?" questions Hart. "In addition, on the issues where there really are barriers, the governments are unlikely to change. For example, the Canadian government is unlikely to sacrifice the dairy farmers for the Canada-EU agreement."
This highlights a key issue with Nafta—namely, the areas that are not covered. One of the biggest barriers to trade right now for Nafta partners is not regulation or protectionist policies but, rather, the physical barriers put in place over the nine years since 9/11.
Some argue that it may require individual bilateral agreements between Canada and the US, the US and Mexico, and Canada and Mexico in order to deal with this issue and others. Robert Paterson, professor of law, University of British Columbia, points out that it takes more than an agreement on trade for trade to happen. "The media tend to place exaggerated expectations on what trade agreements can achieve," he says. "They are really just platforms for economic growth, not a way to achieve it." It is imperative not only to ensure that barriers to trade are removed but also to ensure that business has the means and opportunity to take advantage of that.
Hart notes that Nafta is a mature agreement. "Any issues that are being discussed, they are not Nafta issues," he says. "It is a fully implemented agreement that has worked the way it is supposed to."