MEETING POINT
By Dan Keeler
Panama is working hard to become the dominant corporate hub in Central America.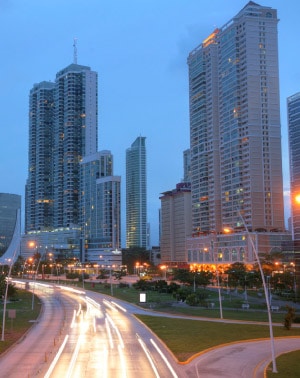 With its stable and open economy and its uniquely favorable location as the bridge between North and South America, Panama has long been considered an ideal trade hub. Over the past few years, though, it has been quietly turning into something more than that, establishing itself as a base for multinationals that want to extend their reach into Latin America.
One of the leading rapid-growth economies in the Americas, Panama averaged annual growth above 9% between 2003 and 2008, according to the Inter-American Development Bank (IDB). The IMF forecasts 2013 growth of almost 7.5%—a step down from last year's 8.5%, but still high enough to prompt the IDB to describe Panama as "one of the Latin American economies with the greatest growth potential over the next five years." An exception among frontier markets countries, Panama has also achieved investment-grade ratings, with a BBB from both Standard & Poor's and Fitch and a Baa3 from Moody's.
Big infrastructure investment—including a $5.2 billion expansion of the Panama Canal and a $1.8 billion new subway in Panama City—is helping drive Panama's economic expansion, as are a slew of new free-trade agreements, including one with the US that went into effect late last year.
Several multinationals, including Caterpillar and 3M, have set up regional headquarters in Panama City in recent years. According to Heather Berkman, a senior Latin America analyst at Eurasia Group, several factors have combined to attract the multinationals, including an appealing package of incentives and the fact that Panama is a prime logistical hub with good-quality transportation links. "Having some big names set up shop there definitely gives the impression it's a good place to do business," Berkman says, although she points out that Panama might not be appropriate for companies looking to grow their customer base. Part of the reason is that, with a population of just 3.6 million, Panama cannot offer companies a large consumer market. Plus, there are high local electricity prices and a limited pool of local skilled labor.
Nonetheless, according to Panamanian entrepreneur Carlos Martin del Campo, there are plentiful opportunities for midsize businesses in Panama. "Some people say Panama feels like it's 10 years behind, that there is a lot of inefficiency here, but that also means there is a lot of opportunity," del Campo says. " The quality of life is excellent, transportation is cheap, infrastructure is improving, and Panama City is like a welcoming melting pot."
Generally, Panama can respond well to shocks and is viewed as a good risk, says Roger Schwartz, senior VP of political risk for Aon Risk Solutions. However, in its most recent political risk report, published in March, Aon downgraded Panama from medium-low to medium risk. Schwartz explains: "We included banking sector vulnerability as a new risk category this year," he says. In Panama's case, that vulnerability is the result of having its currency pegged to the US dollar. "It means Panama has less flexibility to respond to a crisis," Schwartz adds.
Panama's heavy reliance on the canal is also a potential risk, one that was highlighted by shipping giant Maersk's recent decision to route more of its ships traveling from Asia to the US through the Suez Canal. If other shippers follow suit, it could set off a steep decline in revenues from the canal, which could have a marked impact on the economy as a whole.
| | |
| --- | --- |
| Location | Central America |
| Neighbors | Costa Rica, Colombia |
| Capital city | Panama City |
| Population | 3.6 million |
| Official language | Spanish |
| GDP per capita | $9,527* |
| GDP growth 2012 | 8.5%* |
| Inflation 2012 | 6.0%* |
| Currency | US dollar |
| Investment promotion agency | proinvex.mici.gob.pa |
| Investment incentives available? | Yes |
| Ease of Doing Business rank | 61st of 185 globally, 7th of 33 in Latin America and the Caribbean** |
| Corruption Perceptions Index rank | 83rd of 176 globally*** |
| Political risk | Low**** |
| Security risk | Medium (High on border with Colombia)**** |
Sources:
* IMF World Economic Outlook Database
** World Bank
***Transparency International
****Control Risks
Pro-business government
Small population limits domestic market growth
Good transportation hub
Shortage of skilled, motivated labor
Heavy investment in improving infrastructure
High electricity prices
Good quality of life for expats
Serious traffic problems in Panama City
Youthful population and substantial local market

Local banks can be reluctant to provide business
financing

Credit can be expensive