A MEASURED APPROACH
Myanmar may be the last frontier market in Asia, but investors remain cautiously optimistic, and the economic transition will need to be delicately handled.
When Myanmar's foreign minister Wunna Maung Lwin this summer urged US firms to "join the gold rush to invest in Myanmar," it sounded like a clarion call designed to attract the sort of rampant exploitation that has left many young nations stripped of resources and riven by social strife. In fact, his aim was the opposite: "We are taking measures to encourage responsible investment, to protect and preserve the environment and for the economic and social interests of the people," he asserted.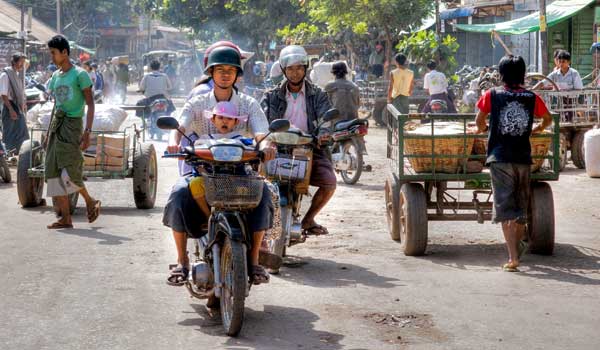 Describing his rapidly opening country as the "last frontier market in Asia," Lwin said the government is targeting growth of over 7.5% for the next five years.
Rich in natural resources such as gas, oil, timber and gems, with plentiful agricultural land, and 1,200 miles of unspoiled coastline, Myanmar is a highly attractive potential investment destination. Wedged between India and China and surrounded by some of the world's fastest-growing economies, as manufacturers search for alternatives to its increasingly expensive neighbors, Myanmar should see more opportunities to expand its export-oriented economy.
Foreign direct investment is surging. According to the government, in just five months this year Myanmar received more FDI than in all of 2012. Multinationals such as Coca-Cola, Procter & Gamble, Google and Unilever are looking to pour resources into the fledgling democracy.
Outside of a couple of key sectors, however, it's unclear how much of the interest is converting into hard investment. "There has been a lot of interest, but, ultimately, investors are concluding it's too early," says one Myanmar analyst.
At the core of the government's efforts to quickly modernize Myanmar's economy is a determination to work closely with experienced foreign partners to accelerate the development of crucial infrastructure. In its attempt to set up a capital market, for instance, Myanmar has contracted the Japan Exchange Group, which runs the Tokyo Stock Exchange, to help it build the market framework.
There will undoubtedly be hiccups along the way. Several months after contracts were awarded to Norway's Telenor and Qatar's Ooredoo to build, own and operate two new cellphone networks, construction work had yet to begin because it was contingent on a new telecoms law that had yet to be passed.
Giulia Zino, a Singapore-based associate analyst at Control Risks, says many potential investors are waiting to see how the next general election, scheduled for 2015, pans out. One investor, the head of a Singapore-based private equity firm, adds that she is also concerned the local market may not be big enough yet. "Myanmar will be stable until the next election," the investor predicts, "but any investment we make would be into a company that is not solely dependent on the domestic market for growth."
Mindful of the crucial importance of maintaining the public's support during a period of intense change, the government is aiming to "deliver quick benefits to the broader population," says Lwin. Zino believes some discontent over the pace of economic progress might manifest itself, but she is doubtful it would develop into serious unrest. "The political transition means there are now additional avenues for people to vent their anger," Zino says.
Location:
Southeast Asia
Neighbors:
Bangladesh, China, India, Laos, Thailand
Capital city:
Yangon (also known as Rangoon) was the former capital.
The official capital since 2006 is Naypyidaw
Population:
60 million
Official language:
Burmese
GDP per capita:
$868*
GDP growth 2012:
6.4%*
Inflation 2012:
2.8%*
Currency:
Burmese kyat
Investment promotion agency:
None
Investment incentives available?
Yes
Ease of Doing Business rank:
182nd of 189 globally, 25th of 25 in East Asia & Pacific**
Corruption Perceptions Index rank:
172nd of 176 globally***
Political risk:
High****
Security risk:
Medium (High on borders)****
Sources:
* IMF World Economic Outlook Database; ** World Bank; *** Transparency International; **** Control Risks
Pro-investment, pro-business government
Advantageous location
Supportive global environment
Welcoming local population
Attractive living environment
Infrastructure is severely underdeveloped
Government is inexperienced
Political tensions remain
Investment opportunities are scarce—but growing
Shortage of well-educated workers
Expensive for expats