WAIT AND SEE: As it tries to establish a new model for economic development, Ecuador presents a challenge for companies considering investing there.
Ecuador presents inward investors with a conundrum. The country is politically stable, but its president, Rafael Correa, is a polarizing figure, both locally and on the world stage. It is economically vibrant, but much of its potential is tied to oil reserves in locations so ecologically sensitive that the country's leaders have offered to leave the oil in the ground rather than risk damaging the environment. With its young and growing population and increasing household incomes, Ecuador presents an appealing potential domestic market, yet it also has policies in place that may limit the way corporations build and operate businesses there.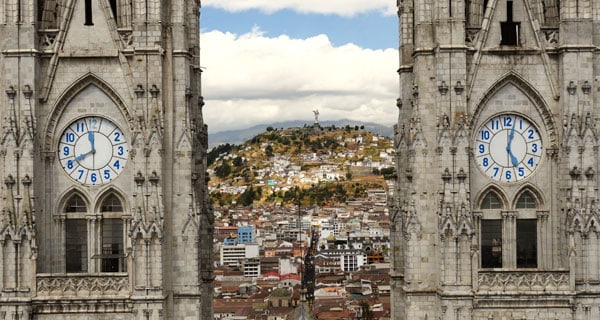 At the core of the conundrum is the fact that the country is keen to attract investment, but only on terms that might dissuade companies used to setting up shop in frontier or emerging markets. Karina Amaluisa, Ecuador's New York trade commissioner, explains: "We are changing the old paradigms. Foreign investment used to be very extractive, focused on exploration and exploitation of natural resources while giving nothing back. We don't want the kind of investment that exploits our natural resources without any development of the people," she says.
This philosophy is embodied in the requirements that inward investors must fulfill, adds Amaluisa: "We consider investments in terms of four ethics—they must be environmentally friendly, socially beneficial, they must follow our fiscal rules, and there must be an element of technology transfer."
Correa's aim is to ensure that investment in Ecuador is beneficial for the country and the people in the long term. In the short term, however, the conditions on investment may limit its appeal. And though Correa's strategy may be based on his belief that imposing strict conditions on inward investors will ensure that their efforts benefit the country as well as their shareholders, it could be interpreted quite differently in the commercial world. Jefferson Finch, a Latin America analyst at risk consultant Eurasia Group, for example, says Correa has developed a reputation for courting companies and inviting them to set up in Ecuador and then squeezing them. "You have to be very aware of the risks when you go in there," he notes.
Fittingly, perhaps, the economic statistics present a mixed picture. While Ecuador posted rapid economic growth—approaching 8%—in 2011, the rate dropped to just under 5% last year, the IMF estimates. This year and next, growth is expected to slip further, edging under 4% by 2014. Encouragingly, however, non-oil GDP is growing more strongly than oil-based GDP, suggesting that the government's efforts to diversify the country's economy are paying off.
But operating a business in Ecuador—which was already quite challenging—has become less straightforward, according to the World Bank's Ease of Doing Business survey. This year the country skidded from a lowly 134th out of 185 to an even less impressive 139th, which puts it in the same neighborhood as Sierra Leone and Tajikistan, and well below regional rivals such as Colombia and Paraguay.
The prospects for the future are equally mixed, says Finch: "The economy has been growing strongly, but it's really driven by increases in government expenditure. They've been betting on mining, but it might not provide enough income. Essentially, they're funding the economy on loans from China backed by future oil revenues. If that relationship sours, they could be in trouble."
| | |
| --- | --- |
| Location: | South America |
| Neighbors: | Colombia, Peru |
| Capital city: | Quito |
| Population: | 15 million |
| Official language: | Spanish |
| GDP per capita: | $5,310* |
| GDP growth 2012: | 5.0%* |
| Inflation 2012: | 5.1%* |
| Currency: | US dollar |
| Investment promotion agency: | www.proecuador.gob.ec/ |
| Investment incentives available? | Yes |
| Ease of Doing Business rank: | 139th of 185 globally, 29th of 33 in Latin America & the Caribbean** |
| Corruption Perceptions Index rank: | 118th of 176 globally*** |
| Political risk: | High**** |
| Security risk: | Medium (high in Colombia border area)**** |
Sources:
* IMF World Economic Outlook Database; ** World Bank; ***Transparency International; ****Control Risks
Politically stable, youthful population
Plentiful natural resources, pleasant climate
Dollarized economy
Government encourages investment
Tax and other investment incentives available
Unique and appealing natural environment
Government imposes substantial demands on inward investors
New model for investors may be confusing or off-putting
Newly enacted media law restricts press freedom
Unpredictable investment environment