STAKING ITS CLAIM
By Dan Keeler
A history of stability, a growing middle class and a rapidly expanding economy are among the key assets of this West African gem.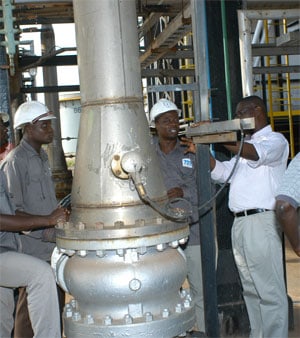 Photo Credits:
REUTERS / YAW BIBINI
Ghana has long been considered one of the most stable and open democracies in West Africa. However, after the sudden death last July of president John Atta Mills, some observers were concerned that the country's long tradition of holding democratic—and peaceful—elections would give way to turmoil. What happened was a testament to the country's political stability, says Tara O'Connor, managing director of London's Africa Risk Consulting. "The vice president, John Dramani Mahama, was sworn in with very little opposition and then won the presidential election in December with a very narrow margin."
Ghana's economy is even more stable than its political environment. The country had a reasonably diverse and healthy economy supported by a strong agricultural sector and balanced by rich resources—including gold, timber, industrial diamonds and bauxite — even before substantial oil deposits were discovered off its shores in 2007. Now that oil revenues are flooding in, Ghana is enjoying an energy boom that promises to turn it into a powerful economic hub. Melissa Cook, managing director at Africa-focused investment adviser African Sunrise Partners, notes: "Ghana is consolidating its position as a regional hub, attracting multinationals and building infrastructure funded by the country's newfound oil wealth."
That oil wealth has helped turn the country into one of the world's fastest-growing economies and is attracting substantial investment. Luxury hotels are springing up in the capital, Accra, to accommodate the influx of visitors eager to capitalize on Ghana's wealth of opportunities. UK's Blue Energy announced last November that it will begin building sub-Saharan Africa's biggest solar power facility in Ghana late this year. And construction has just started on a $125 million, state-of-the-art desalination plant—the first in West Africa—that will provide half a million people with fresh water. Ghanaian citizens are also benefiting from rapid technological advances. Internet penetration is swiftly increasing: It doubled between 2010 and 2011 to more than 10% of the population. Mobile phone use is practically ubiquitous, with 24.5 million subscribers in a country of just 25 million people.
Cook cautions that considerable challenges remain. Recent oil-related speculation has put downward pressure on the country's currency. Plus, policymakers must ensure the oil bonanza fuels wider economic development. "Ghana must use its oil wealth to … support long-term, non-oil-based economic growth and create productive employment for Ghana's growing young population."
The government welcomes investment from foreign corporations and has established a range of incentives to encourage it. The reality of investing in Ghana can be daunting, however, and finding the right local partners is crucial, says Lee Clegg, president of US-based CommerceGhana, which helps firms build operations in Ghana. "Small and medium-size companies that want to set up there face the problem of finding competent local attorneys and bankers and finding partners who are honest and reliable," he says. "Ghana is easier than a lot of its neighbors, and it's a great place to use as a base for going into other countries in the region, but you really need to know who you're dealing with."
Location: West Africa
Neighbors: Burkina Faso, Togo, Côte d'Ivoire
Capital city: Accra
Population: 25 million
GDP per capita: $1,610*
GDP growth 2012: 8.2%*
Inflation 2012: 9.8%*
Currency: Ghanaian cedi
Investment promotion agency: www.gipcghana.com
Investment incentives available? Yes
Ease of Doing Business rank: 4th of 46 in sub-Saharan Africa**
Corruption Perceptions Index rank: 64th of 176 globally***
Sources * IMF World Economic Outlook Database
** World Bank
*** Transparency International
Stable political and economic environment
Safe and friendly
100% foreign ownership permitted
Diverse economy
Provides a good base for expanding into other West African nations
Competitive labor costs
Well-developed financial sector
Healthy, competitive capital markets
Growing middle class and well-educated elite
Quota-free access to US & EU markets
Well-established expatriate community
Officialdom can be bureaucratic and inefficient
Infrastructure development lagging economic growth
Financial services can be expensive
Fraud can be a problem
Finding suitable local business partners can be challenging