CORPORATE FINANCING NEWS
By Gordon Platt
A cyclical economic recovery is under way in the UK and the eurozone, but it won't be strong enough to boost the euro against the dollar, analysts say.
They expect the dollar to gain upward momentum once the US Federal Reserve begins its planned tapering of bond purchases, which has already resulted in rising interest rates.
"Northern Europe seems to be six months to a year behind the US in terms of grinding through the recession," says Alistair Cotton, senior analyst at Currencies Direct, a London foreign exchange broker and international payments provider. "The banks in Europe are slowly getting back to being able to extend loans again."
Although the economic situation in Southern Europe is still bleak, "at least it is not falling off a cliff," Cotton says. Following the German elections, progress is likely to be made on creating a European banking union, but market participants realize that it will take years to complete, he says.
SKY NOT FALLING
There has been a massive market overreaction in emerging markets to fears of Fed tapering, according to Cotton. "The sky is not going to fall in," he says. "Emerging markets are susceptible to huge capital outflows, so we are likely to see some more capital controls," he says. "But the markets should rebound in the near future, so this could be a good buying opportunity."
The State Street Investor Confidence Index fell by 2.6 points in August, to 105.1. "Notwithstanding the turbulence in markets witnessed [in August], especially in some emerging markets, institutional investors have broadly maintained their stance on risk, with only a modest pullback seen in the Global Index," says Harvard University professor Kenneth Froot, who helped develop the index.
Although all regions experienced a decrease in confidence in August, European and Asian investors were the main drivers of the decline. European confidence fell by 8.2 points to 97.1, while Asian confidence fell by 7.6 points to 93.0. North American investors reported a decline of 1.5 points to 112.5. A reading of 100 is neutral in terms of whether investors are increasing or decreasing allocations to risky assets.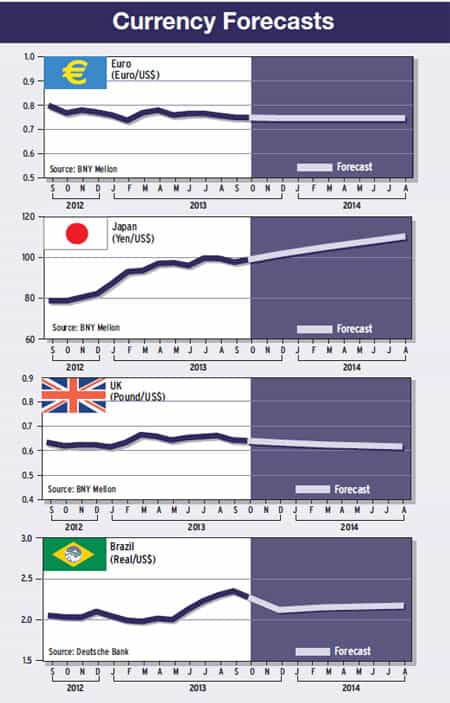 GERMAN CONFIDENCE
Despite investor concerns about Europe, German business confidence rose for a fourth straight month in August, according to the Ifo Economic Institute. Its Business Climate Index, an early indicator of economic developments, rose to 107.5 in August from 106.2 in July, and was at its highest level since April 2012.
The positive results were largely priced into the market, so there was little reaction to the news by the euro. At the time, investors were more focused on escalating tensions in Syria and the potential for international involvement.
The US economy may be farther along the road to recovery than Europe's, but analysts said recent data on durable goods and home sales were disappointing.
Marc Chandler, global head of currency strategy at Brown Brothers Harriman, says: "While the US labor market has improved, the broader economy lacks momentum, and inflation does not appear to be moving back toward the Fed's target. The cyclical recovery story for Europe seems to be borne out in hard data, while the recent US data have been more mixed."
Meanwhile, China's economy appears to have stabilized. The Flash HSBC Purchasing Managers' Index rose to 50.1 from 47.7 in July. "In terms of macro policy, we think it's steady as she goes for China," Chandler says. "This means some support but no major stimulus initiatives and a fairly stable exchange rate." Stronger-than-expected economic data have lessened market concerns about a hard landing in China, Chandler says. Activity in China's manufacturing sector hit a four-month high in August, as new orders picked up.