GCC REGIONAL REPORT: BACK FROM THE BRINK
By Gordon Platt
Upheaval in the region and beyond is encouraging banks to bolster their balance sheets before launching any aggressive lending programs.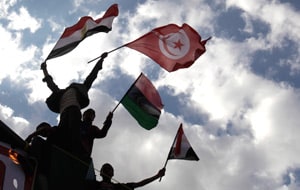 Banks in the GCC have recovered from the global financial crisis or are in the process of doing so. Now, though, faced with uncertainties related to the Arab Spring, it seems bankers are too shell-shocked to resume lending aggressively anytime soon.
In what was the first bank run in the GCC, customers of Kuwait-based Gulf Bank rushed to withdraw their money in October 2008 after clients of the bank defaulted on currency derivatives and the central bank was forced to guarantee deposits. In the first quarter of 2011, the bank's profit was up sharply from the same period a year earlier, and Michel Accad, chief general manager and CEO, says the next several quarters will look better and better for Gulf Bank.
Accad, who joined from Arab Bank in August 2009, says he was able to turn Gulf Bank around by focusing on core competencies and returning to the basics of retail banking. "It remains a difficult environment, and our customers continue to suffer," Accad says. "But our derivatives issues are behind us."
Gulf Bank is expanding its branch network, and its deposits are increasing faster than loans. "Businesses are not willing to borrow because of uncertainty," Accad says. "If Kuwait begins to implement its five-year development plan more quickly, loans could grow by about 3% this year, while deposits will expand by 5% to 8%."
In December 2008, Global Investment House, Kuwait's biggest investment bank, defaulted on $1.7 billion of debt when global credit markets seized up, making it difficult for banks to refinance their short-term debt.
Maha Al-Ghunaim, chairperson and managing director, led Global through a successful debt restructuring. The bank entered into new three-year agreements with each of its 53 lending banks. Al-Ghunaim is a celebrity in the world of Arab banking. In 2010 she was named to Forbes's listing of the World's 100 Most Powerful Women for the fourth time.
It will take Kuwait's banks another year or two before they begin lending aggressively, Al-Ghunaim says. "Everybody is holding back, unless it's for a very rich cash cow," she says. Fees in the equity capital markets have been squeezed, and the desirable, high-
quality transactions are difficult to find.
David Dew, managing director at SABB, the Saudi British Bank, based in Riyadh, says there is significant liquidity in the Saudi banking system and that loans and advances could rise by 5% to 10% this year. "Banks are looking to book quality assets," he says. "There are lots of reasons to be positive about the Saudi economy, which makes up half of the GCC economy."
The combined scale of the government's two announced stimulus programs and how quickly the money is spent will determine the overall rate of growth, Dew says. However, even with the latest $130 billion public spending package, the kingdom's budget will still be in surplus, he says.
Spending on infrastructure, led by the government, will focus on power and water projects, as well as petrochemicals; this will have a trickle-down effect on subcontractors and consumer goods, Dew says, and the retail sector will benefit. "This growth is all perfectly sustainable," he says. "Meanwhile, there are rising trade and capital flows with the rest of the GCC."
Dew adds that there is a high level of stability in the kingdom and that private sector investors are pressing ahead with their plans to invest in the country. Middle Eastern trade ties with Asia are growing, and HSBC, which owns 40% of SABB, has a focus on emerging markets. "Saudi Arabia is a key market for HSBC," he says.
Walid Khoury, CEO of HSBC Saudi Arabia, the first full-service investment bank in the region, says he is bullish about the Saudi stock market, Tadawul, where volume is increasing and share prices are rising. "The market will gradually open further to foreign investors," Khoury says.
"It remains a difficult environment, and our customers continue to suffer"
"But our derivatives issues are behind us" — Michel Accad, Gulf Bank
HSBC Saudi Arabia, which is 40% owned by SABB, was instrumental in bringing the first short-term sukuk to the Saudi market. The Saudi Binladin Group, a major contractor in the region, repaid the $187 million issue on April 12, with settlement through Tadawul. The sukuk, which was solely led by HSBC Saudi Arabia, was originally issued in July 2010.
The smooth closure and settlement of the issue demonstrated the high quality and maturity of the Saudi debt capital markets, Khoury says. Short-term sukuk have the potential of attracting funds from local investors to support working capital.
Adeeb Al-Sowailim, CEO of Falcom Financial Services, says he would like to see the Saudi equity market open to direct investment by foreigners and that the issue is being discussed at the highest levels of the regulatory regime. "Foreigners find the account-opening route somewhat indirect," he says.
Foreign investors account for only a small fraction of the trading, and institutional investors such as pension funds must go through Saudi intermediaries, who technically own the stock under current rules.
Saudi Arabia is a good place for global investors to consider because it is an oil-driven economy with a particularly bright future over the next 10 to 20 years, Al-Sowailim says. Falcom was the first bank in the Arab world to introduce shariah-compliant, single-currency, exchange-traded funds on Tadawul. The firm offers a Saudi equity ETF with all of the shariah-compliant companies listed on the exchange, as well as a petrochemicals ETF comprising 14 companies.
The building materials sector is another area of the Saudi economy that is attractive and reasonably priced, according to Al-Sowailim. If Falcom decides to open another ETF, it would likely focus on this sector, he notes.
The Saudi market had its first initial public offering of the year in May, a $95 million issue by Saudi Integrated Telecom. "There are more IPOs coming, but the market is trading below its normal levels," Al-Sowailim says.
The collapse of the real estate market in Dubai and the debt overhang of government-related entities are continuing to weigh on banks in the United Arab Emirates. Nonperforming loans in the UAE increased by 6.7% in the first quarter of 2011, and the central bank expects a further increase in the second half of this year.
Banks in the Arab Gulf are expected to remain fairly stable in general or to continue improving, according to a recent report by Standard & Poor's. Most GCC banks will be spared from any major effects, direct or indirect, from the Arab Spring because of their limited operations or exposure to the economies of the Middle East and North Africa (MENA) region. Most of the countries of the Gulf remain isolated from the political turmoil, S&P; says.
Bahrain-based Ahli United Bank (AUB) says its operations in Egypt were closed for a few days in January and February, but all of its branches have been functioning normally since then. And while the fighting in Libya is limiting banking operations, the country's oil reserves can help the new government to bring the economy back on track in the medium term, says Adel El-Labban, group CEO and managing director of AUB.
The situation in Bahrain has stabilized and the country's leaders are calling for a multi-party national dialogue beginning on July 1, El-Labban says. "There was no major flight of capital during the recent events, which indicates the continued faith of international investors in Bahrain as a financial center," he says.

Regional Report : GCC