CORPORATE FINANCING NEWS: GLOBAL EQUITY/ DRS
By Gordon Platt
Companies based in China and India dominated global initial public offerings in the first three quarters of 2010, and now the US is getting ready to join the new-equity rush. The IPO market in the US is positioned for a very active fourth quarter, with more than 170 companies in the pipeline, according to Renaissance Capital, based in Greenwich, Connecticut.
General Motors led the parade of new issues in November with an IPO that was expected to raise about $10 billion as Global Finance went to press. The sale was designed to reduce the US government's stake in the automaker to below 50% and to enable GM to resume trading on the New York Stock Exchange and to be listed on the Toronto Stock Exchange.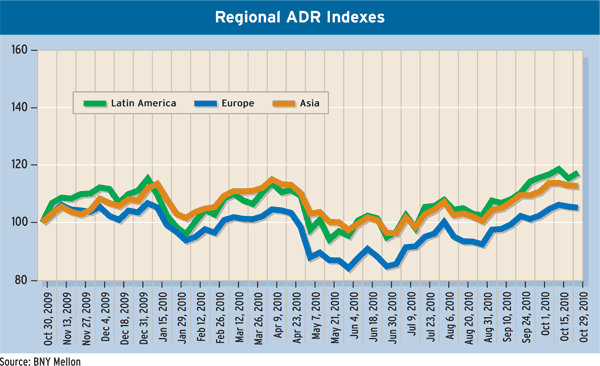 Lead underwriters J.P. Morgan and Morgan Stanley helped GM prepare the paperwork for the IPO earlier this year. Citi and Bank of America Merrill Lynch were later added as lead underwriters. Sovereign wealth funds in Asia and the Middle East were expected to be among the buyers of GM's shares. US taxpayers, who bailed out the automaker in 2009, will be left holding about a 43% stake, down from 61%.
There were 90 IPOs completed in the third quarter of this year, up from 51 in the same period of 2009, according to Renaissance Capital. The dollar amount of proceeds raised rose 29% from a year earlier to $44 billion, mainly due to the record $19 billion IPO in July from Agricultural Bank of China.
Year-to-date proceeds of $126 billion at the end of September were already ahead of the $106 billion total for all of last year. "Although the global IPO market has yet to fully recover, the healthy level of deal volume and dramatic improvement in performance seen in the third quarter of 2010 indicate that IPO investors are more than willing to participate, given an attractive fundamental story pitched at a reasonable price," Renaissance Capital says.
Five of the top 10 performers in the third quarter were US-listed American depositary receipts (ADRs), with India-based MakeMyTrip, an online travel company, leading with an 89% rise on its first day of trading. China-based Country Style Cooking Restaurant Chain and Camelot Information Systems, a provider of outsourced information technology services, were also well received.
China-based education-related companies have been recent strong performers. ADRs of Xueda Education, which sells one-on-one tutoring services in China, rose 32% in the company's debut on the New York Stock Exchange on November 2. Another China-based tutoring firm, TAL Education, gained 50% in its first day of trading on the NYSE two weeks earlier.
The ADRs of Global Education & Technology, which provides tests and after-school courses in the English language in China, rose 16% in their October 8 debut on Nasdaq. Mecox Lane, which operates an online platform for apparel and accessories in China, soared 57% in its first day of trading on Nasdaq in late October.
Sumitomo Mitsui Financial Group, the second largest bank in Japan by market value, listed ADRs on the NYSE on November 1. Citi's Depositary Receipt Services business was appointed depositary bank for the Level 2 ADR program. "The listing of SMFG's depositary receipt program was the most notable to come out of Japan in the past four years," says Miguel Perez-Lafaurie, head of DRs at Citi for the Asia Pacific region. SMFG issued no new shares in connection with the listing, but the ADR program will enable the Japanese bank to respond to merger and acquisition opportunities, such as the purchase of US banks.
Citi also was appointed depositary for Karuturi Global's Regulation S global depositary receipt program, which is listed on the Singapore Stock Exchange. Bangalore-based Karuturi, an exporter of cut roses, has operations in Ethiopia and Kenya, as well as India. The company has acquired a large plot of land in Ethiopia and aims to become a leading agricultural company in Africa.