CORPORATE FINANCING NEWS
By Gordon Platt
The value of global mergers and acquisitions has failed to pick up, despite low interest rates and an improving global economy. Worldwide M&A totaled $2.4 trillion in 2013, a decline of 6% from a year earlier and the lowest since 2009, according to Thomson Reuters. The number of deals fell 7% last year to 36,800, the lowest since 2005.
Megadeals in the TMT (technology, media and telecom) sector were the highlight of 2013, according to Mergermarket. TMT was the dominant industry by both value and deal count, with 775 deals worth $298 billion, a 76% increase from 2012. The biggest deal of last year, valued at $124 billion, was Verizon Communications' purchase of a 45% stake in Verizon Wireless from Vodafone Group of the UK.
M&A advisory fees from completed transactions in 2013 totaled $22.5 billion, a 12% decrease from 2012, according to estimates from Thomson Reuters/Freeman Consulting. M&A advisory fees were the only segment across investment-banking products to show a double-digit percentage decline last year.
CROSS-BORDER DEALS DOWN
Cross-border M&A activity declined 18% in 2013 to $738 billion. After posting a significant net M&A outflow of nearly $50 billion last year, the US has begun 2014 with inflows accelerating sharply, according to a report by Deutsche Bank strategists Oliver Harvey and George Saravelos. In contrast, M&A outflows appear to be picking up again out of Japan, the report says. The eurozone had the highest M&A inflows last year of more than $50 billion, although inflows have slowed recently.
Private-equity-backed M&A activity rose 22% worldwide last year, Thomson Reuters reports. Private equity deals in the technology, consumer staples and energy sectors accounted for 47% of the activity during 2013, up from 30% in 2012. The upward trend is expected to continue this year, in light of the record level of dry powder available for private equity funds.
The eurozone countries had several high-profile deals last year, such as those in Italy's luxury fashion sector, Mergermarket notes. For example, Italian cashmere clothier Loro Piana sold an 80% stake in the company to Paris-based LVMH Moët Hennessy Louis Vuitton for $2.6 billion. The eurozone's share of global M&A rose to 15.5% in 2013 from 14.2% in 2012.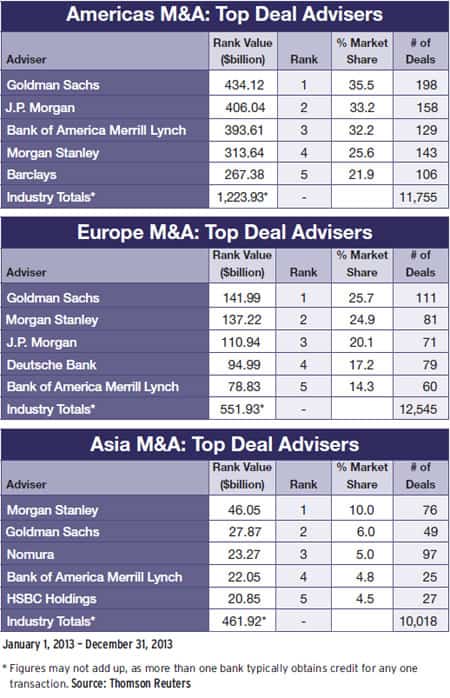 ASIA PACIFIC
DEALS RISE
In 2013 announced M&A transactions involving countries from the Asia Pacific region, excluding Japan, rose 1.6% to $460 billion.
According to Thomson Reuters the energy and power sector was the most active in the region, generating $72 billion in proceeds from 651 deals. The materials and financials sectors were also active. Advisory fees for the Asia Pacific region in 2013 fell 3.7% from a year earlier to an estimated $2.3 billion.
M&A deals in Japan fell 25% last year to $135 billion, although the number of deals increased slightly. Japanese outbound M&A volume dropped 15.7% from the record $83 billion reached in 2012.
US-targeted M&A was one of the few markets posting solid gains during 2013, with a rise of 11.3% to just over $1 trillion. The surge was primarily driven by several high-value deals, including the Verizon deal, according to Thomson Reuters. M&A activity involving Canadian companies fell 18% in 2013, although deal volume rose sharply in the fourth quarter.
The biggest M&A transaction in December was food distributor Sysco's agreement to buy rival US Foods for $3.5 billion in stock and cash. Thomson Reuters valued the deal at $8.2 billion, including the assumption of $4.7 billion in liabilities. Clayton, Dubilier & Rice and KKR bought US Foods from Royal Ahold of the Netherlands in 2007 for about $7.1 billion, including debt.