GM becomes the first automaker in history to have women in both the CEO and CFO positions.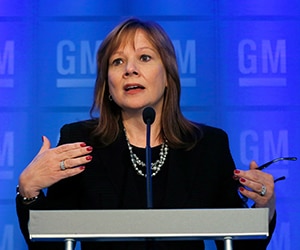 Advocates for diversity in corporate culture cheered when General Motors (GM) announced the addition of a second woman to the front seats of America's largest carmaker. CEO Mary Barra will be joined by Dhivya Suryadevara as the company's new chief financial officer beginning on September 1.
The gender contrast between Corporate America's and GM's C-suite is stark: at S&P 500 companies, only 5% of CEOs are women and only 21% of board of director seats are held by women according to Catalyst, a non-profit organization that researches the role of women at work. Aside from Hershey, GM is the only Fortune 500 company to have women serving as both CEO and CFO although there are a few international company female CEO-CFO teams, including the UK's, Canada's Enmax, and Australia's Reva Medical.
"Given this grim reality, the pool of women who have had senior-level sponsors and gained the on-the-job experience necessary to take other C-suite level roles such as CFO is relatively small, so to have a company with women as CEO and CFO is incredibly rare," says Anna Beninger, senior director of Research & Corporate Engagement Partner for Catalyst."Having more women in the C-suite provides role models for women coming up through the pipeline in companies," she says.
Being the right person for the job at the right time helps women as well as men. Both Barra and Suryadevara surged to their current roles after long careers at GM.
"Dhivya's experience and leadership in several key roles throughout our financial operations positions her well to build on the strong business results we've delivered over the last several years," Barra said.
Gender diversity becomes a major asset when a company aims to change. GM was just out of bankruptcy when it picked Barra as CEO.
"Barra was not a member of the old boys' club. It was a deliberate choice to select her," says Maryann Keller, who founded Maryann Keller & Associates in 2001 after working for 28 years as a Wall Street automotive analyst.
"She had the right resume for the job. She was not only as capable and as dedicated as any other man but was also needed for change," says Keller, who recalls receiving surprised emails from colleagues when Barra was appointed in 2014.
Some industries, such as consumer goods, have been more open than others to promoting women to leadership positions as they realized how beneficial it is to have executive leadership that reflects their customer base, Beninger explains.
But the road to gender balance in the boardroom remains uphill. The number of female CEOs reportedly dropped by 25% from a record 32 in 2017, according to a Fortune 500 list released in May. Names of women who recently left their CEO jobs include Meg Whitman at Hewlett Packard, Irene Rosenfeld at Mondelez and Denise Morrison at Campbell.
Women in S&P 500 Companies
| | |
| --- | --- |
| Position | % of Women |
| CEOs | 5.0 |
| Top Earners | 11.0 |
| Board Seats | 21.2 |
| Executive/Senior-Level Officials and Managers | 26.5 |
| First/Mid-Level Officials and Managers | 36.9 |
| Total Employees | 44.7 |