Changing of the guard at Wall Street's most famous investment bank.
Last month Marty Chavez, the CFO of Goldman Sachs (GS) was replaced by Stephen Scherr, formerly the head of the consumer and commercial banking division. This change will take effect starting in November.
Chavez in turn will become one of the three co-heads of the securities division. Chavez is a technologist and his 18-month stint as CFO was said to be less than perfect, but his expertise is valued at the firm and he is being promoted to a VP role of the securities division. There he will focus on his tradingworkflow automation projectknown as Marquee.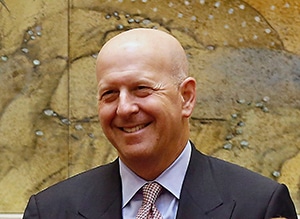 Effective October 1, John Waldron, one of three co-heads of the investment banking division, is set to become GS'sPresident and COO, the number two position after David Solomon, the new CEO of Goldman. The two have known each other since working together at Bear Sterns in the 1990s.
These changes aretypical of senior management changes in that moving one's own team into place is common. Yet one wonders if it is also a sign that technological expertise alone is not the crucial asset for running a major bank and if other factorswere at work as well.
In a memo to management, the firm said, "Marty's unique experience as chief information officer (CIO) and chief financial officer (CFO) will be critical to helping lead Securities and ensuring that we are best positioned to serve our clients, develop market-leading electronic platforms and deploy our capital effectively."
With Stephen Scherr taking such a prominent position, it seems clear that GS is looking towards main street for part of its investment revenue.
Solomon and Waldron come from investment banking rather than trading which was Lloyd C. Blankfein's turf. It seems that investment banking and advisory roles at GS are being deemed more strategic and as better prospects for the futurethan trading which may take a back seat.
Blankfeinsaid: "John, Stephen and Marty each bring deep, critical experience to their new roles. As the firm prepares for the next phase of growth, I am pleased that Marty will help lead our securities business as it continues to undergo rapid transformation, and I am confident that John and Stephen will represent a strong, effective management team under David's leadership."
According to Richard X. Bove Chief Strategist for Financial Opportunities Strategy atHilton Capital Management LLC, a privately held investment management boutique, these personnel shifts reflect a return to Goldman's core strength: investment banking.
"Goldman didn't adjust to the changes that technology brought to the sector with lower prices and all that that means. This latest move is a turn of the Titanic in the right direction. Goldman needs to focus on areas that technology can't change in the same way, i.e. investment banking," said Bove.
According to Bove, the firm after 37 years is finally getting control back after the merger with J. Aron & Co., the commodities merchant that Goldman bought in 1981. "That was really a reverse-merger and all the important people at the bank were brought in from the trading side. Trading is not going to be where banks get their great fortunes in the future. The new C-suite are from the investment banking side which is key to this story."