Regional political and economic uncertainty has not impeded Lebanese banks' expansion into countries such as Jordan, Egypt, and even Iraq, says BLOM Bank's chairman and general manager.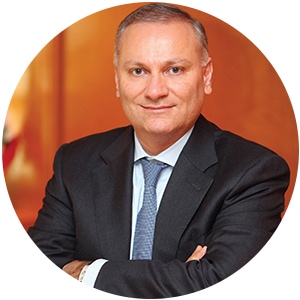 Global Finance: What are the prospects for the Lebanese economy?
Saad Azhari: There are a lot of possibilities to grow the Lebanese economy. We are looking forward to the beginning of the oil and gas exploration process. Companies should be appointed to that task before the end of the year. Exploration will give a major push to the Lebanese economy through investment and job creation. When Syria stabilizes, Lebanese companies will also benefit greatly from the country's reconstruction.
GF: What types of products or services have strong prospects for growth in Lebanese banking?
Azhari: Technology-based products are very important. We try as much as possible to offer leading products within what is permissible in Lebanon, because we have infrastructure limitations. Services such as electronic signatures are still awaiting parliamentary law. However, we see customer appetite for online banking, especially from the younger generations. Right now, our biggest customers still relate to branch banking; but in a few years, today's young will grow and we will have to follow their needs. In order to keep up to date in the IT field, we have invested $50 million via venture-capital funds in nine Lebanese start-ups.
GF: Lebanese banks have traditionally maintained a regional focus. Under current conditions, does that help or hinder the industry?
Azhari: Banks need to have a long-term approach to regional expansion. At BLOM Bank, regional growth contributes positively to our results, and this trend will only increase. When we go to neighboring countries, we are able to grab market share quickly because we have good systems and products.
In Jordan, for instance, we became the market leader in car loans very rapidly.
Of course, we could benefit from more stability in the countries we target—like Iraq, for example, where our presence is still limited—but we are successful everywhere we go.
In Egypt, even with the crisis, we have achieved our best return on equity. The currency devaluation decreased the size of our balance sheet, but profits are still growing fast. We currently have 33 branches in Egypt and will have more than 40 by the end of the year.
GF: Where are the best prospects for regional growth and expansion?
Azhari: The potential for Lebanese banks to grab even more market share in the region is very important. Lebanon was always open to foreign banks, while other countries were closed; so when their markets open up, we have a clear competitive advantage.
In the Gulf, we have a limited presence in the United Arab Emirates, Qatar and Saudi Arabia. For now, we cannot branch out, because of local restrictions; but we are still achieving excellent results, because we have added value compared to international banks. When these countries open up more—and I think they eventually will—we will grow our business in retail and corporate banking.
GF: Arab banks have recently seen a decline in correspondent banking relationships. How are you addressing this?
Azhari: Lebanese banks did not really suffer from the withdrawal of correspondent banking relationships, because Lebanon is very much a "dollarized" economy. We have always been careful to make sure our correspondent banks are comfortable in dealing with us. For example, by law we need to be aware of each correspondent bank's legal framework and apply it.