TIME-OUT FOR BRAZIL'S GROWTH BOOM
By Antonio Guerrero
Brazil's growth explosion could be ending. The Brazilian central bank in June cut the official growth target from 3.5% to 2.5% for 2012, after first-quarter GDP expansion was a meager 0.2%.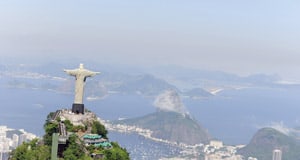 Brazil's economic growth falls from former heights
But analysts are unconvinced that even the new target will be met. Brazil's economy grew by 2.7% last year, and there is mounting consensus that growth will remain near 2% this year. The central bank continues to slash interest rates, with the benchmark Selic rate at 8.5% in June, the lowest level in 50 years.
German electronics conglomerate Siemens plans to invest up to $1 billion in Brazil, as part of a broad plan to expand its presence in the country. The company expects the investment program to support a 100% increase in revenue over the next five years.
In June, São Paulo's Banco Cruzeiro do Sul, a medium-size bank focused on consumer finance, became the third financial institution in two years to be seized by the central bank. It was placed under the banking insurance deposit fund for six months, as authorities sort out inconsistencies in asset reporting and regulatory compliance.