RISING RATES ARE ENCOURAGING LENDING
By Thomas Clouse
Strong demand for loans and higher interest rates boosted profits at several Chinese banks to record levels.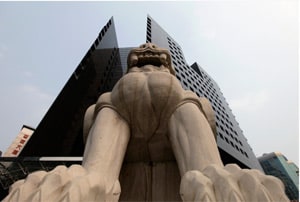 Record-high net profits at China Construction Bank
Strong demand for loans and higher interest rates boosted profits at several Chinese banks to record levels in the first half of the year. China Construction Bank, the country's second-largest bank by assets, reported a record-high net profit of 92.8 million yuan ($14.5 million) in the first six months, an increase of 31% over the same period in 2010.
The Bank of Communications, the nation's fifth-largest lender by assets, also posted a record-high profit, up 32% year on year, while listed banks China Minsheng Bank and Shenzhen Development Bank both saw profits grow by more than 56%. Policymakers have repeatedly raised interest rates to rein in bank lending and inflation, which rose at a three-year-high rate of 6.5% in July. Those increases have widened loan margins for banks, however, offering incentives for the banks to keep lending.
Chinese online video content provider Tudou raised $174 million in its August IPO on the Nasdaq stock exchange. The company decided to push ahead with its US stock offering despite weak equity markets globally. The IPO raised far less than the $203 million mark set by its competitor Youku in its US IPO last December, and the company lost more than a quarter of its value in the first few days of trading.
Tudou is not the only Chinese Internet company to struggle in recent weeks. Sina Corp, China's largest Internet portal, reported a drop of 60% in net profit in the first half of the year after rising costs related to its microblogging service cut into the company's profitability. Baidu, China's most popular search engine, saw its stock price fall after negative news reports about the company appeared in state-controlled media.
The Chinese government has agreed to shut a plant near the northeastern coastal city of Dalian after an estimated 12,000 people took to the streets to protest. The controversy started when storm waves breached a dike near the Fujia Chemical Plant, which makes paraxylene, a toxic chemical used in polyester. Though the dike was repaired with no evidence of chemical danger, rumors of a leak prompted protests around the city with many of the participants among China's growing middle class.
Despite governmental efforts to contain news of the protest, pictures and comments spread across the Internet. In response to increasing pressure from the public, the government agreed to shut the factory and move it to another location.