INVESTMENT SPREE FOR FIFA WORLD CUP AND OLYMPICS
By Antonio Guerrero
Brazil is preparing for a major investment spree ahead of the 2014 FIFA World Cup and 2016 Olympic Games.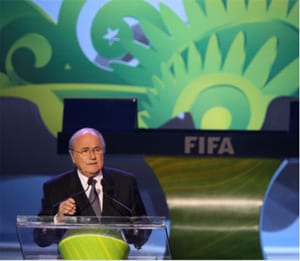 Brazil prepares for FIFA World Cup 2014
Brazil's tourism industry is preparing for a major investment spree ahead of the 2014 The Fédération Internationale de Football Association World Cup and 2016 Olympic Games, as both mega-events are expected to increase tourist traffic. The hotel sector will invest $7.38 billion between 2011 and 2014 to build 198 new hotels, generating more than 31,000 new jobs. The BNDES state-owned development bank will finance as much as 70% of airport privatization deals announced by the government, involving three major airports, as part of a program to expand capacity. The government says $3.7 billion in airport upgrade and expansion investments are required.
US firm Bunge will invest $2.5 billion over the next fiveyears to increase sugar and ethanol production in Brazil, the world's largest sugar producer and exporter. The program involves boosting output at Bunge's eight Brazilian sugar mills by 2016, increasing annual cane crushing capacity to 30 million metric tons from 21 million tons now. The company will invest $350 million in Brazil this year to plant 70,000 hectares of new cane fields. Bunge is encouraged by a recent rise in sugar prices as a result of drought and frosts in Brazil's cane production regions.
Goldman Sachs in August cut its Brazil GDP growth forecast to 3.7% for 2011 and 3.8% for 2012 as a result of the impact of the deteriorating global economic environment. The investment bank had projected 4.5% and 4% growth for 2011 and 2012, respectively. Brazil's economy expanded by 7.5% in 2010.
After launching a major anti-corruption drive in July, Brazilian President Dilma Rousseff's administration has seen the resignation of four cabinet members. The drive began at the transportation and tourism ministries, bringing down both ministers and numerous other officials. Rousseff's chief minister also resigned, and the agriculture minister stepped down in August.