The term Mergers and Acquisitions (M&A) refers to the buying, selling, dividing and combining of different companies and similar entities by corporations, with the goal of growing more rapidly and efficiently.
It is a trend spurred by increased global integration of the economy, which requires successful corporations to operate at a multinational level.
Rank

Ranking Value
($Mil)

Target Name

Target Nation

Target Macro
Industry

Target Mid
Industry

Acquiror Name

1
130100
Verizon Wireless Inc.
United States
Telecom
Wireless
Verizon Communications Inc.
2
27361.7
HJ Heinz Co.
United States
Consumer Staples
Food and Beverage
Investor Group
3
25531
Virgin Media Inc
United States
Telecom
TelecomServices
Liberty Global Inc.
4
19331.1
Omnicom Group Inc.
United States
Media and
Entertainment
Advertising & Marketing
Publicis Groupe SA
5
19283.8
Dell Inc
United States
High Technology
Computers & Peripherals
Investor Group
6
16700
NBCUniversal Media LLC
United States
Media and
Entertainment
Broadcasting
Comcast Group
7
15717.5
Portugal Telecom SGPS SA
Portugal
Telecom
TelecomServices
Oi SA
8
15367.6
Life Technologies Corp
United States
Healthcare
Biotechnology
Thermo Fisher Scientific Inc
9
14009
Westfield Group-Australian/NZ
Australia
Real Estate
Non Residential
Westfield Retail Trust
10
13248.5
Zoetis Inc
United States
Healthcare
Pharmaceuticals
Zoetis Inc
11
13025.4
Shoppers Drug Mart Corp
Canada
Retail
Other Retailing
Loblaw Cos Ltd
12
11708.3
CDC-SME Financing Business
France
Financials
Other Financials
France-SME Financing Business
13
11647.5
Bausch & Lomb Inc
United States
Healthcare
Healthcase Equipment
& Supplies
Valeant Pharmaceuticals
14
11435.1
E-Plus Mobifunk GmbH & Co KG
Germany
Telecom
Wireless
Telefonica Deutschland Holding
15
10401.9
Cole Real Estate Investments
United States
Real Estate
REITs
American Rity Capital Ppty Inc
According to Thomson Reuters of the top largest fifteen announced M&A deals in 2013, almost half (seven) involved telecommunications, media and technology companies (TMT), three were in the health sector, two in real estate and there was one apiece for the finance and food & beverage sectors.
There were 14 TMT mega-deals (above $5 billion), the highest number since the 21 mega-transactions in 2007. Transactions valued at $10 billion and above helped to drive US M&A volume in 2013. There were 12 such deals, worth an aggregate $367.4 billion, the highest volume of mega deals since 2008's total of $401.8 billion, accounting for 31% of total US M&A. Deals valued between $1 billion and $10 billion, meanwhile accounted for the majority of US targeted M&A, at 37% of all deals.
Europe saw a 24% increase in deals valued over $5bn. In Asia Pacific there were 81 deals valued over $1 billion in 2013.
The biggest deal of the year — and one of the biggest of all time — was Verizon's agreement to buy out Vodafone's 45% stake in Verizon Wireless for $130 billion. More than a decade in the making, this is the third largest corporate transaction of all time, behind AOL's merger with Time Warner and Vodafone AirTouch's takeover of Germany's Mannesmann.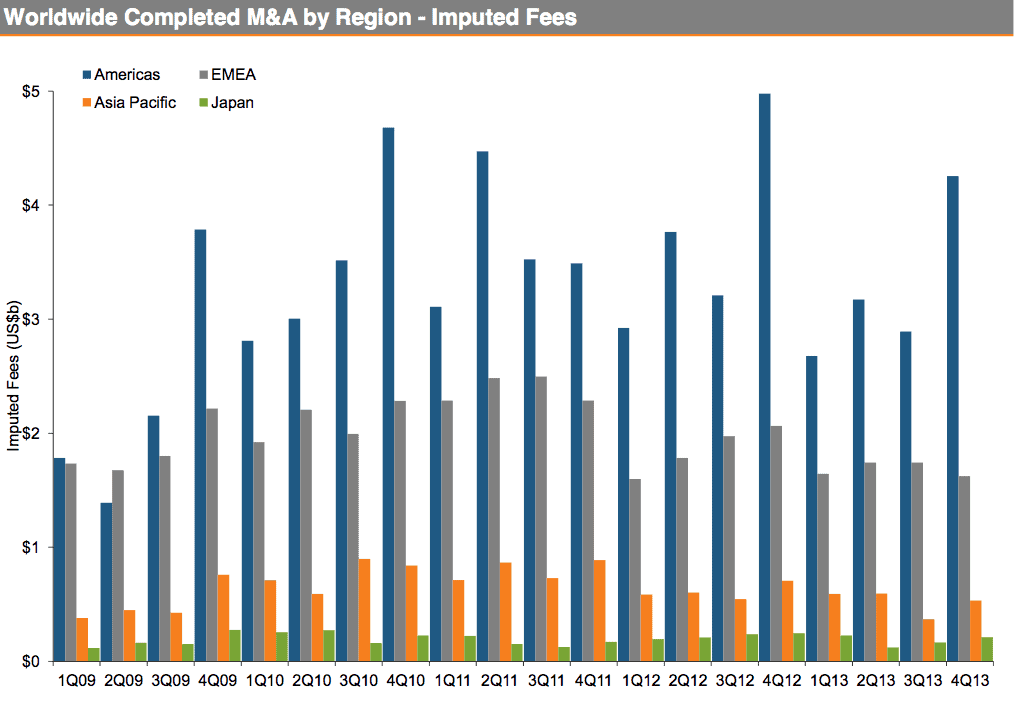 The second largest deal of the year and the largest ever deal in the food sector is Berkshire Hathaway and 3G Capital's $27.4 billion acquisition of Heinz.
Third was Liberty Global's $24 billion deal to buy UK cable-TV and broadband provider Virgin Media, creating a much stronger rival to British Sky Broadcasting. The deal is seen as a stepping stone, as Liberty Global seeks to build a European pay-TV empire.
In fourth place and one of the biggest shocks of the year was the announced advertising agency mega merger between bitter rivals Publicis and Omnicom, although the deal was called off in May 2014.
At Five, is Michael Dell, and the private equity firm Silverlake's buyout of Dell Computers for $25 billion is seen as a bit of a steal of the company began by Michael Dell at university.
Comcast's buyout for General Electric's remaining stake of NBCUniversal Media for $16.7 billion is at number six, and comes two years after the Philadelphia cable TV operator acquired a 51% interest in the media company.
At seven, is Brazil's biggest phone company Oi Sa's merger with Portugal Telecom for $17 billion, followed by Thermo Fisher Scientific's acquisition of Life Technologies for $13 billion.