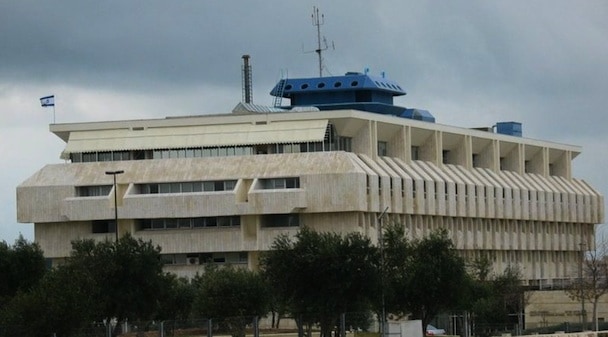 Finally, a new boss at the Bank of Israel (Photo: Ester Inbar)


The nearly four-month-long search to find a new governor for the Bank of Israelmore a comedy of errors than a selection processwas punctuated by political infighting, embarrassing missteps and public humiliation for acting governor Karnit Flug, who was passed over not once but twice for the position. Now that Flug has been officially, albeit belatedly, tapped to replace Stanley Fischer, youd think things might get easier for her.
Dont count on it. The Keynesian economistthe first woman to head up the Bank of Israelmust swiftly overcome the stigma of being offered a job only after a raft of preferred candidates fell by the wayside. At the office, she must cope with a shekel that continues to strengthen against the US dollar, which threatens to put an end to recent gains in the economy, including a plunging unemployment rate. Meanwhile, the countrys GDP is expected to increase 3.4% this yearsolid but not exactly heady growth.
Flug, 58, will also have to do something about the countrys housing bubble. Prices of homes rose 81% from April 2007 to March 2013. Despite predictions of a cool-down, they have gone up 10.5% over the past 12 months or so.
To apply the brakes, Flug, who has worked at the Bank of Israel for nearly 25 years, is widely expected to put pressure on the cabinet to sell more property, thus upping supply.


WHAT TO WATCH



Karnit Flug talks, in an exclusive interview with Global Finance in 2012

At this point, however, its not clear how much clout the new Bank of Israel governor carries. Although Flug was backed by mentor Fischer, who resigned as head of the central bank at the end of June, she was not on the short list of Prime Minister Benjamin Netanyahu, who made no secret of his desire to bring some star power to the central bank. Netanyahu went hard after former US Treasury boss Larry Summersnot once, but twiceand failed both times.
Given Flugs more modest CVa Columbia Ph.D who worked at the International Monetary Fund but is seen more as a grinder than a starits not overly surprising Netanyahu went looking elsewhere. But his quest to find a suitable follow-up act at the Bank of Israel led the prime minister down some blind alleys. At one stage he was keen on Jacob Frenkel. The former Bank of Israel governor was forced to withdraw his candidacy, however, after

Haaretz

reported that he was detained in 2006 at the Hong Kong airport for, of all things, allegedly shoplifting perfume at a duty-free store.
Less than a week after Frenkel pulled out of the race, Leo Leidermanthe respected chief economist at Bank Hapoalim and another of Netanyahus top pickssurprisingly and suddenly withdrew his name. The prime minister then scrambled to find new candidates. His revised short list included Mario Blejer, international economist and a former governor of Argentinas central bank; Zvi Eckstein, a onetime deputy governor under Fischer; and Victor Medina, who served variously at the Bank of Israel and the Finance Ministry and was a former CEO of Bank Mizrahi.
This very public cattle call could not have done much for Flugs self-esteem, considering she was Fischers handpicked successor. But while Netanyahu was still searching for a big-name candidate, he and finance minister Yair Lapid happened to get together with the deputy governor for a meeting. It was at that gathering that Flug reportedly impressed the pair with her report on the IMF annual gathering along with comments on her meetings with US Federal Reserve Board boss Ben Bernanke and his recently appointed successor, Janet Yellen. Apparently, Fischer once again called Netanyahu, urging the prime minister to name her to the top job.
Eventually, Netanyahu relented. On October 20, he reversed course and announced his selection of Flug to succeed Fischer.
Flug is expected to consult with Fischer on crucial issues, including oversight of the banking sector and keeping a lid on the strengthening shekel. But at some point, the new governor must step out from the shadow of her mentor.
Despite the 113 tumultuous days that finally saw Flug get the job she wanted all along, now she must do that job.
The hard part is just beginning.