Renewed regional integration drives the agenda in Latin America.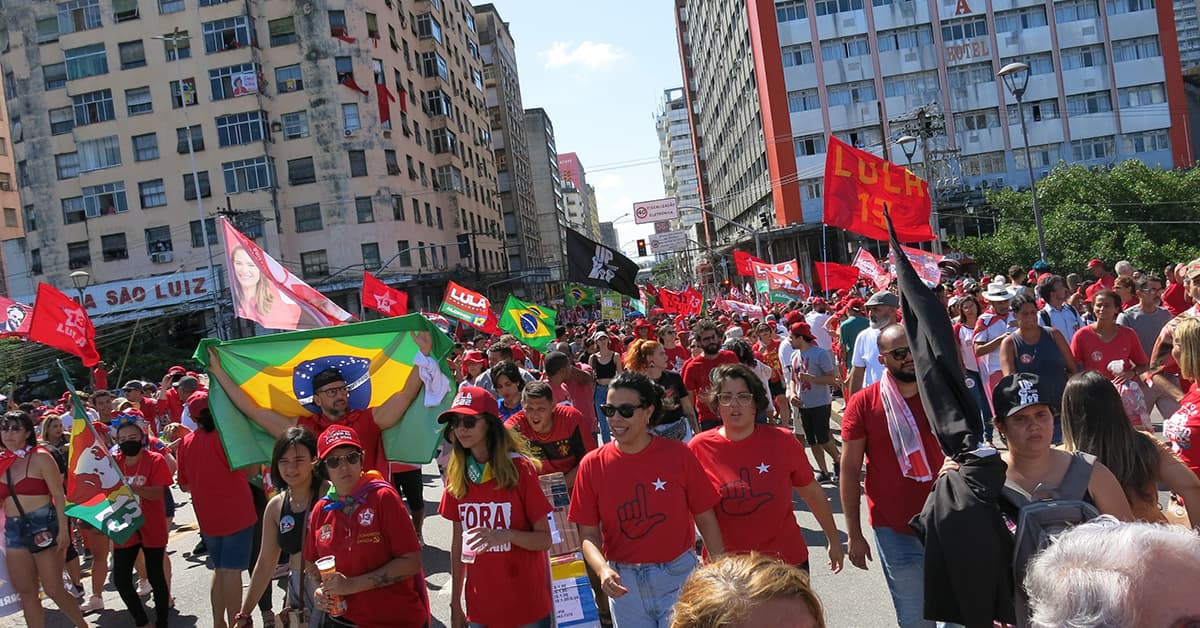 When Luiz Inácio Lula da Silva (or Lula) won the Brazilian presidency in November 2022 by a slim 1.8% margin, Latin America's leftward swing seemed complete. For the second time this century the region experienced a so-called "pink tide."
However, most polls indicate that the current shift is more of an anti-incumbent movement than it is a lasting ideological realignment. Put simply, conservative governments failed to deliver sufficient growth and were punished accordingly by voters.
The window of opportunity for a more concerted regional articulation built around common political goals may be narrow, but it is also one of the faster paths to better economic results.
Regional Integration
Take the Mercosur trading bloc comprised of Argentina, Brazil, Paraguay, and Uruguay (Venezuela is currently suspended, the remaining eight South American countries are associated members, while Mexico and New Zealand are observer members): it aims to establish full free trade and movement across the region and encompasses a territory of over 19.9 million sq. km (an area 15% larger than Russia and more than double that of the US). Though still an imperfect customs union and relegated to marginal status during the tenure of Lula's predecessor Jair Bolsonaro, Mercosur delivered a combined GDP of over $5 trillion in 2022, making the bloc the world's fifth largest economy.
Other regional economic integration mechanisms include the creation of the Community of Latin American and Caribbean States (Celac) in 2010, the Union of South America (Unasur) in 2008, and the Latin American Integration Association (Aladi) in 1980.
Aladi's 1982 Agreement on Reciprocal Payments and Credits (CCR) mechanism among Latin America's central banks is arguably one of the region's greatest success stories. The CCR allowed Latin countries to trade with each other while minimizing the need for international reserve currencies such as the US dollar. Members register their trade credits and subtract owed amounts over a period of time. Thus, hard currency is only necessary for liquidating the smaller sums of the regional trade balance. Brazil—the economic powerhouse behind the CCR— rescinded its participation in the agreement in 2019 under Bolsonaro.
"Withdrawing unilaterally from the CCR was especially damaging for Brazil," explains Unasur's former director of economic affairs Pedro Silva Barros, because it was the principal beneficiary of the arrangement. "Brazil is by far the region's largest and most diversified economy and a net exporter to other Latin American countries. The CCR enabled countries with fewer resources or with difficulties in securing hard currencies—such as Argentina and Venezuela—to maintain higher import flows from Brazil."
Pink Alliances, Green Tints
Since taking office in January, President Lula has indicated his desire to rekindle a modern version of the CCR and imbue Mercosur with renewed impetus. He is not alone in that enterprise. Fernandez's Argentina is especially interested in a payment system based on a supranational currency.
"This is very different from the euro," warns Brazil's Applied Economics Research Institute (Ipea) coordinator and former UN Economic Commission for Latin America and the Caribbean (Eclac) director Renato Baumann. "What is being discussed is a common currency—possibly a virtual one—that wouldn't supplant national currencies, but instead be used for intra-bloc trade to avoid external hard currencies," he explains.
The pink tide this time around also has a decidedly greenish tint as leftist governments throughout the region prioritize fighting climate change and environmental degradation. Lula's Brazil is hosting a summit of Amazon nations later in 2023 and hopes to host the UN's Climate Change Conference in 2025, a sharp reversal from Bolsonaro's refusal to protect the Amazon and its indigenous peoples. The latter derailed free trade agreement (FTA) negotiations between Mercosur and the EU in 2020, meaning talks can now resume.
Seeing Red And Yellow in Uruguay
Spurned by Bolsonaro and with Mercosur morose, Uruguay's President Luis Lacalle Pou turned away from Latin America and towards China. Uruguay has formally started negotiating an FTA with the Asian giant—which could have serious implications for Mercosur—and China has overtaken Brazil as the top importer and exporter to the small South American nation.
According to Baumann, these developments are not entirely unexpected. "Uruguay has formally renounced its industrial efforts and is content with its place as a commodity and services exporter, so China's cheap imports do not pose a threat to its industry," he says.
"The move by Uruguay has a lot to do with Bolsonaro's lack of interest in Mercosur, and his personal dislike for the current Argentine president. If the two largest members of the bloc are not talking, there's very little hope for the smaller ones," Baumann says.
China's inroads into Latin America are part of a broader pattern of increasingly intense Chinese-US strategic competition explains Dr. Cui Shoujun, a professor and director of Latin American studies at the Renmin University of China in Beijing.
"As a global power and global south country, China needs Latin America to deal with numerous international issues. Latin America is a partner in promoting world governance and the rise of the global south. Economically, Latin America is rich with natural resources, which China needs for its manufacturing industry. Signing an FTA with Uruguay may catalyze ongoing talks with others," he says.
According to Ipea's Baumann, China's courtship of Uruguay is part of its global strategy of becoming an alternative to the West and making the Chinese currency—the yuan—more global.
But Chinese ambitions in the region do not stop at Mercosur. An Ecuador-China FTA has been negotiated this past January with China set to finance six hydroelectric projects across South America to the tune of some $3 billion. Ecuador, on the other hand, is supplying cheap oil to PetroChina in a debt repayment program.
"Even though there is nothing precluding Uruguay from signing an independent trade pact with China per Mercosur agreements, it would almost certainly mean the country would have to leave the bloc. Tariff-free goods from China could otherwise enter Uruguay and, from there, freely cross into the other member countries. This would signify a complete demise of both Brazilian and Argentine industries," Baumann says.
Lula is trying to counter China's moves by prioritizing the FTA with the EU and reviving Latin American integration. According to Silva Barros, Brazil's isolation came at a cost: lower intra-regional commerce. "South American commerce is low, but extremely important for Brazil—it used to comprise 19% of all Brazilian exports in 2011, but is now at 13%," he says.
"This decrease has not been compensated by export gains to other parts of the world, principally because Brazil's exports to Latin America comprise more specialized goods with higher intrinsic added value than the country's exports to other regions," Silva Barros adds.
Brazil's average value per exported metric ton (AVET) to South America is $1,600—compare that to Brazil's $260 AVET to China, and it becomes clear how important regional trade is for Latin America's largest country.
"South America is also an extremely preferential market for Brazil. While the region imports only 1.6% of the global output, it currently absorbs 13% of Brazil's exports—and 35% of that volume is made up of goods of either medium-high or high technological added value," Silva Barros notes.
So, how does Brazil solve the Sino-Uruguayan conundrum? According to Baumann, the best way forward is for Lula's government to deepen relations with both Argentina and Uruguay.
"Oil and liquid gas pipelines connecting the three countries would be significant incentives for the other Mercosur members to focus on local strategy instead of Asian trade. Brazil can further sweeten the deal by providing access incentives to the burgeoning Uruguayan services sector. But the initiative must come from Brazil, which represents around 75% of the bloc's GDP," he says.
Silva Barros adds a cautionary warning should Mercosur fragment: "Lack of integration means South America becomes open to external actors and another stage in the disputes of bigger world powers. There is no such thing as a power vacuum, once a player is out another one takes its place. This can be seen in Venezuela: the influence of Argentina, Brazil, Mexico, and the US dwindled only to be swiftly replaced by that of Turkey, Russia, and Iran. Integration goes beyond trade issues and could very well mean the stability and maintenance of peace for all of South America."