RISE OF THE "JAGUAR"
By Antonio Guerrero
Mexico's new business-friendly president has promised to open up state-owned oil companies to private investment. If so, Mexico could overtake Brazil as the region's largest economy within a decade.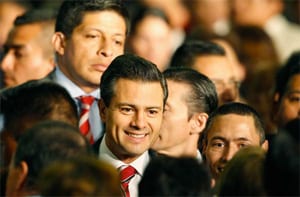 Photo Credit : REUTERS/STRINGER MEXICO
When Mexican president-elect Enrique Peña Nieto, 46, is sworn in on December 1, he will be bringing back to power the PRI party, which was voted out of office in 2000 after controlling government for 71 years. Expectations are running high for the incoming administration to support pro-business policies that will consolidate the country's recovery. Ongoing drug-cartel-related violence, however, could remain a stumbling block.
"The markets responded positively to Peña Nieto's victory, a reflection of the business community's favorable view of his campaign platform and increased confidence that the new president will be able to break the legislative logjam that has prevented the implementation of key reforms," says Benedict McTernan, managing editor at The PRS Group, a political risk analysis firm.
"As a whole, Peña Nieto's agenda is decidedly business-friendly, with promises of fiscal reforms that will create the potential for tax relief and increased spending on needed improvements to infrastructure, along with proposals to bring greater competition to key industries that are currently dominated by one or two big players, and greater freedom with regard to making adjustments to the workforce," adds McTernan.
Voters, who elected Peña Nieto in July, failed to give him a congressional majority. Gavin Strong, Mexico analyst at Control Risks, a global risk consultancy, feels this could prove beneficial. "The PRI's failure to secure an absolute congressional majority will ensure that Peña Nieto does not stray too far from the market-friendly policies of his predecessor," he says. "The PRI is extremely unlikely to be able to pass reforms that dramatically affect the business environment, even if it were inclined to do so."
REGIONAL ECONOMIC POWER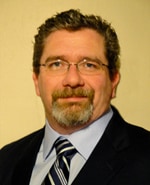 McTernan, PRS Group: Peña Nieto's agenda is decidedly business-friendly
Among Peña Nieto's campaign promises cheering investors is a plan to overhaul state-owned Pemex. The world's eighth-largest oil company by output, with $100 billion in sales last year, is plagued by plummeting production and lack of investments. Peña Nieto vows to maintain state ownership but increase private-sector participation. Mexico's constitution prohibits Pemex from entering into joint ventures with private firms if these involve sharing both profits and risks. Peña Nieto is expected to make partnership restrictions more flexible. More than one-third of the Mexican government's revenues are generated by the country's oil sector.
Investors are also encouraged by Mexico's steady growth. The finance ministry predicts the economy, Latin America's second-largest, will grow between 3.5% and 4% in 2012 and 2013, compared with 3.9% in 2011, though it warns that this scenario hinges on the absence of major global setbacks. Private projections of as much as 5% growth this year have been discussed, though only if the US grows by at least 2%. Some 80% of Mexican exports are shipped to the US.
"We forecast that Mexico may overtake Brazil as the number-one economy in Latin America as early as 2022, on the back of strong growth in human capital and total factor productivity," says a Nomura Group report. The firm predicts such growth will mark the birth of the first not tiger but "jaguar" economy in the region. This year Mexico became the world's fourth-largest automobile exporter, up from fifth place, with Ford, Nissan, BMW and Audi opening plants or expanding existing ones.
"I personally do not believe that there is anything the new government can do to significantly improve the security situation in the short term"
– Gavin Strong, Control Risks
Banks are on a firm footing. "While in the US the crisis started in the financial markets and in the banking sectors, in Mexico the financial sector was not part of the problem but part of the solution," president Calderon told the US Council on Foreign Relations. "Thanks to the improvements in regulations, Mexican banks have a capitalization rate of 16%, almost double the recommendation of Basel and well above that of countries such as China, England or even the US." Mexican banks—four of the five largest of which are foreign-owned—will fully implement Basel III standards early next year, ahead of schedule.
NO-WIN SECURITY SITUATION
Violence by drug cartels, which has claimed some 60,000 lives over the past six years, will remain a challenge for the new administration. Calderon blames the US for relaxing gun laws, facilitating sales across the border. According to the National Statistics Institute, crime cost the economy $16.5 billion last year, equal to 1.38% of GDP.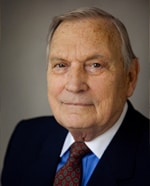 James, Pace University: Investors should hold off until June
"Although Peña Nieto has yet to unveil a detailed plan for battling the cartels, some of the rough outlines are discernible," says McTernan. "On the one hand, he has proposed a significant increase in the manpower dedicated to fighting the cartels, effectively embracing Calderon's strategy to address the problem through the application of superior force. On the other hand, he has indicated that he will work more closely with neighboring countries to tackle the problem and will take aggressive action to eliminate the corrupt influence of drug money within the judiciary and the police force." He acknowledges these are sensible proposals but feels a lack of regional consensus on strategy, coupled with political and practical obstacles to a concerted anticorruption campaign, will produce marginal near-term improvements.
"As long as US and eurozone governments fail to control the growth of drug use, there is little hope that 'supplier' and 'transit' nations can control the vicious battles within their nations for 'market share' north of the border," says John James, executive director at the Pace University's Lubin School of Business' Global Center for Governance, Reporting and Regulation.
For Strong, change must come from within. "I personally do not believe that there is anything the new government can do to significantly improve the security situation in the short term, which is possibly why Peña Nieto has not proposed a dramatic overhaul of the security policy currently in place," he says. "Security policy in Mexico, irrespective of what form it may take, will continue to be hamstrung until long-standing institutional deficiencies, particularly vis-à-vis the judiciary, the penitentiary system and the police, are comprehensively addressed."
James advises caution, advising investors to "hold" until at least June. "By this time we all will have a better picture—good or bad—of the situation in the US and eurozone and will be able to discern trends that tell us where and how the new government may be heading."

Regional Report: Latin America