RIGHT TURN
A rash of recent elections in Latin America has produced a marked swing to the political right. The region's new leaders are trying to strike a delicate balance as they attempt to build on their leftist predecessors' social and economic policy successes.
By Antonio Guerrero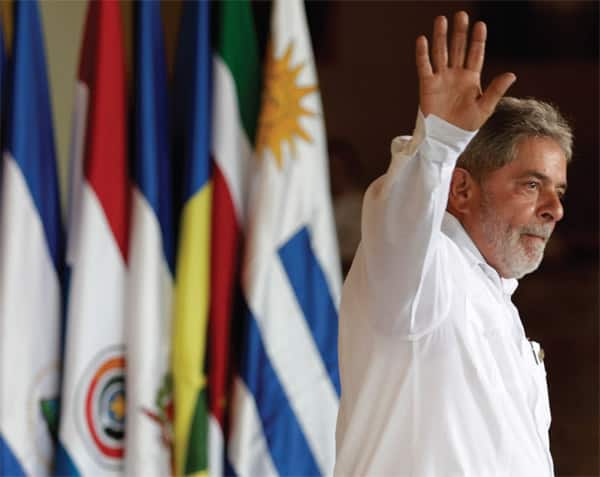 When Venezuelan president Hugo Chávez, de facto flag bearer for Latin American leftists, and Colombian president Alvaro Uribe, until recently the region's only right-wing leader, engaged in a shouting match at February's Group of Rio summit in Cancun, it may have been a metaphor for a larger political trend. With several right-wing and center-right presidents elected recently, some analysts are wondering whether Latin America's shift to the left is gradually reversing back to the right.
Having put most Latin American administrations under leftist and center-left control over the past few decades, the region's voters are now seeking alternatives—from the right. In Honduras, for example, after the military ousted president Manuel Zelaya, a Chávez ally, voters in November replaced him with millionaire rancher Porfirio Lobo, a pro-market advocate. Last May, Panamanians elected pro-business supermarket magnate Ricardo Martinelli, giving him nearly 60% of votes. In this year's elections in Costa Rica, voters chose centrist candidate Laura Chinchilla, the nation's first female president, over a left-wing opponent.
More significantly, the election of Chilean president Sebastián Piñera in January brought an end to the Concertación center-left coalition, which had been in power for two decades. Piñera, a billionaire investor, is a member of a conservative coalition whose campaign slogans included "Small Business, Big Opportunities." His platform includes reforms to reduce the power of labor unions, a move he feels will boost growth through job creation. Prior to the devastating earthquake that shook his nation in February, Piñera was aiming for 6% annual GDP growth.
Piñera faces some interesting challenges. A 2009 Gallup poll shows 74% of Chileans feel the gap between rich and poor is widening, though 48% say their standard of living is improving. While 30% of Chileans in 2008 were satisfied with the government's efforts to tackle poverty, the number rose to 46% last year, in what amounts to a vote of confidence in Piñera's predecessor, Michelle Bachelet, a socialist nevertheless lauded for her administration's fiscal responsibility and savvy economic policies.
"They're picking left-wing leaders who end up looking more right-wing than first assumed," says Richard Kang, head of research at Emerging Global Advisors, a provider of emerging markets exchange-trade funds (ETFs). While Bachelet fits the bill as well, Kang says Brazil's president Luiz Inácio Lula da Silva is a prime example, having run on a leftist platform but led a market-friendly administration. "He's riding a great economic wave and so can push a more centrist agenda to please both the left at home as well as the global investor."
Piñera, a fiscal conservative, has already vowed to maintain many of Bachelet's socioeconomic policies—a shrewd move, given Bachelet's approval rating hit nearly 80% as she tackled poverty. During the campaign, Piñera also made it a point of denouncing Chile's past right-wing military regime headed by general Augusto Pinochet, presenting a more centrist stance.
Lowell Gustafson, political science professor at Villanova University, believes Latin America's initial turn to the left was prompted by the right's inability to effectively tackle the region's challenges. In the 1960s and 1970s, he says, many Latin American countries fell under military rule, after which the 1980s brought democratic capitalist regimes that followed the neoliberal "Washington Consensus" led by IMF-imposed reforms.
"These governments favored property rights, realistic exchange rates, predictable and realistic tax rates, foreign investment, as well as democratic elections and human rights within a judicial framework," says Gustafson. "Their failure to resolve the region's many severe economic problems led voters to turn to center-left democratic parties, although they rarely supported the far-left positions more commonly held in the early 1960s."
Kenneth Greene, assistant professor in the department of government at the University of Texas at Austin, recently completed a cross-national study of the rise of the left in Latin America, with co-author Andy Baker, a professor at the University of Colorado in Boulder. His findings differ from Gustafson's theory in that Greene contends the shift to the left was not the result of the right's economic failure. "The rise of the left across the region has not been about socialism, despite Chávez's rhetoric," says Greene. After analyzing over a decade of public opinion surveys from 18 countries in the region, Greene concluded that the left also did not win due to the right's performance failures in office. The right did preside over a recession across the region that could have dampened its electoral prospects, but Greene argues the left won due to an underlying shift in voters' economic policy interests. "Although voters like free trade and globalization, they do not like privatization and voted to oust conservative politicians as a statement against market reforms," he notes. Privatization was a core tenet of the "Washington Consensus."
New Right Espouses New Policies
Many analysts argue the swing back to the right could take a different form, particularly as voters may still want to retain some of the populist measures to which they have grown accustomed. "Governments throughout the region will likely continue with targeted anti-poverty campaigns," Greene predicts. "These programs replaced attempts to construct universalistic welfare benefits programs beginning in the 1980s and are now embraced by both the left and right alike."
"No conservative government is going to return entirely to the principles associated with the Washington Consensus," notes Daniel Hellinger, who serves on the board of the Center for Democracy in the Americas, a Washington-based NGO. "It will be impossible to respond to the demands of social movements with force alone; some attention to their issues—for example, environmental protection and indigenous rights—is required," he adds.
Michael Schroeder, assistant professor of history at Lebanon Valley College in Pennsylvania, says populism will still prevail. "I don't see a major trend emerging out of the recent elections in Chile, Honduras and Panama," he says. "Popular sentiment throughout most of Latin America remains very suspicious of neoliberal, state-slashing solutions to enduring social problems, while also wary of hard-edged ideologically driven agendas like Chávez's in Venezuela." He predicts the long-term shift to a pragmatic left populism will continue to remain the dominant political trend.
The next big test will come when Brazilians go to the polls in October to elect the successor to Lula, a former labor leader whose left-wing administration engineered Brazil's remarkable economic recovery. Yet Lula's chosen successor, presidential chief of staff Dilma Rousseff, a former guerrilla, is facing some challenges. São Paulo governor José Serra, a centrist, is the frontrunner. A recent poll by Brazil-based research group Ibope gives Rousseff 25% of voter preference, compared with 36% for Serra.
Serra gets high grades as governor, but Lula supporters expect Rousseff will benefit from the administration's economic successes once the campaign gets under way in July. Brazil's economy is expected to grow by some 5% this year as a result of government stimulus efforts, including moderately increased government spending, interest rate cuts and a credit expansion by state banks. Rousseff has vowed to continue Lula's economic program, though opponents say she may ultimately move the country further to the left. If Lula is truly her mentor, then Rousseff would likely seek some middle ground.
Looking to the Long Term
"Political moderation and alignment of interests favors policies that are sustained during longer periods of time," says Mauricio Cárdenas, director of the Brookings Institution's Latin American Initiative. "Also, the influence of markets and competition is greater in more politically cohesive societies, creating a virtuous cycle. In other words, political moderation favors economic growth and vice versa." A Brookings report last year showed Mexico and Colombia to be the region's most politically polarized nations, with 39% of Mexicans identifying with the left and 30% of Colombians with the right.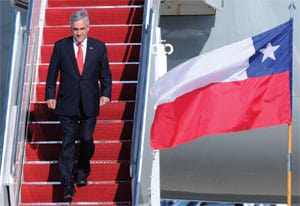 The new right: Determined not to undo the work of his leftist predecessor, Chile's Sebastián Piñera epitomizes the new crop of leaders in Latin America
If Cárdenas's assertions are correct, then it is little surprise that Latin America's less democratic regimes fared worst in the Heritage Foundation's 2010 Index of Economic Freedom. Of 179 countries included in the index, Venezuela ranked 174th, while communist Cuba held the lowest rank of any Latin American country, at 177. Chile, on the other hand, was the only Latin American country ranked among the top 10 nations globally. As a region, Latin America scored 59.7 out of a possible 100, a hair above the global average of 59.4.
The swing back to the right increasingly leaves Chávez isolated from his neighbors, while Venezuela's economic downturn could become problematic for Chávez in September's legislative elections and in the December 2012 presidential race. In recent months Venezuelans have had to contend with a sharp currency devaluation, forecasts of 40% inflation, soaring crime, rolling blackouts and a drop in oil output in a country where oil accounts for some 90% of export revenues.
Hellinger says recent rightist victories in neighboring countries will mean that Chávez's regional economic integration plan, known as ALBA, is unlikely to make much progress. "It also may make it more difficult to integrate his more state-controlled economy with others in the region," he says. That's not to say that all is lost for the left, as the reelection of Bolivian president Evo Morales, a Chávez protégé, the election by an absolute majority of leftist candidate Mauricio Funes as president of El Salvador and the election of former guerrilla leader José Mujica as president of Uruguay would indicate.
Kang warns right-wing leaders not to do anything to hurt competitiveness. "Sometimes right-wing thinking to an extreme leads to an overdoing of nationalism," he says, adding that isolationism could be detrimental. Kang says Latin American leaders must learn from China, which has nationalist pride but knows enough to get involved in global matters. "[Latin Americans] have not done so much of that in the past; that must change for them to matter more in the global scope of things."