CORPORATE FINANCING NEWS: MERGERS & ACQUISITIONS
By Gordon Platt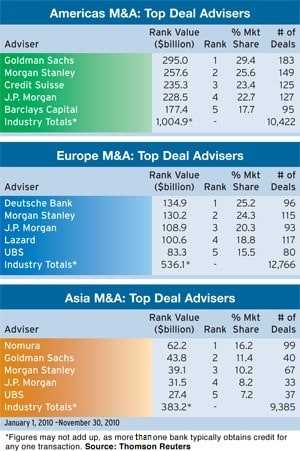 There will be a substantial increase in mergers and acquisitions in 2011, following a relatively flat year for M&A; in 2010, as companies have plenty of cash to spend on strategic acquisitions, particularly in fast-growing emerging markets, analysts say. Corporate cash levels have been increasing steadily over the past few years and now significantly exceed $1 trillion for companies comprising the Standard & Poor's 500 stock index alone, according to PwC Transaction Services, part of PricewaterhouseCoopers.
"Backed by stronger credit and equity markets going into 2011, corporates have shifted their transaction focus from a mind-set of recovery to strategic growth to generate additional revenues," says Martyn Curragh, US transaction services leader at PwC.
Trends that were emerging in the second half of 2010, including increased M&A; activity in the middle market, the availability of attractive debt financing, and stronger valuations for corporate assets are likely to extend into 2011. At the macro level, the key conditions are in place for dealmaking to surge, PwC says.
The value of deals in the 12 months through November 2010 rose 9% from the same period ended November 2009, to $786 billion, according to Thomson Reuters. However, the number of deals was flat, and there were few megadeals, owing to uncertainty and perceived levels of risk in the global economy, analysts say. The biggest wild card for the year ahead is that ongoing concerns about the economic health of Europe could make banks reluctant to lend and could affect confidence in global capital markets and the ability of sovereign governments to prop up their financial systems, PwC says.
PepsiCo's announcement last month that it would buy a 66% interest in Russia-based dairy products and juice maker Wimm-Bill-Dann Foods for $3.8 billion put the focus on the consumer sector in emerging markets. "The transaction underscores the willingness of US manufacturers to undertake investments in emerging markets to drive growth," according to a report by Barclays Capital, based in New York.
The growing middle class in emerging market economies is expected to play a pivotal role in driving demand for consumer products at a time when food-and-beverage and consumer product manufacturers are seeking growth amid slow economic recoveries in developed countries, Barclays Capital says.
Meanwhile, Russia's biggest retailer, X5 Retail Group, agreed in December 2010 to acquire the Kopeyka grocery and discount-store chain for $1.65 billion. The transaction was the biggest acquisition ever in the Russian retail sector, according to Hogan Lovells, whose cross-border team of lawyers advised X5 Retail. The acquisition was partly financed by a $1 billion loan from Sberbank.
Demand for raw materials in emerging markets also is likely to remain strong in 2011, thanks to rapid development in China and India. In the biggest M&A; deal globally that was announced in November 2010, Caterpillar, the world's largest construction and mining equipment maker, agreed to acquire Bucyrus International, a Milwaukee, Wisconsin–based manufacturer of surface-mining equipment, for $8.6 billion, including $1 billion of debt. The deal would double Caterpillar's mining revenue. Peoria, Illinois–based Caterpillar obtained a bridge loan to finance the acquisition from a group of banks led by JPMorgan Chase.
China is continuing to make acquisitions around the world to secure its energy supplies. In November 2010, China National Offshore Oil Corporation (CNOOC) and its joint venture partner, Bridas Energy Holdings, agreed to buy BP's 60% stake in Argentina-based Pan American Energy for $7.06 billion. Pan American Energy is Argentina's second largest oil producer, and it is stepping up development of the country's biggest oil field, known as Dragon Hill.