CORPORATE FINANCING NEWS: MERGERS & ACQUISITIONS
By Gordon Platt
Switzerland's Glencore International, the world's largest commodities trader, agreed to acquire Canada's biggest grain trader, Viterra, for C$16 a share ($16.05)—which values the company at $6 billion—in a deal that was carefully designed to circumvent Canada's restrictions on foreign takeovers.
Glencore, which is already involved in a $90 billion merger with Anglo-Swiss mining company Xstrata, brought in two Canadian partners to purchase parts of Saskatchewan's Viterra, which also supplies seeds and fertilizer to prairie farmers across Canada and operates grain-handling facilities in southern Australia. The usual procedure in a major acquisition is for the buyer to make a wholesale purchase and to later sell off some of the assets, often to pay down debt.
In late 2010 the Canadian government blocked BHP Billiton's takeover attempt of Potash Corporation, also based in Saskatchewan. Canadian prime minister Stephen Harper, who was in Japan negotiating a free-trade agreement at the time of Glencore's takeover announcement, said the Viterra acquisition should not necessarily be viewed as a full foreign takeover.
"My understanding of the deal is that many of the assets will actually remain in Canadian hands," Harper said. "I think the most important thing is that it does show, with the reforms we are making to the grain sector, how much interest there is now in the expansion of the grain sector and the agricultural sector in Canada, and I think that's a tremendously good thing."
WHEAT BOARD DEBATE
Harper's Conservative government has ended a long-term monopoly by the Canadian Wheat Board on marketing wheat and barley grown in western Canada. The Federal Court of Canada ruled that the government broke the law in ending the monopoly without first gaining the consent of the farmers. That ruling is being appealed.
Under the Investment Canada Act, foreign acquisitions above a certain size must be shown to be a "net benefit" to Canada, although that phrase is open to interpretation. By bringing in Canadian partners, Glencore hopes to ease worries about the grain marketing system falling into foreign hands.
Manitoba's Richardson International and Alberta's Agrium, a fertilizer producer, agreed to acquire some of the Canadian assets of Viterra for approximately $2.6 billion in cash. Agrium will buy most of Viterra's retail agricultural supply outlets. Richardson agreed to acquire a 23% stake in Viterra's Canadian grain-handling business, food-processing plants and some farm-supply stores.
"Glencore's global reach and expertise will provide farmers with strong protection from market volatility, more options to market their grain and oilseeds, and more competitive pricing resulting from Glencore's wider market access and its more consistent demand for grains and oilseeds," the Swiss company said in a statement.
STIFF PREMIUM
The price Glencore is paying for Viterra is 48% higher than the market price on the day before Viterra announced the takeover offer. If the deal succeeds, Glencore will become the world's biggest trader of wheat, barley and canola. The Swiss company also will acquire 63 grain elevators and seven port terminals in Canada, as well as eight port terminals in Australia. Glencore's financial advisers on the transaction are Bank of America Merrill Lynch and RBC Capital Markets. Viterra's advisers are Canaccord Genuity and TD Securities.
In another major Canadian acquisition announced in March, Bell Canada's parent, BCE, agreed to acquire Astral Media for $3.32 billion, including debt of about $383 million. Both companies are based in Montreal. BCE, Canada's largest telecom company by market capitalization, is seeking to boost its French-language media content, hoping to win more customers for its telecom services.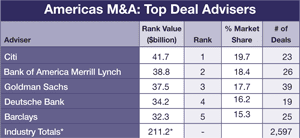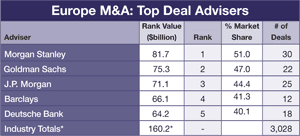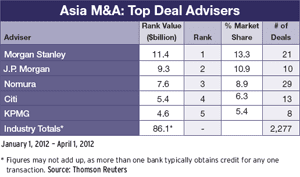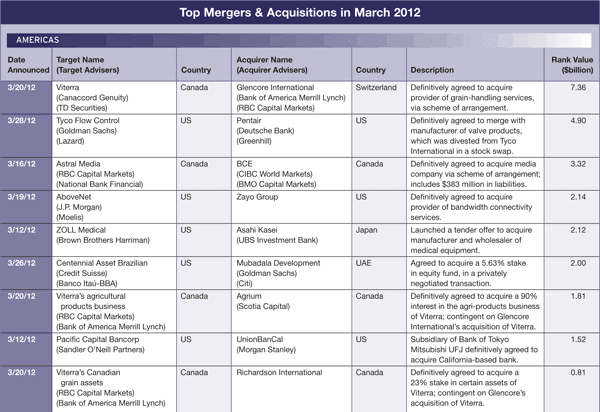 Source: Thomson Reuters