CORPORATE FINANCING NEWS: MERGERS & ACQUISITIONS
By Gordon Platt
Transformations of technology companies are fueling multibillion-dollar mergers and acquisitions and divestitures, as the industry consolidates and develops new businesses to compete for corporate IT budgets.
Google's $12.5 billion purchase of Motorola Mobility, an Android operating system partner with a passel of patents, and Hewlett-Packard's decision to acquire UK software maker Autonomy for $10.3 billion—and to get out of the personal computer business—are the latest examples of the change in products and services that are reshaping the industry.
The trend was evident in the first half of 2011, when M&A; activity in the global technology sector nearly doubled from a year earlier. Among the notable deals were Texas Instruments' purchase of rival chipmaker National Semiconductor, Oracle's purchase of Sun Microsystems and SAP's acquisition of Sybase.
Getting Out of PCs
Palo Alto, California's HP, the world's largest maker of personal computers, is preparing to spin off the PC business, which accounts for a third of its revenue, and is paying a 79% premium for Autonomy. Leo Apotheker, who became CEO and president of HP in September 2010, says the $11.7 billion acquisition will allow the company to skip a generation of technology and help business clients track and understand their unstructured data.
There is increasing momentum behind global technology M&A; transactions heading into the second half of 2011, says Joe Steger, leader of global technology transaction advisory services at Ernst & Young. "Technology companies continue to stockpile cash, which gives them the flexibility to act when strategic M&A; opportunities arise," Steger says.
Cross-border deal volume in the second quarter of 2011 was up 32% from the same quarter a year earlier, and accounted for 46% of the aggregate value of global technology deals, he says. Increasing globalization and the growing volume of overseas cash accumulated by US companies may be behind the increase in cross border deals, Ernst & Young says. The US accounted for 56% of cross-border technology acquisitions in the second quarter.
Microsoft used its overseas cash holdings to pay for its $8.5 billion acquisition of Luxembourg Internet-phone-service provider Skype.
Disruptive Innovation
The rise in second-quarter technology mergers was driven by industry consolidation and ongoing disruptive innovation in areas such as cloud computing, smart mobility, Internet and mobile video, as well as the smart grid for electrical power distribution and solar energy, Steger says.
"Importantly, even though 61% of all disclosed deal value was concentrated in the top 10 deals, we also saw significant dealmaking strength at the opposite end of the spectrum, in deals of less than $100 million," Steger says. Cloud computing and software-as-a-service deals were pervasive, he notes.
Google's acquisition of Motorola Mobility and its 17,000 patents will enable the Mountain View, California search and online advertising company to better protect Android from anticompetitive threats from Microsoft, Apple and other companies, according to Larry Page, Google's co-founder and CEO.
Google's Biggest Deal
Google paid a 63% premium for Libertyville, Illinois's Motorola Mobility, not only for its strength in Android smartphones and devices but also because it is a market leader in in-the-home devices and video solutions, Page says. The cash deal was Google's largest acquisition ever.
Android has become the world's most widely used smartphone operating system. Google licenses the system to device makers, including Motorola Mobility, Samsung Electronics, LG, Sony Ericsson and Acer.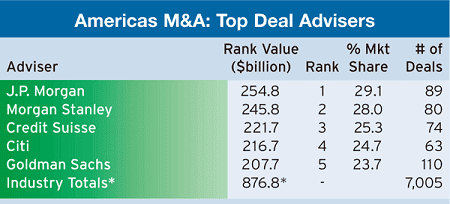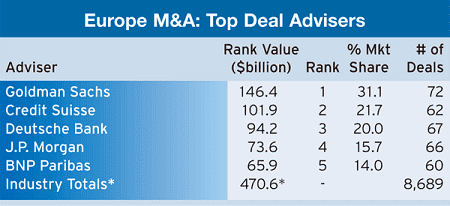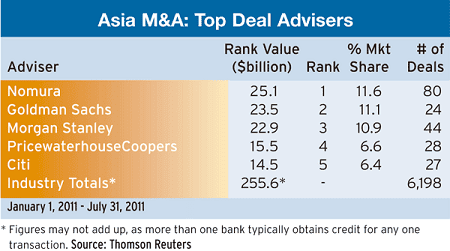 Top Mergers and Acquisitions in July 2011