CORPORATE FINANCING NEWS – MERGERS & ACQUISITIONS
By Gordon Platt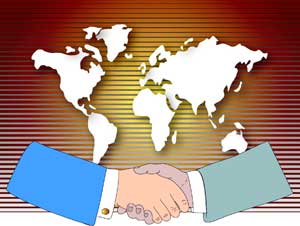 Worldwide mergers and acquisitions are increasing, and the proportion of takeover offers that are unsolicited is at the highest level in at least a decade. The value of worldwide M&A; totaled $1.75 trillion in the first three quarters of 2010, an increase of 21% from the same period a year earlier, according to Thomson Reuters.
Hostile bids represented 8% of the year-to-date total, up from 2.8% in the same period of 2009. The reason for this increase is that a number of companies that survived the global economic and financial crisis believe that if the economy is improving, this is not the time to sell, says Gary Parr, vice chairman of Lazard. Therefore, a friendly approach is more often rebuffed, he told the Bloomberg Dealmakers Summit in New York on September 30.
The third quarter was the busiest for M&A; activity in two years, with $677 billion of deals announced, Thomson Reuters says. BHP Billiton made a $43 billion hostile bid for Potash of Saskatchewan, the world's largest producer of fertilizer. Genzyme, which spurned an $18.5 billion takeover bid by Sanofi-Aventis, the largest pharmaceutical company based in France, was sued last month by shareholders for rejecting the bid and depriving them of the chance to cash in on the offer.
If successful, the deal would be the largest hostile takeover in the pharmaceutical industry since the 2004 takeover of Aventis by Sanofi-Synthélabo for $64 billion.
Improving Environment
Bill Doyle, president and CEO of Potash, said in a letter to employees on October 12 that, "during our conversations with shareholders and other constituents, we continue to discuss the favorable impact we expect as a result of the improving fertilizer environment on the value of our company." Doyle said Potash is worth significantly more than what BHP is offering. "We have a strong conviction that the inflection point in our business has now been reached and the fundamentals are strengthening," he said.
US corn farmers are expected to generate record returns this year, Doyle pointed out. "Importantly, this is a global crop story, not just a US corn story," he said. "Coffee and sugar are more than double their 10-year averages. Palm oil is nearly 75% above its 10-year average. Soybeans and wheat are about 50% above their 10-year averages."
This favorable agricultural environment encourages farmers to maximize production through proper fertilization and other best-farming practices, according to Doyle. Prices for potash, a key ingredient in fertilizers, declined more than 50% during the global economic crisis.
Big Premiums Offered
Pfizer, the world's largest drug maker, agreed in October to buy King Pharmaceuticals for $3.6 billion in cash. The offer represented a 40% premium to the market, making it difficult for King Pharma to turn down the bid. The definitive agreement includes a $110 million breakup fee that King Pharma would pay Pfizer if the deal is terminated under certain circumstances. The average premium paid for pharmaceutical acquisitions over the past 12 months was 24%, according to data compiled by Bloomberg.
Many companies are sitting on large cash balances, and borrowing costs are low, which is also boosting M&A; activity. Leveraged buyout transactions in the US are now running at about 10% of the market value of all transactions, a level that was reestablished in the second quarter, according to Thomson Reuters. Among the notable buyout deals in the first nine months of this year were the Blackstone Group's $4.7 billion takeover bid for power producer Dynegy, and 3G Capital's $3.9 billion acquisition of Burger King Holdings.
Miami-based Burger King accepted the offer by 3G Capital, an investment firm controlled by Brazilian investors. The price represented a 46% premium to the market. The fast-food chain, which is second to McDonald's in the US, has seen its sales growth slow in the past two years. The purchase was the biggest restaurant acquisition in at least a decade, surpassing the 2007 sale of OSI Restaurant Partners, the parent of Outback Steakhouse.
Share Buybacks Gain
There is the potential for more M&A; activity among US consumer companies, but some of these companies are starting to shift toward improving shareholder returns through more aggressive stock buybacks, according to analysts at Barclays Capital, based in New York. "Consumer companies have demonstrated a desire to expand their footprint via strategic acquisitions; however, in the absence of this, the preference for share repurchases (as opposed to debt reduction) is growing, particularly as balance sheets are in fairly good shape," according to a recent report by Barclays credit researchers Priya Ohri-Gupta and Martin Fernandez.
The total amount of free cash flow being spent on share repurchases has been increasing year-to-date, they note. "In terms of uses of cash, share repurchases are being balanced against M&A; opportunities," they say. "Evidence of this can be seen in the case of Sara Lee and Clorox, both of which have opted to use divestiture proceeds to buy back stock, rather than invest in the business."
Although the managements of consumer companies have generally been averse to increasing leverage to conduct larger-scale repurchases, growing activist interest and lagging share-price performance could result in a shift in policy, according to the Barclays analysts. "Companies we believe could be at higher risk for making debt-funded share repurchases and, therefore, possibly experience a deterioration in credit metrics, include those that have started to demonstrate a more aggressive share-buyback posture, namely Kellogg, General Mills and ConAgra," they say.
Energy and Power Sector Leads.
Energy and Power Sector Leads
The energy and power sector was the most active for M&A; during the first nine months of this year, accounting for 20.5% of the total value of deals announced worldwide, according to Thomson Reuters. The financials sector was second, with a 15.5% market share, followed by materials, with 12.8% of M&A; activity. However, deals in the financials, healthcare and industrials sectors all experienced double-digit percentage declines, compared with those in the first nine months of 2009.
Mergers and acquisitions involving companies located in emerging markets totaled $481 billion in the first three quarters of 2010, a 62.9% increase over the same period a year earlier. Emerging markets M&A; accounted for 27.4% of worldwide M&A; year-to-date, up from 21% in the comparable period of 2009. Cross-border M&A; activity totaled $723 billion, accounting for 41.2% of overall M&A; volume in the first nine months of 2010, compared with 26.1% in the first three quarters of last year.
Private equity–backed deals totaled $150 billion year-to-date at the end of September, accounting for 9% of worldwide M&A.; The total was more than double the amount for the same period of 2009.
The top three M&A; deals of the year so far are BHP Billiton's pending acquisition of Potash, America Movil's purchase of Carso Global Telecom, and GDF Suez Energy International's bid for International Power.
Goldman Sachs was the leading financial adviser on worldwide M&A; deals in the first nine months of 2010. The firm advised on 263 deals valued at $399 billion. Morgan Stanley was second in terms of deal value, with $355 billion, but led in the number of deals with 287. Rounding out the top five by deal value were J.P. Morgan, Credit Suisse, and Bank of America Merrill Lynch.