CORPORATE FINANCING NEWS: MERGERS & ACQUISITIONS
By Gordon Platt
Indonesia's central bank said it will wait until new bank-ownership rules are in place to consider Singaporean banking outfit DBS Group's $7.2 billion takeover bid for Bank Danamon Indonesia. Indonesia also is seeking reciprocity with Singapore in the treatment of cross-strait bank takeovers.
DBS, whose biggest shareholder is Singapore's state-owned investment company, Temasek Holdings, agreed in April to acquire a 67.4% interest in Bank Danamon in exchange for new shares valued at $4.97 billion, representing a 52% premium to the market. At the same time, DBS planned to launch a mandatory tender offer to acquire the remaining 32.6% stake in Danamon.
"The [proposed banking] regulation isn't meant to hamper foreign investors, but it's meant for us to be more prudent," says Darmin Nasution, Indonesia's central bank governor. The DBS bid would be the largest takeover by a Southeast Asian lender. Nasution says the new rules will still allow foreign companies to own a majority stake in Indonesian banks.
BOTH SIDES OF DEAL
Temasek is on both sides of the takeover deal, since it holds the majority stake in Danamon and about 29.5% of DBS, which has its own franchise in Indonesia. Temasek's stake in DBS would rise to 40.4% if the Danamon deal goes ahead.
The takeover would make DBS the fifth-largest lender in Indonesia. DBS says Indonesia's banking sector is highly attractive, given the country's demographics and fast-growing economy. "It remains underserved and continues to benefit from a growing middle class, rapidly rising domestic consumption and increasing trade flows within the region," DBS says. Indonesia's economy is growing at an annual rate of about 6.5%, the fastest since before the Asian financial crisis of 1997.
Meanwhile, DBS has separately obtained approval from Malaysia's central bank to begin negotiations to purchase Temasek's 14.2% stake in Alliance Financial Group, in Kuala Lumpur. DBS would not be required to make a tender offer to the remaining shareholders of Alliance.
COTY CALLS ON AVON
In the biggest acquisitional bid in the Americas in April, beauty products company Coty US made an unsolicited offer of $10 billion for Avon Products, a company twice its size. Thomson Reuters valued the deal at $12 billion, including debt.
Avon, the world's largest direct seller of cosmetics, rejected the offer, calling it undervalued, opportunistic and uncertain. With the backing of Warren Buffett's Berkshire Hathaway, Coty later raised its bid to $10.65 billion. With no love from Avon, Coty withdrew its bid on May 15.
In the energy sector, Energy Transfer Partners of Dallas bought Sunoco, one of the largest gasoline distribution companies in the US, for $5.3 billion. Sunoco's 4,900 gasoline stations in the eastern US will continue to operate under the Sunoco brand. Energy Transfer will gain nearly 8,000 miles of pipeline in the acquisition.
With Energy Transfer Partners, Sunoco will continue to pursue a joint venture with the Carlyle Group to operate its Philadelphia refinery, which is the largest on the East coast of the US.
Germany's Fresenius, the country's largest operator of private hospitals, led European M&A deals in April with its $4.1 billion offer to buy rival Rhoen Klinikum.
Fresenius, which owns 31% of Fresenius Medical Care, said it would not sell shares in the dialysis specialist to fund the Rhoen Klinikum acquisition. Fresenius will finance the deal with a syndicated loan, a debt issue and either a rights issue or a sale of convertible bonds. Deutsche Bank, J.P. Morgan, Société Générale, and UniCredit have made financing commitments.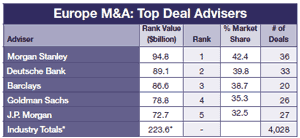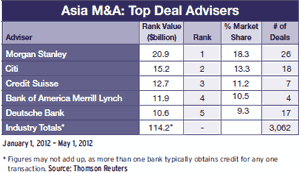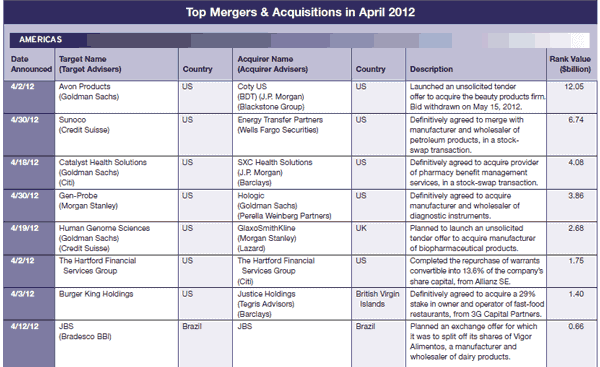 Source: Thomson Reuters