CORPORATE FINANCING NEWS: MERGERS & ACQUISITIONS
By Gordon Platt
Nippon Steel, Japan's largest steelmaker, is acquiring rival Sumitomo Metal Industries to create the world's second largest steel producer, at a time when global competition in the steel industry is putting a premium on size.
The merger, valued at $22.5 billion including debt, was the largest M&A transaction announced worldwide in August and September, according to Thomson Reuters. The new steel giant will be second only to ArcelorMittal, which is based in Luxembourg and is headed by Indian CEO Lakshmi Mittal.
Nippon Steel and Sumitomo Metal plan to realign and strengthen their global network, with an emphasis on emerging market countries, such as China, Brazil, India and Southeast Asian nations. "We will aggressively expand our operations overseas," says Nippon Steel president Shoji Muneoka.
The objective of the merger, according to the "master integration agreement" the companies signed, is to become the best steelmaker with world-leading capabilities by "boosting competitiveness in all areas, including scale, cost, technology and customer service."
Output to Increase
The two steel producers will have a combined output of about 48 million metric tons of steel this year. The new company plans to expand output to 60 million to 70 million metric tons globally in the next few years by accelerating its overseas business development.
Increased scale will give Nippon Steel and Sumitomo Metal—as the new company will be known—increased leverage in negotiating with suppliers of raw materials. Iron ore and coking coal prices have risen significantly in recent years.
The combined company will also have more clout to set steel prices for buyers, including automakers and electronics manufacturers, which are key consumers of high-quality steel. Japanese steelmakers were hit hard by the March 11 earthquake and tsunami, which lowered demand from the country's automakers and resulted in power shortages.
M&A Rankings Shift
Goldman Sachs rose to the top of Japan's M&A league table for the first nine months of 2011, as a result of its role in advising Sumitomo Metal Industries on the deal. Goldman displaced longtime leader Nomura, which was not involved in advising on the merger—the largest involving a Japanese company so far this year.
The biggest M&A transaction in the Americas in August and September was in the aerospace industry, where United Technologies agreed to buy Goodrich in a deal valued at more than $18 billion, including $1.9 billion in debt.
United Technologies, based in Hartford, Connecticut, owns Pratt & Whitney, which makes jet engines. The conglomerate also owns Carrier, a heating and cooling specialist, and Otis Elevator, among other businesses.
Goodrich, which is based in Charlotte, North Carolina, will become the core of United Technologies' new aerospace business unit. Marshall Larsen, chairman, president and CEO of Goodrich, will lead the new division. Goodrich, formerly known as BF Goodrich, divested its rubber business in 1987.
Merger Activity Slows
The value of worldwide M&A declined 18% in the third quarter from the previous quarter, to $569 billion, representing the second consecutive quarter of falling activity, according to Thomson Reuters. Economic uncertainty and tighter conditions in the high-yield debt market were partly to blame, as financing for deals dried up with the exit of troubled European banks.
Worldwide M&A totaled $2.1 trillion for the first nine months of 2011, a 22% rise from the comparable 2010 level. By number of deals, however, M&A activity declined by 2.6% compared with the same period last year.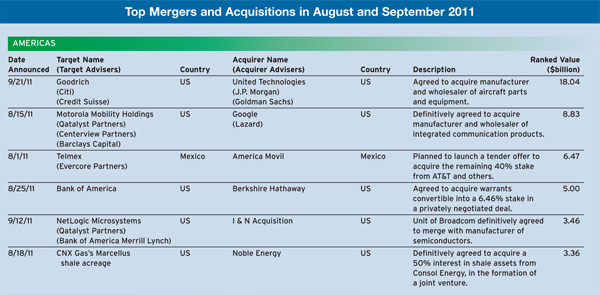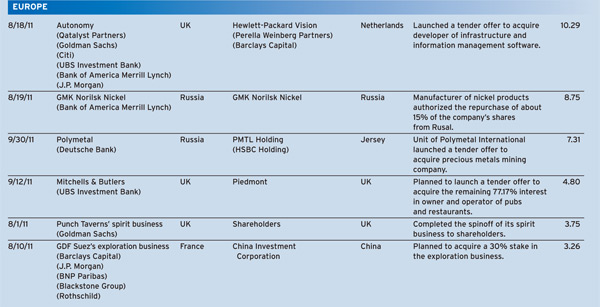 Source: Thomson Reuters