CORPORATE FINANCING NEWS: MERGERS & ACQUISITIONS
By Gordon Platt
An expanding global economy with a healthy appetite for smart technology and mobile devices is spawning a wave of mergers and acquisitions in the technology sector.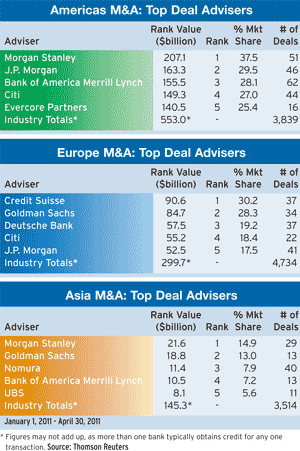 Microsoft's $8.5 billion acquisition of Skype, the Internet phone-service provider, is the most obvious recent example of a trend that began in 2010 and continues to gain momentum.
M&A; activity in the global technology sector is off to a strong start in 2011, with the total announced deal value having more than doubled in the first quarter to $27 billion, according to Ernst & Young. The number of deals in the sector rose by 26% from the same period a year earlier, to 794.
"These trends speak to the rapid pace of change driven by cloud computing, social networking and smart mobility," says Joe Steger, leader of global technology transaction advisory services at Ernst & Young. "Technology is becoming an increasing part of everyday life—not just something we [use] while at work."
Cash Trapped Overseas
Technology firms are in a good position to execute transactions, Steger says. "Leading technology companies have good financial flexibility, owing to significant cash balances and little leverage," he says. "However, many US tech companies have significant amounts of cash trapped offshore, which limits the amount of cash available for US acquisitions."
Redmond, Washington–based Microsoft used its overseas cash holdings to pay for Luxembourg-based Skype, its biggest acquisition ever. Microsoft plans to use Skype's expertise in online telephony and video conferencing to compete with Apple's FaceTime, as part of a new push into consumer technology. The software maker also wants to gain more Web users, and Skype is signing up 600,000 new registrants daily. Microsoft is also gaining a raft of talent at a time when there is a shortage of software engineers.
Microsoft purchased Skype from a group of investors led by private equity firm Silver Lake. Skype filed for a $100 million initial public offering last year, but that deal has gone by the wayside.
Cloud Computing Gains
Cloud computing was the motivating force behind dozens of deals in the first quarter, including several of the largest, according to Steger of Ernst & Young. He says that telephone and cable-network operators acquired services companies with large data centers to enhance their ability to provide cloud services.
There were also multiple deals in the first quarter in which mobile-device manufacturers purchased content and services providers. In addition, companies continued the trend of making multiple small acquisitions and weaving them together to address their strategic business initiatives, Steger says. "This was evident, for example, among Internet companies, which acquired multiple social-networking companies, and among established software and SaaS [software as a service] companies, which bought multiple SaaS companies," he says.
Dallas-based Texas Instruments agreed in April to buy rival chipmaker National Semiconductor, based in Santa Clara, California, for $6.5 billion in cash, a premium of 78% over the then-current market price. Both companies specialize in analog chips, which are less expensive to make than digital chips and require less investment in new technology. Texas Instruments said the purchase would give it 12,000 new products, whereas it typically adds about 500 new products in a full year.
The biggest global technology deals of 2010 included Oracle's purchase of Sun Microsystems, SAP's acquisition of Sybase, and Xerox's purchase of Affiliated Computer Services.
The use of Internet and mobile video began to soar in 2010 for entertainment, business conferencing and personal video calling purposes, according to Ernst & Young. Video deals were apparent in every sector in the first quarter of 2011, it says.