CORPORATE FINANCING NEWS: MERGERS & ACQUISITIONS
By Gordon Platt
Shanghui International, China's biggest pork producer, agreed to pay $4.7 billion to acquire Virginia-based Smithfield Foods, the world's largest pork producer.
If the deal succeeds, it should be the biggest takeover of a US company by a Chinese competitor and could signal a rise in cross-border M&A activity between the two global economic powers, analysts say.
While Chinese companies are eager to secure global resources, US companies are also looking to gain a foothold in the huge Chinese market with its growing middle class. Chinese spending on acquisitions of US companies reached a record $11.1 billion in 2012, more than triple the value of the previous year, according to Mergermarket. Total acquisitions in China by US bidders rose by more than 30% last year to nearly $10 billion.
Although the two countries have historically had an uncertain political relationship, M&A activity between the US and China in the entertainment, advertising and digital media sectors is expected to increase over the next 12 months, according to a report by Los Angeles–based law firm Manatt, Phelps & Phillips, in association with Mergermarket. The study included interviews with 100 corporate executives, investment bankers and private equity practitioners in the US and China.
HIGH EXPECTATIONS
Some 78% of respondents expect investments from the US into Chinese entertainment, advertising and digital media to increase in the next 12 months. Some 67% expect investments in these sectors from China into the US to rise.
There are some notable hurdles, however. Slightly more than 40% of respondents in both the US and China identified regulatory approval as the most significant obstacle. The second-biggest obstacle is a lack of information. Some 34% of Chinese respondents viewed strict disclosure requirements as a significant hurdle to investment in the US. Meanwhile, 40% of US respondents said the challenges of gaining enough information through due diligence are a barrier to completing Chinese deals.
Respondents based in the US are optimistic about increasing cooperation between the Obama administration and China's new leadership under president Xi Jinping. When the two leaders met in June at the Sunnylands retreat in Rancho Mirage, California, however, Obama presented Xi with evidence of direct theft of US intellectual property by China. Obama said that if the issue were not addressed, it would be a difficult problem in economic relations between the two countries.
CFIUS GETS SUED
In the Manatt, Phelps, Phillips survey, many China-based respondents cited the US government's recent interference in Chinese-owned Ralls Corporation's acquisition of interests in four wind-farm projects located near restricted naval airspace in Oregon. Ralls did not voluntarily notify the Committee on Foreign Investment in the US of the transaction prior to closing the deal. Last September, Obama issued a presidential order, based on recommendations from CFIUS, prohibiting the acquisition. Ralls took the unprecedented step of challenging CFIUS in the US District Court for the District of Columbia. In February 2013, the court affirmed the president's broad CFIUS authority and said such orders were not subject to review by the courts.
Both Smithfield and Shanghui said they would submit their proposed pork deal for review to CFIUS. They said the deal was meant to increase exports of US products to China, where meat consumption has increased sharply in recent years, and where concerns about food safety have increased demand for foreign food brands.
Meanwhile, Dalian Wanda, a conglomerate that operates 28 five-star hotels in China, announced plans to invest $10 billion in US companies in the next decade. Last September, it closed its $2.6 billion acquisition of AMC Entertainment to become the largest owner of movie theaters in the world.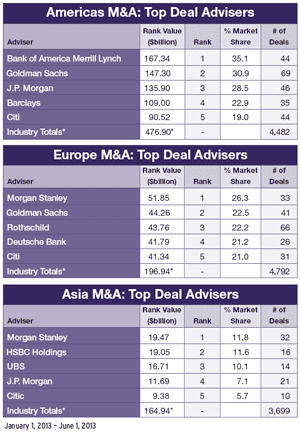 * Figures may not add up, as more than one bank typically obtains credit for any one transaction. Source: Thomson Reuters