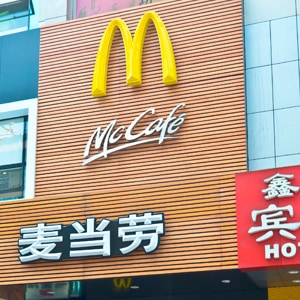 McDonald's agreed to sell 80% control of its restaurants in China and Hong Kong for 20 years to state-owned conglomerate Citic and the Carlyle Group, a private equity firm. Analysts say reliance on franchising fees rather than direct ownership will widen the fast-food chain's profit margins.
The three companies formed a $2.1 billion partnership that will become the largest McDonald's franchisee outside the US. The Illinois-based fast-food chain is seeking to increase its return on invested capital by shifting to franchising, while retaining a 20% equity stake to benefit from China's growth.
Over the next five years, the partnership plans to open more than 1,500 outlets in smaller Chinese cities and to renovate its older restaurants. It would rather do that with the franchisee's money than its own.
McDonald's CEO Steve Easterbrook said the new partners also would bring a better understanding of the Chinese market to the table. Changes will include more use of digital technology and ongoing menu innovation. McDonald's currently operates or franchises 2,400 outlets on the Chinese mainland and 240 in Hong Kong.
Meanwhile, McDonald's also invited bids for a 33% stake in its Japan-based unit. The company's same-store sales have revived in Japan recently, and McDonald's says no decision has been made on the potential sale.