EMERGING MARKETS ROUNDUP: MIDDLE EAST
by Gordon Platt
After five months of political wrangling, Lebanon's prime minister Najib Mikati on June 13 announced a new government led by the Shiite Hezbollah movement, giving Syria and Iran renewed influence in the region. Mikati promised that the government would work for all Lebanese.
"The fact that Hezbollah and its allies have 18 seats in the 30-member cabinet does not mean that the country will join the radical camp in terms of its relations with the international community," Mikati says. Nonetheless, Hezbollah is viewed as a terrorist group by the United States, which says it will judge the new government by its actions.
Meanwhile, Syria's president Bashar Assad is facing an uprising against his rule at home and has responded with a brutal crackdown on demonstrators. Thousands of Syrians have fled the fighting to seek refuge in Turkey.
Iraqi prime minister Nouri al-Maliki's government announced the allocation of $927 million for power projects to help relieve the country's worsening power shortages. With the summer heat rising, Iraqis receive electricity for only a few hours a day. The newly allocated funds will be used to install and operate multibillion-dollar gas turbines to generate electricity.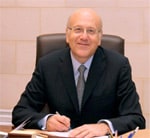 Mikati: No radicalization
The International Monetary Fund plans to lend Egypt $3 billion to help stimulate the country's economic recovery, according to Ratna Sahay, IMF deputy director for the Middle East and Central Asia. "Following a revolution and during a challenging period of political transition, the Egyptian authorities have put in place a home-grown economic program with the overarching objective of promoting social justice," she said at the conclusion of an IMF staff mission in Cairo. "Support from the international community will greatly facilitate the realization of the authorities' economic objectives, and in this context the IMF is committed to supporting Egypt and its people through this arrangement."