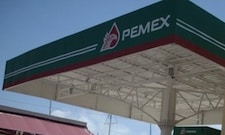 For Pemex, a crude awakening
A steady, year-long stream of institutional and economic reforms in Mexico is about to end with a gusher: For the first time in 75 years, foreign energy companies will almost certainly be allowed to pump Mexican oil.
Theres plenty of it. The country boasts about 10 billion barrels of proven oil reserves, which puts at it No. 16 on the list of oil-rich nations. Experts believe offshore deposits contain at least 30 billion barrels of oil equivalent.
And therein lies the problem. Mexico is simply not tapping its massive energy resources. Indeed, the country has long been a rarity in the global energy game, with crude production thats actually declining. Mexicos oil output has dipped every year since 2005. All told, the countrys net oil exports have fallen by 58% over the last decade, and some experts believe the Latin American nation could soon become a net importer of oil.

Most industry watchers place the blame on mismanagement at Pemex, the state-run energy monopoly that was formed after Mexico nationalized its oil industry in 1938. Critics say the company lacks the expertise and/or capital to tap the countrys vast deep-water and shale oil reserves.

A yawning, painful lack of foreign investment hasnt helped matters.
That looks like its about to change, however. On December 11, the countrys Senate gave final approval to an energy reform package that allows the state to hire multinational corporations to extract and refine petroleum. Because the legislation alters the countrys constitution, it must still be ratified by the lower house of Congress and 17 of the countrys 31 states.
International financial markets have clearly backed the deal, which is a cornerstone ofPresident Enrique Pea Nieto's effort to boost Latin Americas second-largest economy. The day before the Senate vote, the peso traded at 12.8230 against the dollarits strongest showing since October 18.
We are very positive about Mexico and its economy, said Alejandro Grisanti, a director at Barclays Capital in New York City. In the last 12 months we have seen the implementation of so many reforms due to really boost economic expansion. The latter on energy is the most important.
Grisanti added that the raft of legislation could give a substantial shot in the arm to Mexicos economy. He says the proposals would likely boost the countrys GDP growth in 2014 from a projected 3.5% to nearly 6%, a huge bump up. Energy reform alone, he notes, would add 1.5% to the countrys output.
Nevertheless, opposition to the energy package, which critics labeled treasonous, was stiff. And the revised legislation still prohibits private companies from investing directly in oil operations in the country. Instead, they will be required to partner with Pemex, sharing profits and risks, and will not be granted licenses.
Still, Mexicos vast, untapped shale oil and gas deposits will undoubtedly attract interest from cross-border players. In aggregate on a barrel equivalent basis, Mexico ranks seventh worldwide in total deposits. Certainly, theres more than enough shale resources to get international operators excited. This opportunity is entirely untapped,wrote energy analyst Pavel Molchanov in a research published in November by Raymond James & Associates.

But Molchanov cautioned that not all oil companies will immediately flock to Mexico. Concerns about property rights in Latin America, he noted, are widespreadhardly surprising given the number of countries in the region where nationalizations or expropriations of energy assets have taken place over the past decade. That list includes Venezuela, Ecuador, Bolivia and Argentina. Even if the fiscal terms end up being relatively generous, the analyst warned, working in Mexico is simply not everyones cup of tea.

Molchanov did name some multinationals, however, that have historically been comfortable with production-sharing contracts and less traditional arrangements. The candidates? BP, Chevron, Eni, ExxonMobile, Petrobras, Royal Dutch Shell , Statoil and Total, along with China giants Sinopec, CNOOC and PetroChina.