COUNTRY REPORT: MEXICO
By Paula L. Green
Safeguards put in place after the Tequila Crisis helped Mexico's banks ride out the recent global turmoil. Now they're facing some new challenges.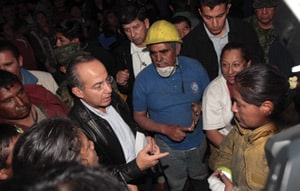 On the spot: Mexico's president Calderón faces tough questions over his efforts to crack down on drug-related violence
Bolstered by stronger capital reserves and a growing demand for credit by companies and consumers, the Mexican banking sector is geared up to navigate its way through a delicate operating environment this year as economic growth slows to nearly 4%.
Though not expected to grow as quickly as financial institutions in other Latin nations such as Brazil, Colombia, Peru and Chile that remain less dependent on the sluggish United States economy, Mexican banks are operating in an underbanked market and ready to tap into the beginning of a new cycle in consumer demand for credit.
"At the time of the financial crisis, demand for domestic credit, such as credit cards and personal loans for autos, was going down," says Alberto Gomez-Alcala, executive director of economic research and communication at Banco Nacional de Mexico in Mexico City. Also known as Banamex, the bank is an arm of New York–based Citigroup and had a 20% share of Mexico's deposits and 21% portion of total assets at the end of December. "[But] during the last quarter of 2010, the credit cycle was going up. We expect this to continue as consumers are confident about the economy."
The positive changes prompted Moody's Investors Service to boost its outlook for Mexico's banking system to stable from negative in December. In its report the US-based ratings agency cited improvement in the Mexican banking system's fundamental credit conditions, including a stronger capacity to absorb losses with no signs of the bubbles or fiscal imbalances that could pose a longer-term risk to banks' asset quality.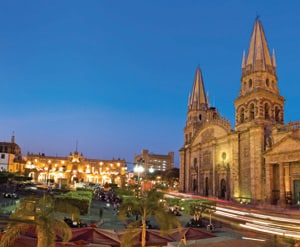 In Guadalajara, Mexico's computer hub, drug cartels are battling for control
Banorte may have decided to take advantage of this anticipated upward swing with its plan to acquire the niche bank Ixe Grupo Financiero last November. The $1.3 billion deal was approved early last month by Mexico's Federal Competition Commission, strengthening Banorte's hold on the number-three slot in Mexican banking. Ixe Grupo Financiero owned a boutique bank that offered business and credit card accounts for the wealthy of Mexico City. BBVA Bancomer, the Mexican unit of Spain's Bilbao Vizcaya Argentaria, holds the top banking slot, followed by Banamex.
The lessons learned from the tequila crisis that rocked Mexico's financial world in the mid-1990s helped temper the impact of the recent global financial crisis. Banking regulators had laid down tougher regulations to prevent another crisis of that magnitude, and banks had not entered the mortgage industry at the same level as their colleagues to the north. Those regulations "proved to be more than adequate to face the serious turmoil in international financial markets in 2008–2009 without any significant consequences," says Nicole Riche de Polognac, executive vice president and president and chief executive officer of Grupo Financiero Scotiabank in Mexico City. "Most of the criteria to ensure that the banking system properly functions are already in place and running in Mexico."
Shan Nair, chief executive officer of Nair & Co., a consulting company with offices around the world, agrees. Mexico's banking sector did not suffer as badly as those in other regions during the financial crisis because of the country's more conservative lending laws, investments targeted on exchange-traded and fixed-income products, rather than the volatile derivatives, and the anti-inflationary monetary policies set by the central bank in the 1990s. "The key for banks now, in this still-volatile climate, is to get the best possible returns in the current low-grade investment environments by choosing the most appropriate and low-risk investment vehicles," Nair adds.
Heading for Steady Growth
Long driven by export growth fueled over the past two decades by the low tariffs granted through the North American Free Trade Agreement, Mexico's economy is not going to experience the 5% growth it logged last year, much less the 7.5% or 8.5% uptick that Brazil and Peru, respectively, posted in 2010. That will undoubtedly shade the banking sector's prospects. "The outlook [for Mexican banking] is tricky," says Celina Vansetti-Hutchins, a senior vice president at Moody's in New York City who heads the agency's team of bank analysts for Latin America. "We don't see lending rain or shine." Many large Mexican companies, she adds, typically do not rely on domestic banks for loans but turn instead to their suppliers or the international capital markets to obtain financing at more affordable rates. And although midsize companies need loans, the lack of transparency that frequently surrounds their financial statements prompts corporate bankers to tread carefully in this market.
"The downside of lending to the midsize market is that there are not always financial statements," says Gomez-Alcala, referring to the locally owned Mexican firms with about 100 employees. The recent growth of private credit bureaus that investigate the credit-worthiness of these potential clients is helping to open up the market, though.
Hilaire Damiron, chief executive officer and director general of Grupo Willis Mexico, part of the global risk management firm Willis, sees this change as part of the retrenching that is under way in the Mexican business environment. As he sees it, these are changes the country and its businesses have to make in order to progress and compete in a global market. "I'm seeing changes that were happening in Brazil 10 years ago," says Damiron, who worked in Brazil for about a dozen years before moving to Mexico two years ago. Damiron sees administrative burdens as one of the problems multinationals face when doing business in Mexico. "Some companies just give up," he adds.
The sharp upturn in violence over the past year in the north and west of Mexico, related to the federal government's crackdown on the cartels that control the drug trade, is another issue now on the radar screen of companies considering investment. Two years ago, for example, Monterrey, the country's industrial hub, was one of the country's safest cities. Now drug cartels are battling for control there and in Guadalajara, the country's technology hub. The sustained nature of the violence and its escalation in the past year have some company executives worried.
"Companies are wondering about the future. What will be their return on investment in 2015, for example?" he says. "It's not only killings of people with ties to the drug cartels or political connections that put them on the wrong side of the perpetrators. Kidnappings and armed car thefts are up and extortion of companies is up. "A company executive may even receive a call or letter saying that they will start killing his employees if he doesn't pay up." says Damiron, adding that extortionists are not that sophisticated and frequently target the companies that manufacture the well-known brands lining supermarket shelves.
"You can turn off the lights, and then you have no risk," adds Damiron. "Or you can develop a contingency plan." Willis, for example, has a security company based in Miami that is staffed with security experts culled from the military. They can help design plans to manage the safe entry and exit of a company's employees and make the company's premises as secure as possible.
In a report issued in January, FitchRatings noted that the escalation in drug-related violence was concentrated in about five states and largely related to the drug cartels. But its spread to Monterrey, one of the country's wealthiest cities, filled with the headquarters of textile, food processing, construction and beverage manufacturing companies, has exacerbated the international public perception of violence spreading throughout Mexico. Mexican government officials were upset by recent US State Department warnings about the violence in the northern states, believing that they could crimp the dollars spent by students traveling to resort areas such as Cancun during their spring break this year. Cancun, located on the Yucatan peninsula between the Caribbean Sea and the Gulf of Mexico, is about a thousand miles from the northern border city of Monterrey.
Shelley Shetty, head of Latin American sovereign ratings for Fitch, said the violence could reduce the country's economic momentum if it becomes sustained and affects broader confidence in the economy. It is difficult to gauge whether the reduction in economic growth anticipated for 2011 was caused in any part by the perception of violence, Shetty says. It might simply be a consequence of the US's sluggish growth.
"Violence is a negative factor for
economic activity, particularly for
the banking industry"
"It is also clear that it is a concern that is getting more and more attention from the international investor" – Nicole Riche de Polognac, Scotiabank
In office since 2006, Mexican president Felipe Calderón has cracked down on the drug lords in an attempt to stop their perennial drain on the country's economic growth. Aside from the moral implications and spread of corruption, the narco-traffickers' creeping presence siphons away dollars that could be made in legitimate businesses.
However, Banamex's Gomez-Alcala doesn't think the drug-related violence has hampered the country's economic performance so far. While the increased violence in northern and western cities may have dragged down sales posted by restaurants, bars and theaters as people head out on the town less frequently, the revenue of supermarkets, liquor stores and DVD rental stores has shot upward as people spend more time entertaining at home, Gomez-Alcala says. "[The violence] might modify behavior, but it hasn't had an impact at the aggregate level yet," he says. "There may be fewer business meetings in Monterrey, but the conferences are being held in Mexico City," he adds.
Scotiabank's Polognac agrees that no conclusive evidence exists to indicate that the drug-related violence has had a serious impact on economic activity so far. "We do not expect that this will become a relevant factor for productivity this year, but of course we have some concerns," she says. "Violence is a negative factor for economic activity as a whole and particularly for the banking industry. It is also clear that it is a concern that is getting more and more attention from the international investor," Polognac adds.
Industry observers believe that whichever political party wins the presidency after the 2012 national elections will have to continue the crackdown on the drug cartels. "It's a battle that has to be fought in order for Mexico to be a modern economy," says Gomez-Alcala. "This type of activity destroys legitimate economic activities and reduces the potential of a country."