Only recently, Russians were banned from trading with Turkey. NowErdogan and Putin seem to have a mended fences. Will this political friendship stand the test of time?
A few months ago, relations between Turkey and its big neighbor (and historic rival) Russia were at rock bottom—following Ankara's November downing of a Russian military jet that it claimed had crossed over its border from Syria—with presidents Recep Tayyip Erdogan and Vladimir Putin denouncing each other, and Russia imposing a trade and travel ban on Turkey.
Today the mood couldn't be more different. Following a friendly meeting between the two presidents in St. Petersburg in August, Moscow's travel ban was lifted, with immediate effect: Turkish Airlines now flies to Moscow 11 times a day (more than any other destination), and it has increased the number of flights from Moscow to Antalya, a resort popular with Russians, which will bring a smile to hoteliers there, for whom 2016 has been one of the worst seasons in memory.
Indeed, officials on both sides are talking about a brand new era in Turkish-Russian relations. Russia already has $70 billion invested in Turkey, while Turkey has invested $10 billion in Russia. Free-trade talks between the two have resumed, and there are plans to launch a joint investment fund that will focus on infrastructure projects, medicine and agribusiness, among other things.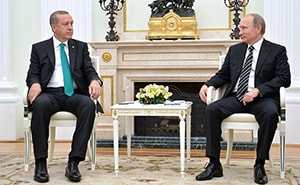 "Russia and Turkey right now have many common interests, particularly at the trade and investment level," says Richard Connolly, a specialist in political economy at London's Chatham House. "Turkey is a big consumer of natural gas and is keen for the expertise to build a nuclear power generator; Russia can provide both. Russia is very keen on the food and agricultural products that Turkey produces, as well as the medium-tech goods that Turkey excels in producing, everything from white goods to piston engines and cars. There are lots of synergies here."
Turkey may also be looking to Russia to get involved with the construction of some of its ambitious infrastructure projects, many of which it plans to complete by 2022 to commemorate the centenary of the republic.
But the big driver of relations will be energy. Moscow is already involved with the construction of the Akkuyu nuclear energy plant on Turkey's Mediterranean coast—which, as a strategic investment, now receives special tax and other incentives. Gazprom CEO Alexey Miller met with senior Turkish officials in August. Soon after, Turkey released the first permits to resume construction on the Turkish Stream pipeline, which will bring Russian gas all the way from the Black Sea to western Turkey.
"The downing of the Russian jet last year was a blip; relations between Ankara and Moscow have actually been improving for years," says Connolly. "I think, as time goes on, that you will see Russia become an increasingly important economic partner for Turkey."