CORPORATE FINANCING NEWS — GLOBAL EQUITY/DRS
By Gordon Platt
Petrobras, Brazil's state-run oil company, was scheduled to come to market with $35 billion of shares as Global Finance went to press. That would make the sale the world's largest equity financing ever and could clear the way for a series of initial public offerings in Latin America's biggest economy before the year is out. Agricultural Bank of China held the previous record with its $22.1 billion IPO in July.
Petrobras also agreed to issue $42.5 billion in new stock to the Brazilian government to fund the purchase of 5 billion barrels of newly discovered offshore oil reserves in government-held areas. Combined with the public offering, the sale could reach nearly $78 billion and has forced other potential issuers to give the IPO market a wide berth.
The fulfillment of Petrobras's capitalization will unclog the domestic capital markets pipeline in Brazil, according to Marjorie Hernandez, foreign exchange strategist for Latin America at HSBC Securities USA. She said the foreign exchange inflows associated with the deal would be substantial, putting upward pressure on the Brazilian real.
"We believe there are increasing chances other IPO deals will come to the pipeline soon," Hernandez says. "During a recent visit to Brazil, we found that many local companies have been putting off their issuance plans, as domestic investors have been raising and holding on to their cash in preparation for the Petrobras deal."
ICBC International, the investment banking subsidiary of Industrial and Commercial Bank of China, was appointed as one of the bookrunners for the Petrobras offering, marking the first time that a China-based investment bank has taken a key role in a major share issue outside of China.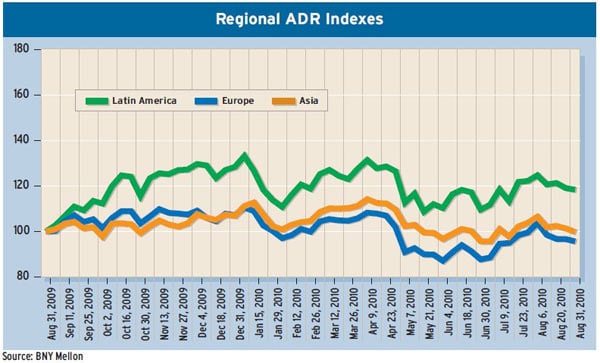 Petrobras appointed Bank of America Merrill Lynch, Bradesco BBI, Citi, Itaú BBA, Morgan Stanley and Banco Santander as the global coordinators for the share sale. It was alsoco-managed by BTG Pactual and Banco do Brasil.
The oil company plans to spend $224 billion by 2014 to double its output, mainly from offshore fields. It will pay the Brazilian government an average of $8.51 a barrel for the rights to the 5 billion barrels in government-owned areas. Petrobras won't have to pay the government royalties for producing this oil.
Cleary Gottlieb Steen & Hamilton, a longtime legal adviser to Pertrobras, is acting as issuer's counsel to the oil and gas company. Walkers, an offshore law firm, and Brazil-based Machado, Meyer, Sendacz e Opice are also advising Petrobras, according to filings with the Securities and Exchange Commission. Petrobras listed legal fees of $200,000 related to the issuing of shares.
Petrobras delayed the sale back in June, saying that Brazil's energy regulator did not yet have an independent estimate of the value of the oil. At that time Petrobras also said it expected the Brazilian government to become more strict about deepwater drilling projects off its coast.
Meanwhile, Coal India was set to begin a roadshow last month to promote what was expected to be India's biggest stock listing ever. The company planned to raise up to $3.2 billion from the sale of a 10% stake. Citi, Morgan Stanley, Kotak Mahindra Capital, Enam Securities, Deutsche Bank and Bank of America Merrill Lynch are managing the IPO.
Coal India accounts for 85% of coal production in India, but it recently lowered its annual production target, citing delays in getting environmental permits to expand its mines.
PowerGrid, a utility controlled by the Indian government, plans to sell a 20% stake in an IPO in November that could raise $1.8 billion.
In China, Winsway Coking Coal Holdings began pre-marketing a $1 billion IPO in Hong Kong last month. The coal transport and processing company specializes in washing and transporting coking coal from Mongolia to China.
Also in China, Boshiwa International Holdings, which makes children's clothing, was planning to issue $320 million of shares in late September. Bank of Communications, Credit Suisse and UBS are the joint book-runners.