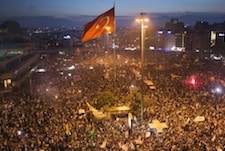 Demo site: Protestors in Istanbul's Taksim Square last summer
(

Photo: Fleshstorm

)
Turkey, the onetime sick man of Europe, is ailing again. And the setback has come on with remarkable speed.
Just a year ago, the governing Justice and Development Party, or AKP, was celebrating 10 years in power. The party could boast an impressive record, too: A 65% rise in GDP, the return to the barracks of the once omnipotent military and, apparently, proof that moderate Islam and democracy could coexist in a progressive society.
But then last summer, heavy-handed government plans to bulldoze Istanbul's Taksim Gezi Park to build a shopping center sparked demonstrations in that city (see picture) and across the country. Prime Minister Recep Tayyip Erdoan's shrill and aggressive response turned these into riots, casting serious doubts on his judgment and setting off alarm bells among investors.
Now a police and judicial investigation into potential high-level corruptionparticularly construction contracts given to companies with ties to government officialsis turning nasty. Erdoan has sacked the country's deputy police chief and numerous regional police heads, claiming their probe proves they support his onetime ally and current rival, cleric Fethullah Glen, who lives in the US. One AKP official says Glens supporters dominate all the control points of Turkeys legal system. Indeed, government officials have promised to prosecute those leading the corruption probe, claiming the investigation is a Glen-backed attempt to overthrow the government.
Right now, there appears to be little chance that Erdoan and Glen can come to any sort a truce, or that the ongoing roundup of police and judges will be called off. On January 6th, a member of the central committee of the AKP told Bloomberg News that: My opinion is that they are criminalsthe police and the judges and prosecutors. If you can destroy this organization, you can save democracy.
Making sense of these Machiavellian doingsor predicting how things will wind upis tricky. For investors, the bigger question is: What is the likely economic fallout?

The major concern is the 7.5% current-account deficit, which is high and likely to remain so because Turks dont save enough. With sentiment toward Turkey badly shaken in the wake of the latest eventsthe lira fell to its lowest ever level against the dollar on January 5th (TL 2.194)the central bank may have no option but to increase interest rates to keep money flowing in. That will affect growth and, of course, the $20 billion to $25 billion of infrastructure projects planned for the next few years.

This months Monetary Policy Committee meeting looks like being an extremely close call, says William Jackson, an economist at London-based consultancy Capital Economics. But on balance we think the central bank will raise the overnight lending rate by 50 basis points, to 8.25%.

The unfolding crisis will also cast a large shadow over Turkeys first direct presidential elections, due to be held in August. A year ago, Erdoan was the clear favorite.

But with his recent talk of foreign agents and treason and government coups, its unclear whether the prime minister and the AKP will retain the authority, or support, to switch Turkey from a parliamentary system to a more presidential one, which had been the partys plan. And although the AKP remains by far the largest political force in Turkey, the growing questions over its integrityserious stuff for a party that has always insisted it was purer than puresuggest its days of complete supremacy are numbered.