Maria Ramos, chief executive of Barclays Africa (Absa), wants to tap into Africa's tech savviness to get ahead of the digital wave that is breaking across the continent.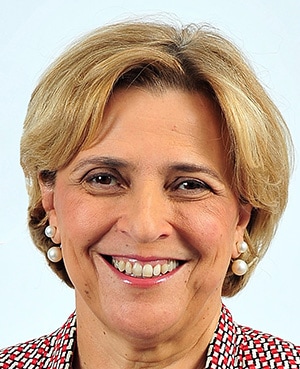 Global Finance (GF): What new possibilities does the 'sell-down' of Barclays UK's stake in Barclays Africa open up, and what part does re-branding the group as Absa play?
Maria Ramos: It opens the opportunity for us to implement a strategy that is appropriate for our business in Africa, and within risk and other parameters. We believe this unlocks new growth opportunities for us. We see a big opportunity in being able to now group our operations under a single brand, which reflects our identity in Africa.
The sell-down brings with it a reset, allowing us to rediscover our entrepreneurial zeal, sense of ambition and what it means to serve our customers. We are ready to embrace change and accelerate our transformation. We are a business with a clear, undiluted ambition to grow: to double in size and become a banking group Africa can be proud of. The new identity is further evidence of the scale of the transformation and change in our business—a new brand for a new banking group.
GF: What do you see as the main drivers for the group achieving its goals of doubling its market share of African banking revenues and regaining leadership in core markets or expanding into new markets?
Ramos: In terms of regaining leadership in our core markets, we are embracing a new philosophy of commercial risk management. We want decisions to be taken closer to the customer. We are driving an ethos where risk is supportive, not preventative, and risk is a natural consideration in every decision we make—not just for credit. As an independent and stand-alone business, we now have the agility, the means and the risk appetite to strive for growth. In expanding markets, we will consider appropriate acquisitions to support our growth ambition. We will also embrace strategic partnerships to explore new markets and add to our capabilities.
The legacy of our years being part of Barclays has endowed us with many assets and benefits, notably giving us the opportunity to expand our presence meaningfully across 10 countries in Africa.
GF: How will the digital transformation impact the bank's ability to reach out to new customers and enhance profitability?
Ramos: It will enhance our ability to grow. We are building a scalable, digitally led business. That means digitizing our enterprise end to end, transforming our customer proposition and fueling our agility. Africa, and our customers, are some of the most tech-savvy people on the planet. We're not just seeking to ride the digital wave; we want to be ahead of it.
Taken together with the significant investments we are already making in this area, as we separate from Barclays PLC we have an opportunity and the financial capital to build world-leading new capabilities.
The way we are now using data, analytics and artificial intelligence is creating a step change in our approach, deepening our understanding of customer needs.
It is allowing us to become more intuitive, responsive and ultimately predictive in our ability to meet those needs.It is giving us laser-guided insight into the needs of our customers. It will be a source of competitive advantage.
We are bringing the best thinking, skills, design and digital capabilities to help create a very different and differentiated business.
GF: What do you see as the main challenges ahead: changing corporate culture, harnessing technology for Africa's requirements, facing challenges from low-cost digital banking platforms?
Ramos: It is fundamentally about culture, and this is not an easy or a quick change. We are committed to facilitating, enabling and supporting a cultural change for sustainable growth in the long term. The separation from Barclays PLC affords us the opportunity to reset the culture in our organization.