ROUNDUP
By Kim Iskyan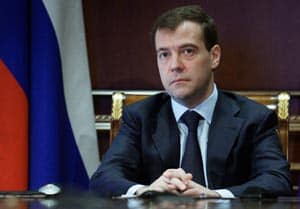 Hard line: Russian president Medvedev asserts his power
Following an exceptionally bitter and increasingly dirty public struggle with the Kremlin, Moscow mayor Yuri Luzhkov was fired in late September, after 18 years in office. The standoff was a test of the political clout of president Dmitry Medvedev, who was able to save face by eventually mustering the support to dismiss the mayor. But the bigger test will be the choice of a successor in coming weeks, which will reflect the delicate positioning of competing political elites as the 2011–2012 election season heats up, as well as of the relative power of the president.
The US and Russia resolved many of their major differences regarding Russia's bid to join the WTO by the September 30 deadline set by Medvedev and president Barack Obama. However, the next steps for Russia in its efforts to join the world trade group—including conducting multilateral talks with other members of the WTO and garnering the approval of Georgia, which has vowed to exercise its membership veto—promise to be difficult.
New automotive industry requirements slated to be announced soon will force foreign automakers operating in Russia to boost production, investment and the proportion of locally sourced components in the vehicles they produce, or else face sharp tariff hikes on imported parts. Although the revised rules will be implemented only as carmakers' current agreements with the government expire, they could still cast a pall over what has been one of the few foreign direct investment success stories in Russia outside of the energy sector.
In late September, Medvedev and China's president Hu Jintao signed a range of agreements to deepen the energy partnership between the two countries, although an elusive gas supply deal has not yet been finalized. Last year Russia agreed to a $25 billion, 20-year loan-for-oil agreement.