Pause For Thought
By Antonio Guerrero
Recent popular uprisings in North Africa and beyond may be causing China to slow its headlong rush into the continent.
Over the past decade, China has become a key source of investment, aid and trade for Africa, a continent that was once dominated by relations with Europe. Bilateral trade between Africa and China has been growing by an annual average of more than 30% of late, hitting a record $127 billion in 2010 as China seeks access to Africa's raw materials and Africa delves into China's deep pockets, particularly to fill the continent's infrastructure void. But recent uprisings throughout North Africa could be giving Beijing pause. While some analysts say China is more interested in Africa's natural resources than its domestic politics, often dealing with African dictators and turning a blind eye to corruption, others say the political unrest could lead to changes in how China does business on the continent.
"There has been significant disruption across North Africa, and this inevitably has an adverse impact on China's interests in the continent," says Arti Sangar, a partner and head of the Dubai office of law firm Diaz Reus & Targ. "It will become difficult, or temporarily unfeasible, for Chinese companies to do business in the [North Africa] region," adds Sangar, who predicts an increase in legal disputes arising from nonpayment and arbitrary dishonoring of contracts there.
Sangar also feels the unpredictable security situation could cause headaches for Chinese citizens and companies in the region—and possibly increase their exposure to potential corruption. "The current political situation is also likely to result in an upsurge in the laundering of corrupted or looted funds to Asian countries, such as China," says the attorney.
Jing Li, author of China's America: The Chinese View the United States: 1900-2000 , agrees the situation creates problems for Beijing. "Dealing with the unrest in Africa is a new challenge for the Chinese government," he says. "The Chinese government's quick evacuation of Chinese businessmen and workers out of Egypt and Libya in February—over 30,000 of them out of Libya in about a week—was hailed as a great success in China, but protecting Chinese interests left behind is a task with which China has relatively little experience." Citing data from the Chinese Ministry of Commerce, Li notes there were 50 large Chinese projects under way in Libya when unrest broke out in February, with a contractual value of $18.8 billion.
China has thus far maintained a policy of nonintervention in local politics, openly opposing Western allies' air strikes on Libya. "Now, under new circumstances, with China remaining a significant economic presence in politically restive foreign countries, what can the Chinese government do with its overseas interests if it sticks to its old noninterference principle?" asks Li. "Even if there is the will to take action, China does not have the capability to project its physical power so far away from home."
"China is the largest destination for African oil exports, and its share has been steadily growing"
"The recent turmoil only deepens China's interest and strategic position on the continent" — Bhaskar Chakravorti, Tufts University
Not everyone is convinced the unrest will make China more cautious. "China has no interest in becoming a dominant political power, only an economic power," says Benjamin Wey, president of New York Global Group, a middle-market advisory firm focused on Chinese-related transactions and based in Beijing and New York. "There are two things that China wants out of Africa—oil and minerals; other than that there is not much interest," he notes, adding that he believes instability in Libya will not affect China's long-term policy toward Africa. "I think these are problems that China knew of and anticipated long before doing business in Africa," he argues.
Africa's growing population will continue to present opportunities for Chinese companies. The IMF predicts Africa's economy will grow by 5.5% this year, despite the ongoing energy shortfalls and infrastructure deficits that China is looking to satisfy. According to the McKinsey Global Institute, the number of African households earning $5,000 or more per year will increase to 106 million by 2014, from 56 million in 2000, making them potential consumers of Chinese imports. Chinese companies have been preparing for the coming consumer boom, with Chinese automaker Foton planning on opening an assembly plant in Kenya next year.
"China is used to working in countries with weak institutions, immature legal systems, corrupt business practices and so forth; they do not appear to be interested in developing these practices," says Mary Teagarden, professor of global strategy at the Thunderbird School of Management, who has worked in and studied China for more than 35 years. "Their investment in Africa is not ideological," she says, noting that China's interest in developing African infrastructure is driven by the PRC's need to facilitate the access to and export of natural resources.
"China has no interest in becoming a dominant political power, only an economic power"
"There are two things that China wants out of Africa—oil and minerals" — Benjamin Wey, New York Global Group
Bhaskar Chakravorti, senior associate dean for international business and finance, and executive director of the Center for Emerging Market Enterprises at The Fletcher School of Tufts University, thinks recent unrest actually bodes well for China. "China is the largest destination for African oil exports, and its share has been steadily growing," he says. "The recent turmoil only deepens China's interest and strategic position on the continent. As oil prices rise in the short term and there is uncertainty about the future, China's strategy of investing in infrastructure in exchange for oil is [proving] a sound one. Politically, the US and its European allies have much to lose, while China is on the sidelines and can continue to play, however the dust settles in North Africa."
China is probably too heavily invested in Africa to consider pulling out of the region. "With an annual trade value of $100 billion, China's engagement in Africa is now a vital part of China's overall economy; it is too big for the country to give up for fear of political instability," says Li. "In terms of overseas construction work, Africa is now the second largest market for China, next to Asia itself." Construction projects include everything from housing and transportation to communications facilities.
The relationship, however, may be skewed. "Chinese construction companies are bringing advanced infrastructure development know-how, but they do not necessarily share this know-how with Africans," charges Teagarden. What Chinese companies do bring to Africa, critics assert, is a flood of cheap imports that threaten the livelihoods of local manufacturers. "Chinese companies are providing abundant quantities of low cost goods to meet the needs at the bottom of the economic pyramid," Teagarden says.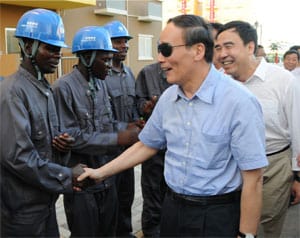 Welcome to Africa: The continent is becoming not just a crucial source of raw materials but also an important market for Chinese products
"The major pitfall for China is that their current involvement leads to a new form of colonialism, which has been the bane of the continent for generations," charges Chakravorti. "Another pitfall is that Chinese investors are in bed in many instances with repressive regimes with a terrible human rights record; at some point the resentment is going to boil over, and the chances of internal revolt and civil war are even higher given what is happening in North Africa." He contends Chinese investment could be helping repressive regimes consolidate their power.
Last October, Zambians expressed resentment over what they saw as China's increased political and economic role in their country, after two supervisors at the Chinese-owned Collum coal mine shot 13 coal miners during a wage protest. The supervisors were initially arrested and an inquiry into the shootings initiated, but prosecutors dropped the case in a surprise move. Zambian president Rupiah Banda is a firm supporter of increased Chinese relations.
"Overall, the pitfall that I most worry about is that the biggest exchange of goodwill is with the political authorities," adds Chakravorti. "Given the history of Africa, these centers of power change frequently, and Chinese investors will have to be on a continual treadmill of making new friends and spreading the wealth, but not with the people on the street, who are the perennial losers."