Trade and tariff wars aren't the only things that threaten cross-border trade and investment.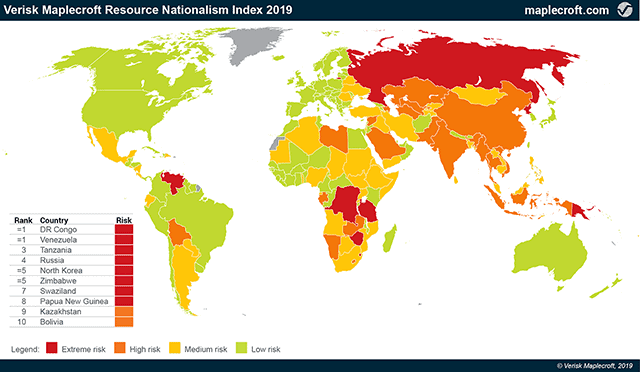 The Democratic Republic of Congo (DRC) and crisis-wracked Venezuela top a newlist of countries according to the Resource Nationalism Index (RNI)produced by global consultancy Verisk Maplecroft.
Governments in 30 countries—mostly major producers of oil, gas and minerals—are ratcheting up the pressure to directly or indirectly control the exploitation ofnatural resources.
The DRC—which adopted a new mining code favoring government intervention amid rising costs for operators—jumped from sixth place to share first place with Venezuela in the "extreme risk" category. In 2019, the DRC government is likely to add copper to the "strategic" substances such as coltan, germanium and cobalt subject to punitive 10% royalties, the report says.
Eight countries including Tanzania, Russia, North Korea and Zimbabwe share the highest risk profile in the ranking of 198 nations.Africa is home to 10 countries on the index facing the highest risk of expropriation.
Although the risk of direct expropriation of natural resources has declineed in recent years, the RNI indicates that producing countries at high risk of resource nationalism are taking an indirect approach to tighten their grip on extractive sectors.
Factors including elections, rising populism, fiscal pressures, price and contractual changes contribute to resource protectionism, according to Verisk Maplecroft, which tracks these trends on a quarterly basis to help companies and investors make decisions on market entry, mergers and acquisitionsand long-term projects.
"The most interesting finding coming out of the research in the last three years is the contrasting performance of Tanzania and Ecuador in the Resource Nationalism Index," says Tim Campbell, senior analyst indices at Verisk Maplecroft.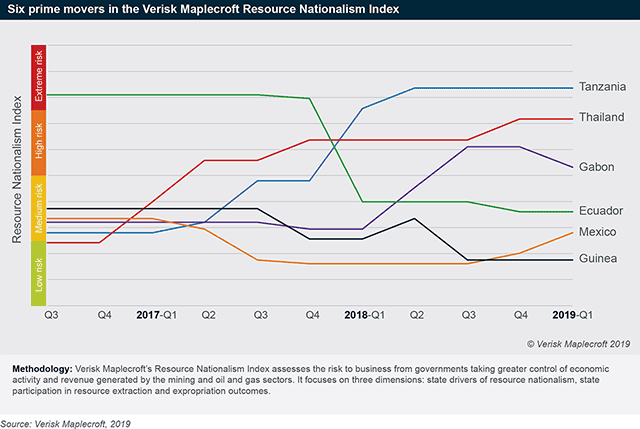 Tanzania went from 73rdand medium risk in 2016 to the third highest risk country globally, while the risk environment for operators in Ecuador, South America's only OPEC member, has markedly improved, Campbell explains. An additional 23 countries are showing improvement, including Zimbabwe (5th), Vietnam (25th) and Guinea (94th).
The political transition in Ecuador, which moved from third placein the extreme risk category in 2017 to 46th with medium risk this year, has not been problem free. President Lenin Moreno has taken a more moderate center-left approach than his predecessor Rafael Correa as part of efforts to restore democratic norms and address systemic corruption.However, the judicial system remains weakand court proceedings very slow, making it challenging for foreign companies to secure fair treatment under the law and protect their rights.
"Unravelling the inherited authoritarian structures is a complex process that will take time," says Eileen Gavin, Senior Latin America Analyst.
"However, the overall expropriation risk is now low, as the cash-strapped Moreno government looks to make the country more attractive to foreign direct investment, underpinning its improvement in the Resource Nationalism Index," Gavin explains. A $10 billion financing deal with the International Monetary Fund and other multilateral corporates signed in February 2019 will help stabilize the policy environment to the next election in 2021, according to the analyst.
Tanzania, which was downgraded to extreme risk and the third place on the index this year compared with medium risk in 2017, is moving in the opposite direction of Ecuador. Tanzanian President John Magufuli's self-declared "economic warfare" against large-scale mining companies launched in May 2017 weighed on the country's ranking.
"Resource nationalism in Tanzania is facilitated by the political system, which imposes few checks on the president and so encourages short-term decision making at expense of the stability and predictability that investors prioritize," says Ed Hobey-Hamsher, Verisk Maplecroft Senior Africa Analyst.
Beyond the mining sector, oil and gas companies consider neighboring Mozambique as a more reliable partner than Tanzania for the development of its offshore LNG assets, the analyst explains.
On the positive side, Zimbabwe, the world's second largest country for reserves of platinum and chromium, could finally exit the extreme risk category if new president Emmerson Mnangagwa and parliament follow up on pledges to favor foreign investment, the report shows.