EMERGING MARKETS ROUNDUP: RUSSIA
by Kim Iskyan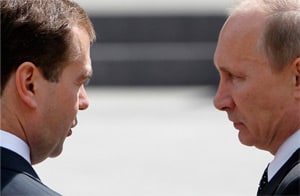 Medvedev and Putin go head to head
During his June 17 speech at the St. Petersburg International Economic Forum, Russia's version of Davos, president Dmitry Medvedev highlighted his reformist stance and sought to further distance himself from the economic and political system that was created by former president and current prime minister Vladimir Putin. Medvedev said that Russia should not become dependent on one person, a clear reference to Putin that underscored the growing tension between the so-called tandem that has governed Russia over the past three years. Medvedev is clearly trying to position himself for the March 2012 presidential elections, while Putin appears undecided about whether he wants to return to the presidency himself. Regardless, Putin will very likely remain Russia's preeminent leader for at least the next few years.
Putin and China's president Hu Jintao failed to agree on pricing to seal a natural gas supply deal, continuing a deadlock since the two countries came to a preliminary agreement two years ago under which Russia would eventually ship 70 billion cubic meters of gas to China every year. The arrangement would involve the construction of two pipelines and an investment of some $100 billion and further solidify the increasingly important energy relationship between the two countries. Moscow is likely to push for a deal before China starts to try to fill its gas needs from other sources. Earlier in June, Gazprom announced that it would seek to increase output more quickly than originally planned, to meet projected increased demand after the nuclear crisis in Japan and unrest in the Middle East.
BP head Bob Dudley said in early June that the company's deal with Russian oil major Rosneft was dead. The announcement torpedoed any lingering hopes that the groundbreaking transaction announced in January might be salvaged. Rosneft will likely look for another international oil producer to help it explore its Arctic fields, while BP will need to mend relations with the Russian partners of its existing Russian joint venture, TNK-BP.
In a small victory for the Kremlin, the European Court of Human Rights rejected the claim by jailed former oil oligarch Mikhail Khodorkovsky that charges against him were politically motivated.