SOWING SEEDS OF CHANGE
By Anita Hawser
The Arab Spring heralded the beginnings of reform and showed the growing importance of social media in enabling communal action. The telecoms sector in the Middle East has been forever changed as a result.

The Arab Spring was an uprising of the people, but it also led to a telecommunications revolution. Although the telecoms infrastructure across the Middle East varies dramatically in terms of sophistication and coverage levels, increasing mobile and broadband penetration across the region provided the mechanisms for demonstrations and revolt to spread like wildfire.
According to Arab Advisors Group, which provides research, analysis and forecasts of Arab communications, media, technology and financial markets, there were approximately 320 million Arab cellular (mobile) lines in 2010, up from 274 million in 2009, with some of the biggest percentage increases in cellular penetration in Jordan, Egypt, Bahrain, Libya, Saudi Arabia and the UAE. The number of Internet users that use social media is also increasing, according to Arab Advisors Group, with the highest number of users in Jordan (66%) and Egypt (59%).
Abhinav Purohit, senior telecom analyst, Middle East & Africa, at IT analysis company IDC, says the Arab Spring was a "blessing in disguise" for telecoms companies as it led to an increase in new mobile SIM card activation and a big boost for social media usage. In the wake of the uprisings, more-progressive political regimes may come to power. They could foster more competition among regional telecoms operators and remove the monopolies and duopolies that now characterize some markets. This trend has already begun. Arab Advisors' data shows that the cellular regulatory framework is now competitive—rather than held by a monopoly—in 14 Arab countries, versus just seven in 2005.
Despite these advances, the Arab Spring also demonstrated that strong ties still exist between telecom operators and governments across the region. In some countries, such as Egypt, mobile operators generated anger among subscribers, says Purohit, by sending pro-government messages during the uprisings. Jawad Abbassi, founder and general manager, Arab Advisors Group, says telecom revenues dropped significantly in Egypt and Tunisia during the uprisings, given economic and business disruption, but once things stabilized they went back up.
LIMITED ACCESS
While Facebook and Twitter emerged clear winners from the spring of discontent that spread across the Arab world, the Internet as a whole did not. Purohit says access to the Internet is still "extremely guarded" in the Middle East, particularly sites that publish sensitive religious content. Access to peer-to-peer or voice-over-IP (VoIP) applications such as Skype is also restricted. "You can download Skype for messaging and PC-to-PC calls, but the service quality drops substantially while making PC-to-phone (either fixed or mobile) calls as it is perceived to affect the revenues of incumbent telecom operators," explains Purohit.
VoIP services are much more accepted now than they were a few years ago, when they were illegal in many places, says Wael El Kabbany, managing director, BT Middle East and North Africa. "There is development happening around this, but not at the pace that users would like."
"The quality and availability [of
fixed-line high-speed broadband]
is high, but prices are prohibitive
and are restricting uptake"
– Abhinav Purohit, IDC
While competition is increasing in the mobile space with penetration beyond 150% (ownership of two cell phones per subscriber is not uncommon), the dominant player in most countries in the region, says Purohit, is the mobile arm of the fixed-line telecoms provider, which is typically state-owned and has approximately a 50% market share, while new entrants may have a 25% to 30% market share. As there is little competition to fixed-line operators, Purohit says they don't pay too much attention to customer service or network maintenance. It is not a question of money, however, as some of the biggest operators in the region, like Etisalat of UAE and Zain of Kuwait, are bankrolled by oil money.
Purohit says most operators now have high-speed broadband offerings on the fixed-line side. "The quality and availability is high," he says, "but prices are prohibitive and are restricting uptake." Investments are also being made in fiber optics, for example in Qatar in the run up to the World Cup. In terms of mobile broadband, 3.5G is pretty much the standard, says Purohit; however, connectivity outside of urban areas is considered poor.
INTER-REGIONAL EXPANSION
Middle Eastern telecom companies also have their sights set on interregional expansion. Etisalat already has operations in several African nations including Nigeria and Egypt, and Qtel (Qatar Telecom) too has recently expanded its footprint into Tunisia. According to Abbassi of Arab Advisors Group, greenfield opportunities in the region dried up in the past six or seven years, with new operators becoming scarcer. Most telco companies are also expensive to acquire. A number of international operators are active in the Middle East, including Orange—owned by France Telecom, Spain's Telefónica—which entered into a strategic partnership with UAE's Etisalat last July, and mobile provider MTN South Africa.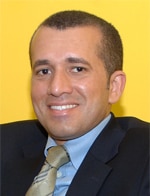 El Kabbany, BT: We don't compete with local operators, they are our partners
As part of its stated aim to double its revenues in Africa and the Middle East by 2015 France Telecom-Orange, alongside partner Agility, acquired a 44% stake in Iraq mobile operator Korek Telecom last year.
For most foreign companies, however, the Middle East is a more conservative market to operate in with much of the foreign presence restricted to countries like Jordan (France Telecom/Orange) and Qatar (Vodafone). Purohit says foreign operators have tended to enjoy greater success in the enterprise telecoms space. El Kabbany of BT says its customers are typically global multinationals. "We don't compete with local operators," he explains. "They are our partners."
In the Kingdom of Saudi Arabia, BT operates through BT Al Saudia, a joint venture with prince Abdulaziz bin Sattam bin Abdulaziz Al-Saud. El Kabbany says deregulation of the telecoms sector is not a focus in the region: In countries such as Pakistan and Bahrain, anyone can apply for a license; in Egypt, Jordan, Kuwait and Saudi Arabia, it is not as straightforward. "In some countries we are not even allowed to have our own license, and we have to work with partners to reach out to our customers using their network infrastructure. You need to find the right formula to operate in these countries."
Despite the economic and political uncertainty that has spread across the Middle East as a result of the Arab Spring, El Kabbany remains optimistic about the region's growth prospects. "We have consistently achieved double-digit growth for the past few years in the region. Once the dust settles, we can see major development in these centers, and we are making sure we are ready in terms of the ability to move ahead. It is just a matter of time."