Annual industry gathering facilitates networking of ideas as well as people
Many think of it as the Olympics of banking technology or transaction banking, but while Sibos is a huge gathering of major competitors from all over the world, there are no games.
Launched in 1973 with a few hundred attendees by Swift, Sibos presents an outstanding opportunity to showcase solutions and services from strong and established players in the banking and technology sectors, but it is also a unique opportunity for niche players and newcomers to be heard and to showcase their solutions. There will be intense discussions and presentations on cybersecurity as well as a new focus on robo-advice for investing and the use of data in private banking and wealth management. Discussions on new payment methods for corporates will vie for attention with updates on blockchain and its applications in the industry.
Through all this banks and fintech companies will try to fine tune their relationships, which are both collaborative and competitive. Ginni Rometty, chairman and CEO of IBM, will deliver a presentation on "the impact of cognitive computing for the financial services industry" and UBS group CEO Sergio Ermotti will discuss the future of financial services.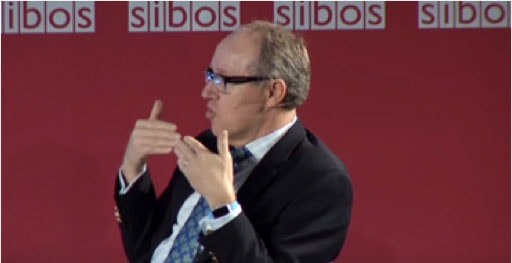 Sven Bossu, who has been in charge of the event on behalf of Swift for the last four years, claims that the success of Sibos is due to the "mix of networking, conference and exhibition" that takes places in a few days.
This year, the organizers decided to simplify the program. The general theme, "Transforming the Landscape" is be divided in four subtopics—Banking, Compliance, Culture and Securities—a sharp reduction from the 13 forums of last year's event in Singapore. Some broad themes, such as "innovation" or "standards," will be part of the discussions in all four topic areas. But the attendees can, and probably should, navigate the hundreds of conferences and presentations with a specific filter to select what is of interest to them.
Naturally the Swiss government and the local banking system consider Sibos more than an opportunity to show their hosting skills and the best of their solutions and platform. The accent in Geneva will be also on the local fintech industry wtih a showcase for products, solutions and services of 32 local companies.
Bringing together thousands of people from all over the world, over 8,000 last year in Singapore, offers a rare opportunity to search for common solutions. Robust turnout makes the event a natural opportunity to meet clients, announce deals, or explore new solutions, new companies and new ideas.