ABK-Egypt CEO and Managing Director Khaled El Salawy discusses how technology is making banking easier for consumers and businesses in a fast-growing economy.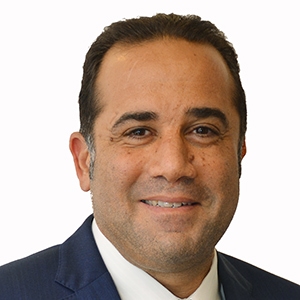 Global Finance: What is driving growth in the Egyptian economy and at ABK-Egypt?
Khaled El Salawy: Egypt continues to reap the fruit of the ambitious economic reform program it embarked on in late 2016. Growth is currently being driven by the construction and energy sectors, as fiscal reforms have made funds available for the government to carry out large infrastructure projects and the settlement of arrears to foreign energy companies has attracted additional investments in oil and gas. Nonetheless, private consumption remains the largest component of GDP and the nation's large, youthful population should continue to drive growth for years to come.
At ABK-Egypt, we have embraced the challenges faced by Egyptian consumers and businesses, and have capitalized on our vision of "Reimagining a Simpler Bank" to provide innovative solutions that help our customers achieve their goals. The bank has established a strong foothold in the Egyptian market and realized significant growth across both the retail and the corporate segments.
GF: Which sectors of the economy do you see as most promising in terms of fast growth and attractiveness to foreign investors?
El Salawy: Egypt's sizeable hydrocarbons sector is the largest recipient of foreign direct investment and is expected to continue to exhibit considerable growth, as recent gas discoveries continue to attract foreign capital. Construction and manufacturing are also expected to realize significant growth rates in the near future as inflation cools and credit conditions improve. A more gradual expansion in consumer spending, and wholesale and retail trade, is expected as economic conditions normalize and as the Central Bank of Egypt resumes its monetary easing cycle.
GF: Will there be an increase in lending to the private sector as a result of tax law changes on income from government bonds?
El Salawy: The amendments to the income tax law make it more favorable for banks to reduce their holdings of government debt, but that may not necessarily translate to an increase in loans to the private sector. Nevertheless, private-sector credit growth is expected to accelerate on the back of improving economic activity, lower inflation and the resumption of monetary easing by the central bank.
GF: How is ABK-Egypt using technology to reach the unbanked and small and midsize enterprises?
El Salawy: The banking landscape, as we know, has changed dramatically over the past couple of years. A new wave of technology has taken over the way consumers manage their finances; and, therefore, banks have been rethinking the way they do business, to reach untapped segments, deliver a better customer experience and remain competitive. I see this as the beginning of what is shaping up to be a very exciting new chapter for the banking industry.
Since we started our operations in Egypt, ABK-Egypt has relentlessly focused on the extensive use of technology and simplification of processes to deliver customer-centric solutions that set us apart from the competition. Over the past 12 months, we have set a clear focus on fintech integration and innovation, through investing in revamping our technology platform and upgrading infrastructure and security standards. We are also currently working on the regulatory requirements for omnichannel data synchronization across different customer channels.
It is also important to highlight the room for growth in Egypt's small and midsize enterprises [SMEs], which are a main focus of the government's economic policies. The central bank has mandated that lending to SMEs constitute no less than 20% of a bank's credit portfolio by the end of 2019. Fintech integration has helped ABK-Egypt provide instant banking services to SMEs by providing them with a full-fledged online corporate banking platform with enhanced features for bulk and payroll payments. This should allow them to efficiently manage their businesses in a simpler and smarter way.