Julio Velarde, governor of the Central Reserve Bank of Peru, discusses his country's coming rebound and shoring up stability to mitigate market swings.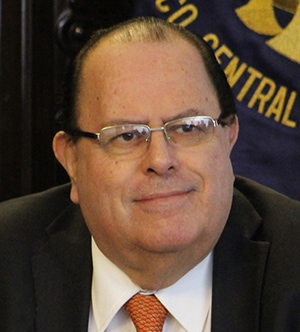 Global Finance: What is Peru's economic outlook for the rest of 2019 and into 2020?
Julio Velarde: The Central Reserve Bank of Peru expects growth to accelerate in the coming quarters, to 3.4% in 2019 and 4.0% in 2020. Fiscal expenditure, which was negatively affected by the transition to new local and regional authorities, will likely rebound during the second half of the year. In addition, mining and fishing will recover from the transitory supply shocks that dragged them into negative territory during the first half of the year.
Private investment is expected to grow 3.8%, as the execution of large projects will sustain investment in the mining industry. The BCRP maintains an expansionary stance and the recent policy-rate cut has enhanced monetary stimulus, thereby further reducing the risk of a slowdown in aggregate demand.
So far, the recent surge in volatility and uncertainty has not resulted in a significant negative impact on investment. However, as confidence is a key driver of private investment, uncertainty could negatively affect it and delay the recovery of non-mining investment in the coming quarters.
GF: What is your view on the Latin American economy? Which countries have the strongest economic outlook?
Velarde: Growth in the region has been slowing down over recent years in response to structural problems and a less benign international environment. As long as Latin American countries continue to seek solutions to their structural issues and preserve macroeconomic stability, I remain confident about a growth recovery in the region.
Latin America has large endowments of natural resources and its population is relatively young. Moreover, although not uniform across all economies, progress in reinforcing macroeconomic stability has been significant. At the same time, attempting to rank the countries in the vicinity based on their economic performance would be a complex exercise, as each one faces unique challenges.
GF: What keeps you up at night, in terms of economic and financial risks? What can be done to contain those risks?
Velarde: Global growth uncertainties, international financial volatility and unstable commodity prices pose considerable risks to the Peruvian economy. Recent events show that the US and China, Peru's two main trading partners, are still far from settling their commercial disputes, and that global growth may be lower than expected. Financial volatility could further escalate and negatively affect commodity prices if trade tensions affect China more severely than previously anticipated. Also, internal political uncertainty, related to the tensions between the executive and the Congress, has been an additional source of local volatility.
A valuable lesson from the past is that sound fundamentals and solid macroeconomic policy are key to confronting persistent volatility in financial markets. Peru maintains low levels of public debt—currently at 26% of GDP—and low inflation, and the government continues to reduce financial vulnerabilities. Financial dollarization, which introduces a credit risk linked to sharp exchange-rate movements, has declined substantially, from 38% in 2015 to 27% in 2019.
More importantly, dollarization is below 10% among households and small firms, which are potentially the most vulnerable segments in the economy. Peru holds international reserves close to 27% of GDP and a large variety of instruments that can be used to inject liquidity into domestic financial markets, if needed. During the global financial crisis, the Central Reserve Bank of Peru injected liquidity equal to 9% of GDP, which contributed to maintaining expansionary monetary and credit conditions and limiting spillovers into the real economy.