A LETTER FROM KABUL
By Valentina Pasquali
The sense of anticipation is mounting in the Afghan capital of Kabul as the country gears up for a crucial double transition to take place in 2014.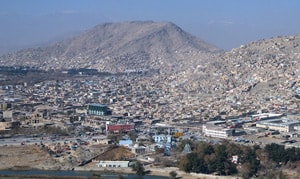 It is the year of the next presidential elections and the deadline for the withdrawal of all US and NATO troops. Consequently, Afghanistan faces a third necessary transformation. It must learn to live on less foreign aid and become economically self-sustaining.
Challenges are well known: uncertain security conditions above all, but also the lack of infrastructure and the corruption. Less understood is the fact that Afghanistan is also a country of opportunities—from mining to telecommunication to specialized professional services—increasingly capable of welcoming companies that want to take advantage of its development.
BET ON MINING
Everyone is betting big on the mining sector. "We identified 28 major deposits," says minister of mines Wahidullah Shahrani. "And only in the 30% of the territory we've surveyed." From copper to iron ore, from gold to rare earth minerals, from oil to construction materials, there is plenty to go around.
Chinese investors are pushing ahead full-speed with the development of copper extraction in Aynak, Logar Province, and oil exploration in the Amu Darya basin in northwestern Afghanistan. A consortium of Indian companies hopes to start working soon at the Hajigak iron ore deposit, the largest in Asia.
Ten more licenses for gold and copper development have been put on tender, and the government plans to award them by September. Forty-one companies from all over the world bid for a slice of the pie, and 25 were shortlisted. All in all, minister Shahrani estimates that by 2024 this sector will contribute $4 billion to the government's coffers and $20 billion to the country's GDP, constituting 45% of the national economy and creating half a million jobs.
Telecommunication is also booming. And, according to Matthew Reed, an analyst with research firm Informa, there is room for more growth. "The number of mobile subscriptions will rise from 18.6 million at the end of 2011 to 24.9 million at end of 2015, and data services also offer good prospects," he says.
Etisalat Afghanistan, a subsidiary of Etisalat UAE, recently launched the first 3G service. Along with Roshan, funded by the Aga Khan Foundation, Etisalat is involved in the development of mobile money solutions. "There are challenges, but the media exaggerates," says Yasser Aboul Amayem, chief commercial officer for consumer businesses, Etisalat Afghanistan. "This country has evolved; I would encourage investors to come here."
Other promising sectors include agro-processing, packaging and cold storage. And one thing Afghanistan desperately needs is high-quality legal and consulting services.
Foreigners worry that after decades of war institutions here lie in ruins and must be rebuilt from scratch. Some progress has been made in the past eleven years, but the regulatory and legal frameworks and infrastructure are still far from ideal.
There are 17 banks operating in Afghanistan, five of which are foreign-owned branches. "There is nothing left from an investor's perspective that an Afghan bank cannot offer," says Khan Afzal Hadawal, first deputy governor of the Afghan Central Bank.
Admittedly, Afghanistan's young banking system was shaken by the collapse of Kabul Bank in 2010. "We suffered from a lack of expertise among Afghan employees and executives at Kabul Bank and at the Central Bank," says Hadawal.
But lessons were learned. Kabul Bank was taken over by the government, unloaded of its bad assets, and will be privatized again as New Kabul Bank. Authorities plan to accept bids in the summer and finalize the sale by the end of the year. Although this experience strengthened financial controls, lending remains tight and interest rates high because of the conservative approach banks are taking.
CHALLENGING BUSINESS CLIMATE
Transparency and efficiency are also emerging as key goals within the ranks of the Afghan government, long known to be rife with corruption. For example, the Afghanistan Investment Support Agency, a government-controlled but independently funded organization that issues investment licenses, helps investors deal with ministries and manages industrial parks. "Before AISA, it would take around 26 steps and over a month and a half for an individual to get a license," says Mohammad Sharif Roshan Ahmadzai, AISA's vice president of administration. "We trimmed these steps down to four or five, and to a waiting time of three-to-four days."
In the end, though it would be wrong to understate the complex challenges still facing this country, it is only fair to acknowledge the efforts and successes of the many people who have been working hard to give Afghanistan a chance.