AUTOMATION, TAXATION AND RISK REDUCTION
BY Denise Bedell
Risk management and technology were key themes of the annual AFP conference in Boston in November.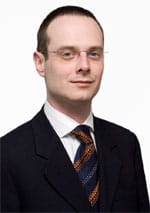 Jegher, Celent: Only a fraction of banks now offer corporate mobile banking solutions
The annual Association for Financial Professionals conference—held in Boston in November—had an energy and turnout not seen since before the financial crisis of 2008. The agenda streams, professional training sessions, and highlighted speakers offered up a range of discussions and activities. The keynote address of former US president Bill Clinton on Sunday brought to the fore some of the issues that are top on the minds of CFOs and treasurers at US and global companies: in particular the crisis in Europe and its potential impact on global corporates. Clinton said: "Essentially, we've got an interdependent world that is a work in progress."
In an interview with Global Finance , Peter Mack, senior vice president and director of international banking at Fifth Third Bank, agreed that Europe is dominating discussions with corporate clients right now. "Regardless of the outcome, it will have repercussions that will be felt around the globe."
A morning presentation on globalization hosted by Citi on Monday had a lively discussion on the changing role of treasury as cash flows continue to globalize and companies are exposed to greater global risks. Treasurers are increasingly acting as global risk managers, panelists noted, and the European crisis provides a significant example of this.
Barbara Quiroga, director of cash operations at Delta Air Lines, said the big impact of the EU crisis for their treasury is on the investment side—knowing who they are exposed to and where. "So having full visibility [of investment exposures] is a key priority," she said. As a result, they are keeping large amounts of free cash available that is very liquid.
ENABLING EFFICIENCY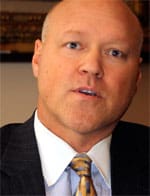 Horowitz, BNY Mellon: Having a dashboard at their fingertips will become essential to CFOs or treasurers
How technology is helping companies to reduce costs and increase financial visibility was also a big theme at the conference, and corporate mobile technology was a hot-button topic. Jacob Jegher, senior analyst at consultancy Celent offered a high-level view of where and how mobile technology was already being used in the realm of corporate banking, and how it could ease pain points for a finance department.
Jegher tweeted during the session: "The corporate mobile banking triple play is web, app, desktop," highlighting the need for banks to move forward with their corporate mobile technology strategies—or get left behind. "Only 10 of the top 25 US banks offer corporate mobile banking solutions," he tweeted.
In an interview with Global Finance , Jeff Horowitz, head of sales and relationship management North America at BNY Mellon Treasury Services, said that mobile corporate treasury apps are something of a luxury item now, but they will become a necessity. "Having a dashboard at their fingertips and quick—and always available—access will become essential to the CFO or treasurer," he noted.
TREASURY AND TAXATION
Taxation and managing global tax regimes also garnered much attention. In a Q&A; session with former president Clinton—led by Michael Connolly, AFP chairman and vice president and treasurer of Tiffany's, Clinton noted that the US corporate tax system required reform. He said: "We have a corporate tax rate of 35%—that's the second highest in the world. And I raised it to that. But when I did it was the average rate," he said. "Everybody else has lowered theirs." He advocated flattening out the tax structure in the US and leveling out tax incentives to create a more even playing field.