Special Report | Treasury Outsourcing

---
The concept of treasury outsourcing has been around since the 1980s, but until fairly recently, it enjoyed limited adoption, owing to concerns about operational control. But cost pressures are forcing treasurers to look at the concept again.
Outsourcing means different things to different people, but at its most basic level, it refers to any services that are provided by an external supplier. The term is also applied in the context of Cloud or software-as-a-service technology platforms.
External providers can be used for treasury processes such as netting, bank reconciliation, or the full suite of front-, middle- and back-office processes. Outsourcing enables companies to free up treasury staff to focus on strategic tasks, while providers may be able to benefit from economies of scale and thereby offer services at a favorable price.
Different companies look for different types of service. "In some cases, the organization wants to outsource its treasury operations, including transaction execution and incorporating front, back and middle office," says Pat Leavy, executive director of Dublin-based corporate treasury specialists FTI Treasury. "Other organizations want to do the front-office execution themselves, while outsourcing their back office and accounting."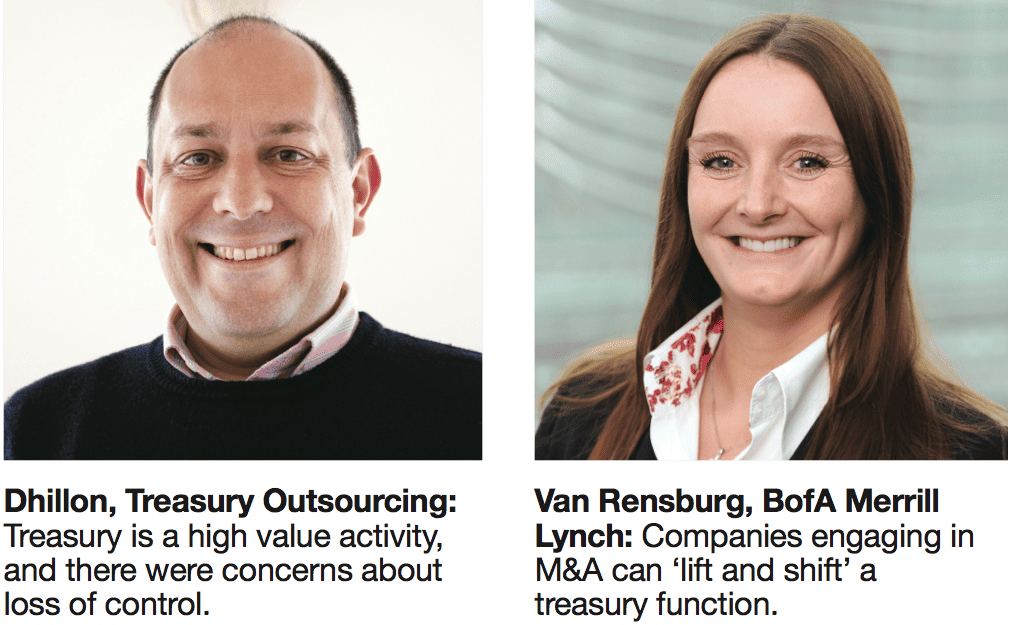 The treasury outsourcing business has seen some ups and downs. "Twenty years ago there was a lot of excitement about treasury outsourcing, but it never really took off in the way it should have," says Gautam Dhillon, founder and CEO of Treasury Outsourcing, which offers operational outsourcing solutions to midcap and public-sector organizations. "The concept of outsourcing got people's attention, but treasury is seen as a very high value activity, and there were concerns about a loss of control."
The outsourcing landscape has shifted since the concept first became popular. Many of the banks that offered outsourcing 20 years ago have since pulled out of the market, often owing to the realization that volumes of activity were less than expected. Bank of America Merrill Lynch is one exception, with its Managed Treasury Liquidity Services (MTLS).
Meanwhile some additional nonbank providers have recently emerged, such as Treasury Outsourcing. In other markets such as the Middle East, the concept of outsourcing has yet to become mainstream. Murali Subramanian, executive vice president and transaction banking group head at Abu Dhabi Commercial Bank, says the term is not commonly used in the Middle East, where treasury has only existed as a distinct function for a few years. "Outsourcing has more or less come to mean simplifying the complex infrastructure that corporates have to navigate in their day-to-day business—so they effectively outsource the visibility and management of their accounts to an overlay bank with the requisite service capabilities," he adds.
THINKING THE UNTHINKABLE
The continuing focus on cost reduction and greater efficiency is prompting some to look at outsourcing not for its possible risks but for its benefits.
Chris Jameson, head of GTS corporate sales, Central Europe and EMEA, BofA Merrill Lynch, says the bank's MTLS solution is seeing renewed interest from corporate clients. "Companies have generally had streamlined treasury teams, but even more so today," he says. "With the continuing attention on cost savings, treasury teams are thinner—and they are also becoming more strategic in their focus."
Another driver is the falling cost of technology. "Cloud computing offers a different level of flexibility," says Dhillon. "If you want more data, we can quickly go and buy it, rather than having to buy a server and install it in the data room."
So how are companies approaching treasury outsourcing today? "Some people just want a straightforward transactional solution, while others are looking for a deep-rooted relationship, which will keep treasury at the heart of the business," says Dhillon. He adds that, although a lot of companies are aware that outsourcing is an option, many don't know how to approach it. "Moving your treasury operations requires a lot of thought: If you have people already working in treasury, you need to set up a project team in order to make sure that activities are migrated across in a very controlled manner."
Not everything is suitable for outsourcing, however. Group treasurers usually retain strategic decision-making and determine group policies. "For example, if the company wanted to do an FX trade, we [the outsourcing company] would not decide which banks we would reach out to," he adds. "The company would decide which banks to include, and we would then connect with each of those, based on the company's instructions."
While some companies adopt outsourcing as a longer-term solution, others are using it as a means of fulfilling their short-term requirements. "If you have a client who is moving into a new region where they do not have a treasury function, they may outsource in the initial stage as they put a team together," says Suzanne Janse van Rensburg, regional head of liquidity and investments, global transaction services, EMEA, at BofA Merrill Lynch. "Or if a company is engaging in mergers and acquisitions, they can effectively 'lift and shift' a treasury function and then mold it into the shape they want, before taking it in-house."
SHIFTING BOUNDARIES
The rise of hosted technology solutions, such as Cloud-based treasury management systems and SWIFT service bureaus, means that many companies are now outsourcing treasury activities at one level or another.
Enrico Camerinelli, senior analyst at Aite Group, says that where traditional outsourcing is concerned, treasury management system vendors such as SunGard are increasingly offering not only to run applications on their hosted systems but also to run certain operations on behalf of their corporate clients.
The past few years have shown that companies can outsource treasury operations in a number of different ways. As a result, the concept of outsourcing in one form or another has become increasingly mainstream, which can only be a positive development for outsourcing providers across the board. n