DATE: OCTOBER 9, 2010


LOCATION: WASHINGTON NATIONAL PRESS CLUB, WASHINGTON

For the last twelve years,

Global Finance

has conducted its Best Bank Award Ceremony during the Annual Meetings of the IMF and World Bank. This year the World's Best Bank Awards 2010 were held on the morning of October 9, 2010 at the National Press Club in Washington DC. Nearly 200 senior executives from 90 banks in more than 75 countries attended the event and received their certificate in front of an audience of their peers.
Awards were distributed in two morning sessions: 9:00-10:00am and 10:15-11:15am. Please see ceremony schedule below for more details. To make the awards selections,

Global Finance

looked for operations that set the standard for the competition. It employed both subjective and objective criteria in picking our winners.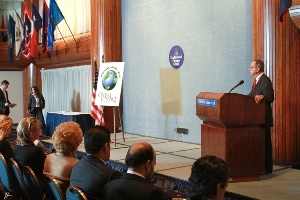 Joseph Giarraputo,
Publisher and editorial director of

Global Finance






More than ever, customers are demanding superior competence from their partners.

Global Finance

selected banks best providing that competence.
The winners were not necessarily the biggest or oldest, but rather the best those that companies and investors should choose to handle their financial service needs.



Click here to read a report on the World's Best Banks 2010






Click here to read a report on the Safest Banks 2010






Click here to read a report on the World's Top Central Bankers 2010



---

The World's Best Bank Awards Ceremony 2010


Date: Saturday, October 9, 2010


Time:

Session I: 9:00am-10:00am

Session II: 10:15am-11:15am


Place: National Press Club, 529 14th Street NW, Washington DC






Joseph Giarraputo,

Publisher and editorial director of

Global Finance






---

Ceremony Schedule


Session I

9:00-10:00am

Best Central Bankers
Best Trade Finance Providers
Best Supply Chain Finance Providers
Best Sub-Custodian Banks
Best Foreign Exchange Providers
Best Derivative Providers






Session II

10:15-11:15am

Best Islamic Financial Institutions
Best Investment Banks
World's Safest Banks
Best Banks Developed and Emerging Markets
Best Global Banks





---

Ceremony Pictures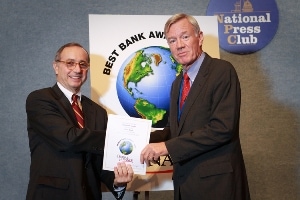 Mr. Frederik Hoek, Managing Director,
Head of Investor Relations, Rabobank,
accepting "Safest Bank Award"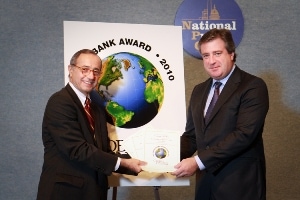 Mr. Simon Weeks, Director,
Managing Director ScotiaMocatta, Scotiabank,
accepting "Best Foreign Exchange Provider in Canada"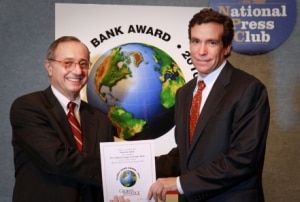 Mr. David Gary,
Managing Director of Global Markets, Deutsche Bank,
accepting "Best Global Foreign Exchange Bank"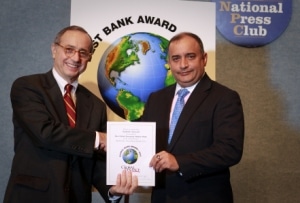 Mr. Vibhuti Sharma


,
Global Head of Development Organizations, Standard Chartered,
accepting "Best Global Emerging Market Bank"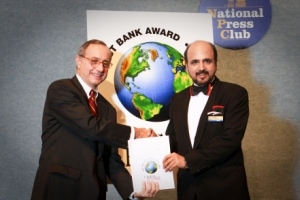 Mr. R. Seetharaman,
Chief Executive Officer, Doha Bank Group,
accepting "Best Trade Finance Bank in Qatar"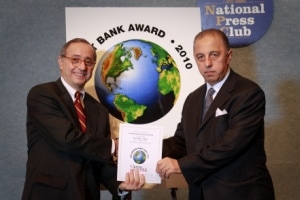 Mr. Essam El Wakil,
Board Member & CEO of Institutional Banking, CIB,
accepting "Best Bank in Egypt"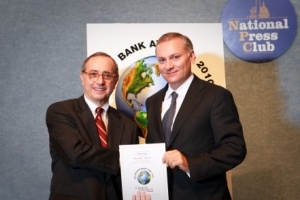 Mr. Saad Azhari, CEO, Blom Bank, accepting "Best Bank in Lebanon"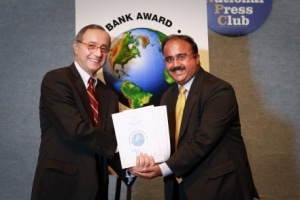 Mr. Rajesh Rajagopalan,
Senior Vice President, HSBC Securities Services,
accepting "Best Sub-Custodian in Asia & Middle East"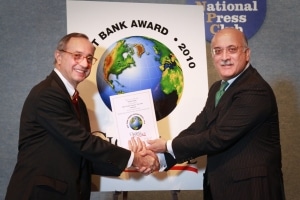 Mr. Sultan Ali Allana,
Chairman, Habib Bank,
accepting "Best Bank in Pakistan"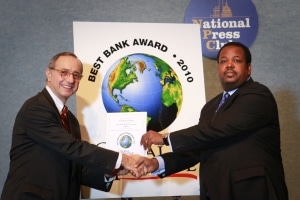 Mr. Bisi Onasanya,
Group Chief Executive Officer, FirstBank,
accepting "Best Trade Finance Bank in Nigeria"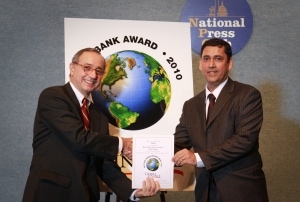 Mr. Arup Roy,
Global Head of Transaction Banking, SABB,
accepting "Best Trade Finance Bank in Saudi Arabia"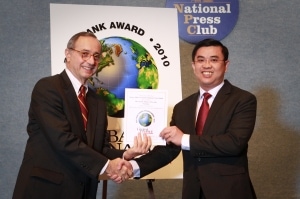 Mr. Nguyen Van Le, Chief Executive Officer,
Sai Gon-Ha Noi, Commercial Joint Stock Bank,
accepting "Best Trade Finance Bank in Vietnam"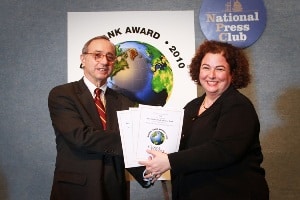 Ms. Theodora Vardis,
Managing Director, FX Global Investor Sales, Citi,
accepting "Best Foreign Exchange Provider in North America and Latin America"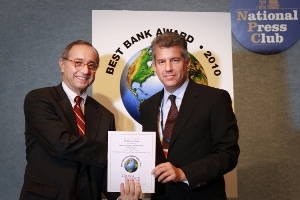 Mr. Daniel Zelikow,
Managing Director, Global Corporate Bank, J.P. Morgan,
accepting "Best Bank Bank in the United States"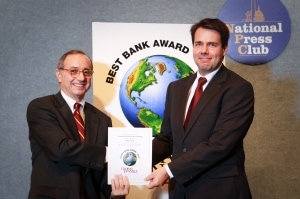 Mr. Stefan Goebel, Managing Director, Head of Treasury, Rentenbank, accepting "Safest Bank Award"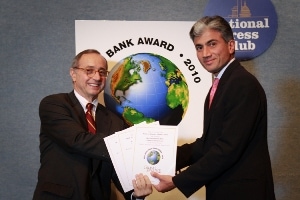 Mr. Fares Noujaim,
Executive Vice Chairman, Bank of America Merrill Lynch,
accepting "Best Investment Bank in the Financial Institutions, Media/Entertainment and Oil & Gas Sectors;Most Creative Investment Bank"

---

Download the Program

If you have any questions about the World's Best Bank Awards Ceremony 2010, please contact the Event Manager, Tania Vira:

tvira@gfmag.com