TRENDS | RENMINBI TRADING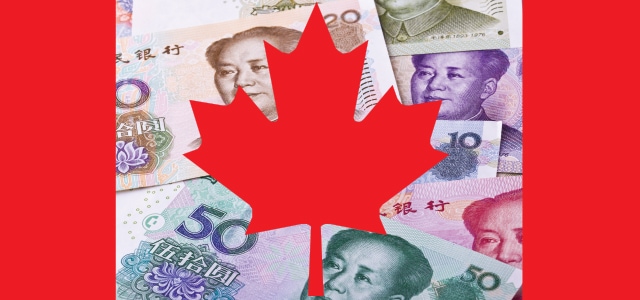 ---
Even though Toronto is the center of Canada's financial industry, much of the country's trade with China passes through Vancouver. Groups in both cities have decided to work together to promote Canada as a trading hub for the renminbi.
"Establishing the first offshore renminbi hub in North America for clearing and settling payments would represent a significant step in strengthening Canada's economic relationship with China and make Canadian companies more competitive," says CJ Gavsie, global head of foreign exchange products and China capital markets, at BMO Financial. Canadian companies would benefit from reductions in costs associated with foreign exchange trading, he says.
Lijun Wang, president and CEO of Bank of China (Canada), says: "Canada has long been renowned for having a sound and safely regulated financial system, which provides it with a significant advantage in establishing an offshore renminbi center."
The Toronto Financial Services Alliance and AdvantageBC (established in 1986 to attract international business to British Columbia) agreed to work together with the federal, Ontario and BC governments to support the initiative.
New York already is an unofficial renminbi trading center, but the US has not established currency swap lines with China. The US passed Taiwan in April to take third place as a renminbi clearing center, after Singapore and the UK, according to Swift. The value of renminbi payments in the US rose by 327% in the year to April.
New York's growth as an offshore renminbi center has been largely based on local needs for settlement of renminbi trades in the Americas time zone, according to analysts at Standard Chartered. Caterpillar of the US is one of the world's most active dim sum bond issuers (renminbi-denominated bonds issued outside China). New York also benefits from its financial infrastructure, Standard Chartered noted.
The UK announced plans in September to issue the first offshore renminbi government bond outside China. Chancellor of the Exchequer George Osborne says: "The government is taking these steps in recognition of the increasingly prominent role that the renminbi is playing in the global economy and financial markets, including as a potential future reserve currency."
Industrial and Commercial Bank of China was granted a license to open a branch in London, the first by a Chinese bank since 1949. Lloyd's of London will open a Beijing branch, extending its China presence from Shanghai.