FRONTIER MARKETS REPORT
By Dan Keeler
Ukraine's decision to turn its back on Western Europe has seriously undermined its near-term appeal, but long-term opportunities remain.
Perhaps more than any other country in Europe, Ukraine is torn between its long-standing connection with Russia and its desire to be part of the more dynamic and open markets of Western Europe. That tension came into sharp focus in November as Ukraine's leaders sought to finalize a trade agreement with the EU that could have constituted the first small step on the road to EU accession.
As the deal drew closer, Russia applied ever-greater pressure on the country to pull out of the EU talks and, instead, move toward joining its customs union. Eventually, president Viktor Yanukovych announced that Ukraine would not sign the EU agreement and would tighten its economic ties to Russia.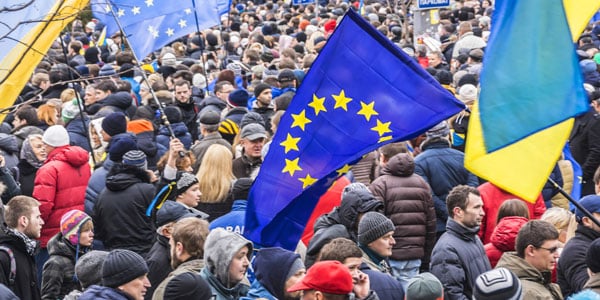 As well as triggering angry protests by hundreds of thousands of pro-EU Ukrainians, the country's decisive turn away from Europe disappointed many investors who were hoping Ukraine's efforts to align with the EU would drive improvements in governance and economic management. Although Ukraine jumped from 140th to 112th in the World Bank's latest ease-of-doing-business rankings, critics point to its low corporate governance standards. Despite the sharp improvement, the country is still a lowly 23rd out of 26 countries in the Eastern Europe and Central Asia region.
Its business environment is unlikely to become any less opaque in the near term, and the government is also likely to continue delaying difficult policy actions that are needed to resolve some pressing current problems and generate more stability in the future. "Ukraine is basically broke," says Tim Drinkall, portfolio manager for Morgan Stanley's $225 million frontier markets fund. "It's stopped paying some government salaries. Reserves are dwindling, it's seen five quarters of negative economic growth, the currency is ripe for a 10% to 20% devaluation, and presidential elections are due in 2015. They desperately need money." Russia, seemingly, is prepared to provide at least some of that money, but with heavy strings attached.
Money alone will not solve Ukraine's problems, though. "Ukraine needs a currency adjustment and a natural gas price adjustment—but both options are unpalatable, so the government keeps putting it off," notes Raymond Zucaro, managing principal and portfolio manager at California firm SW Asset Management.
Yanukovych's decision to scrap the EU agreement could inflict long-term damage on the economy too, say analysts. Among the worst effects, they believe, will be a rise in borrowing costs and a decline in FDI. "There will probably be less investment because there is no trade agreement with Europe to reduce tariffs," says one US analyst who visited Ukraine shortly before Yanukovych announced his decision.
The outlook for Ukraine may be less cloudy than many observers feared in the immediate aftermath of the decision to ditch the EU deal, however. The country still has tremendous opportunity in agriculture and energy production, says Caglar Somek, global portfolio manager at frontier markets fund manager Caravel Management. "There is huge potential for shale gas, which is not difficult to extract. They could reduce their dependence on Russia for energy quite quickly," he says. Others point to its educated population of nearly 50 million, plentiful natural resources and good infrastructure. "If you could remove the political uncertainty and the unusual economic moves, Ukraine has a lot of promise," Zucaro adds.
As Global Finance was going to press, signs were emerging that Russia might reconsider its opposition to Ukraine's developing closer ties with the EU if the terms of the deal were altered. Investors are holding out hope that Ukraine could start to realize its potential. "This is a setback," says Zucaro, "but I'm not willing to write them off just yet."
Location:
Eastern Europe
Neighbors:
Belarus, Hungary, Moldova, Poland, Romania, Russia, Slovakia
Capital city:
Kiev
Population:
46 million
Official language:
Ukrainian
GDP per capita:
$3,862*
GDP growth 2013:
0.4%*
Inflation 2013:
-0.04%*
Currency:
Hryvnia
Investment promotion agency:
http://www.cepici.gouv.ci
Investment incentives available?
Yes
Ease of Doing Business rank:
112th of 189 globally
23rd of 26 in Eastern Europe and Central Asia**
Corruption Perceptions Index rank:
144th of 176 globally***
Political risk:
Medium****
Security risk:
Medium****
Sources:
* IMF World Economic Outlook Database; ** World Bank; *** Transparency International; **** Control Risks
Strategic location
Large, educated/skilled population
Substantial resources
Strong agricultural sector
Economic growth has stalled
Still under Russia's sway
Corruption remains a serious issue
Efforts to improve economic management may decline